ELLISVILLE- Jones College was thrilled to be able to host WDAM-TV's annual Top of Class 2022 recognition program with a live event, post COVID-19 which forced the cancellation and modification of the event the past two years. The tradition of honoring the Valedictorians and Salutatorians from 45 high schools in the Pine Belt had never been canceled in the 23-year history of Jones College hosting the event, prior to 2020.
"This group of seniors magnificently adjusted to the changes the COVID-19 pandemic forced upon us all and thrived. Jones College was excited to be able to partner with WDAM-TV to honor the Top of Class 2022 with this special event and recognition program which honors the academic achievements of our high school students in the Pine Belt," said Jones College President, Dr. Jesse Smith.
Students heard from Phi Theta Kappa International Honor Society, Rho Sigma Chapter Pre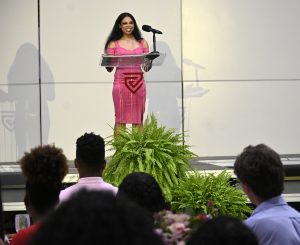 sident, Mya McLain of Waynesboro who is a sophomore at Jones College, and the 2020 Wayne Academy Valedictorian. Additionally, the class of 2022 enjoyed wisdom from WDAM-TV General Manager & V.P., Tim Walker and Jones College Provost, Rick Youngblood. Each student was recognized and received a special, Top of Class Certificate of Achievement, commemorative T-Shirt and participated in the traditional, Hat Toss.
Highlights from the event, along with the academic achievements of the Pine Belt's Top of Class 2022 will be seen daily on WDAM-TV beginning on Monday, May16. The Valedictorian and Salutatorians from two high schools will be featured in a one-minute segment at 5:58 a.m. before WDAM 7 Sunrise Morning News program, through June 17, 2022. Additionally, the Top of the Class videos can be found on the WDAM-TV web page https://www.wdam.com/topofclass/