ELLISVILLE – Twenty-five graduates of the Jones College Associate Degree Nursing program are entering the nursing profession at a time when demand has never been greater. During the Pinning and Commencement Ceremony, A.D.N. Program Director, Mike Cummings stated, "These graduates will fill an important role in the care of our citizens at a time when the population's need for medical care is also growing."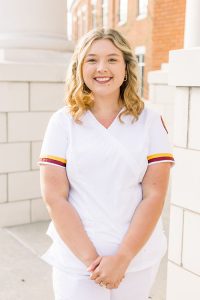 Class President, Shelby Csaszar Littleton of Hattiesburg will start her nursing career at Gulfport Memorial Hospital on their Progressive Care Unit, noting she feels Jones College prepared her well for the profession.
"I started the A.D.N. program in August 2021, and it's crazy to think that nearly two years have come and gone in the blink of an eye. It's no secret that nursing school is tough, but I truly believe that Jones' A.D.N. program is led by some of the most competent and caring instructors that prepared us not only for our licensure board exams, but also for real world nursing. I have learned so much from my instructors in both the classroom and clinical setting, and I believe I will be a better nurse in the very near future because of attending the A.D.N. program here at Jones," said Csaszar.
The graduating class of 2023 includes Danielle Leigh Beech, Laurel; Marissa Terryal Bender, Bay Springs; William Beau Blackledge, Hattiesburg; Shelby Nicole Csaszar Littleton, Hattiesburg; Rebekah Elisabeth Denham, Laurel; Lakyn M Edwards, Leakesville; Baylee Madison English, Richton; Alyssa Haley Guy, Laurel; Tara Miranda Hair, State Line; Samantha Paige Hawkins, Seminary; Victoria H Hill, New Augusta; Catalynn Gabbie Hodge, Laurel; Nikki Marie Hough, Taylorsville; Summer Nicole Hughes, Mize; Gracie Jacquline Ingram, Mt. Olive; Anya Cedrianna Kellum, Hattiesburg; Justin Earl Keyes, Taylorsville; Richard Lee Klug, Collins; Kelli Nicole McNease, Sumrall; Carleigh Leann Murray, Enterprise; Kellie Lott Saulters, Collins; Abigail Lee Strange, Ellisville; Myles Christian Vince, Enterprise; Kourtney Marae Wells, Columbia and Charles Joseph Zickus, Ellisville.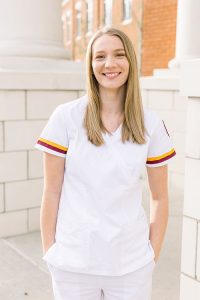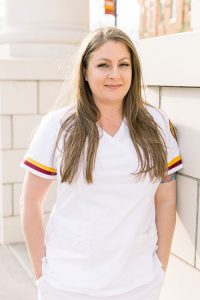 Earning additional recognition at the ceremony were Rebekah Denham of Laurel and Nikki McNease of Sumrall for being inducted into the A.D.N. Honor Society, Alpha Delta Nu, Gamma Mu Chapter at Jones College.
A.D. Nurse graduations May 2023
Danielle Leigh Beech, Laurel
Marissa Terryal Bender, Bay Springs
William Beau Blackledge, Hattiesburg
Shelby Nicole Csaszar Littleton, Hattiesburg
*Rebekah Elisabeth Denham, Laurel
Lakyn M Edwards, Leakesville
Baylee Madison English, Richton
Alyssa Haley Guy, Laurel
Tara Miranda Hair, State Line
Samantha Paige Hawkins, Seminary
Victoria H Hill, New Augusta
Catalynn Gabbie Hodge, Laurel
Nikki Marie Hough, Taylorsville
Summer Nicole Hughes, Mize
Gracie Jacquline Ingram, Mt. Olive
Anya Cedrianna Kellum, Hattiesburg
Justin Earl Keyes, Taylorsville
Richard Lee Klug, Collins
*Kelli Nicole McNease, Sumrall
Carleigh Leann Murray, Enterprise
Kellie Lott Saulters, Collins
Abigail Lee Strange, Ellisville
Myles Christian Vince, Enterprise
Kourtney Marae Wells, Columbia
Charles Joseph Zickus, Ellisville
*Alpha Delta Nu Honor Society members