ELLISVILLE- Once students were dismissed for spring break, the dorms at Jones College were thoroughly cleaned following the CDC guidelines to ensure the safety of all residents. Students were allowed to return to campus for scheduled move-out days, by appointment earlier this week (March 23-24) to collect their personal items from the college's seven residence halls. Over two days, the majority of the 825 students who were living on campus picked up their belongings, wishing they had more time to continue to make memories at the two-year college.
"Leaving Jones so abruptly leaves me feeling disappointed and sad because I didn't get to finish my full freshman experience as a college student," said nursing major, Shaderia Fairley of George County. She shared a dorm room with her cousin, Paige Fairley. "I will miss the campus life and hanging out with my friends the most. Because my parents work out of town, the friends I've made here at Jones became my family. I will miss being around them the most."
Even more difficult than making the transition back home to Davison, Michigan for Wilfrid Hufton was leaving behind missed opportunities and friends at Jones.
"I am really going to miss being able to spend time with my friends in the
dorms and around campus. The thing I will miss most about Jones is the student community and how close I came to be with all my friends. I will certainly remember the shenanigans with my friends and with 'Suite G' and how close we all became to each other," said the freshman biology major.
Hufton was hoping to play soccer next season at Jones but an injury this year, kept him off the field. His sights are now set on playing for William Carey University.
"Personally, aside from leaving Jones, my family and I have been lucky enough to be relatively unaffected by the Corona Virus. Also, I will always have my memories of how Jones helped give me one of the most exciting years of school in my life and the friendships I made here are certainly ones that I'll take with me wherever I go after Jones."
Also not returning to Jones is sophomore, Ty'Rikus Hayes from North Forrest. The biochemistry major said he had hoped to attend the Phi Theta Kappa International Honor Society conference which was canceled because of the Corona Virus. Additionally, he said he is disappointed he will miss performing in the final band concerts of the year.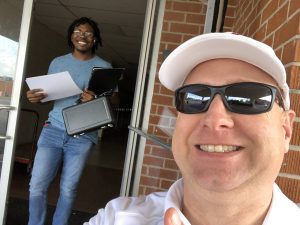 "I have worked hard on the music for my last band concert performances but most importantly, I lost the rest of my time with the amazing friends and teachers I probably will not see again after I transfer. The staff at Jones went to great lengths to show how much they cared for me as a person. Jones has felt like a second home, allowing me to break out of my shell so I could grow into an even better individual who is finally ready to make an impact in the community," said Hayes.
Two sisters and band students were also not ready to say their goodbyes to the Maroon Typhoon and the Indoor Winter Guard performing group. The colorguard performers, Rachel and Annabelle Bryant of Ellisville shared a dorm room and admit to a few squabbles. However, the younger Bryant, Rachel said she is thankful for big sisters' guidance.
"What I will miss most is being able to spend every day with my sister who next semester will be going to Ole Miss. She showed me everything I needed to know at Jones and guided me through the process. I couldn't have done it without her, and I'll miss that the most," said Rachel Bryant.
Both sisters wished they could perform one last time together, and with their friends in the Winter Guard. Regardless, Annabelle said she treasures her time at Jones.
"This was my last year to spin (flags) since I am not participating in the band at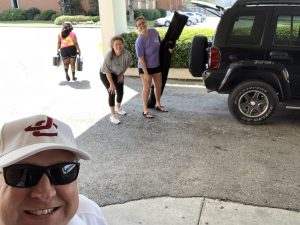 Ole Miss. Even though I won't be able to spend the last few weeks living on campus with my little sister and friends, I am grateful for the time I did get to spend on campus. What I'll miss most about Jones is definitely the Maroon Typhoon because it not only allowed me to continue doing what I love for two more years after high school, but it also allowed me to do it with my closest friends, which I am forever thankful for," said Annabelle Bryant.
Faculty members, like Director of Bands, Dr. Ben Burge also returned to campus this week to let students pick up instruments and personal belongings left in the Band Hall. In a two-hour period, Burge said 25 students stopped in the M.P. Bush Fine Arts Building. While keeping a distance, he snapped a few pictures and reminisced about the short semester and the future.
"I miss my students and our normal!" said Burge. "Our Jazz Band was superb this spring and I'm so disappointed they won't have the opportunity to perform. I'm confident though, the JC band students are resilient and will be more motivated than ever once they get in rehearsals."
Preparing for next fall, the Maroon Typhoon will be holding all auditions online, said Burge.
"All spring auditions for dance, guard, feature twirlers, drum majors, and instruments must be submitted online by April 10. Students can also apply for service scholarships to be in the many performing organizations Jones College offers by filling out a form on our Jones College Fine Arts Facebook page or on the JC Fine Arts webpage."
While learning from home, Jones College students are encouraged to monitor their campus email and the Student Affairs Canvas shell for support.
"Jones is not the same without our students and we look forward to the day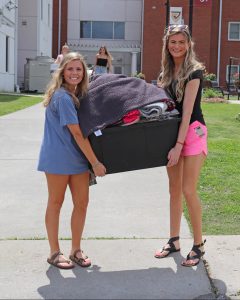 that we once again get to welcome our Bobcats back to campus. As Director of Housing, I will be supporting our housing students through the Housing Canvas shell, focusing on their mental well-being and helping them remain focused in the Learn from Home environment," said Chuck Robertson.
For more information about Jones College and any updates about campus operations go to the website, www.jcjc.edu
Photos by Kelly Atwood, JC Yearbook & Newspaper Advisor & Dr. Ben Burge, JC Director of Bands