ELLISVILLE- Four Jones College students earned some of the top individual honors through the International Honor Society for two-year colleges, Phi Theta Kappa. Layne Boykin of Waynesboro was selected to Phi Theta Kappa Honor Society's All-Mississippi Academic First Team and Jordan Butler of Ellisville was chosen for the All-Mississippi Academic Second Team. Career and Technical students in the Radiologic Technology program, Kelly Odom of Hattiesburg and Haley Bounds of Moselle were both nominated for the All-Mississippi Academic Second Team as Workforce Pathway honorees.
"I was shocked to find out I was selected to represent Jones for this honor," said Butler. "I feel incredibly blessed knowing others see the potential within me and they saw it enough to choose me for such a prestigious honor."
All four students were chosen as Jones College's nominees from a larger pool of Jones applicants that also boasted impressive resumés. The nominees were then evaluated by PTK officials on effective writing skills, the academic rigor of their majors and their leadership impact at their colleges.
"Our nominees distinguished themselves scholastically with excellent grades, and they all had notable records of service and campus and community involvement.  Their particular accomplishments and successes are truly highlighted by being named as the college's nominees for this prestigious academic competition," said Jones College PTK co-advisor and Science Division Chair and instructor, Eric Shows.
Biochemistry major, Layne Boykin was able to directly impact many of her peers at Jones and in her community. Boykin served as the PTK Vice President of Scholarships and shared her many talents.
"Organizing three scholarship workshops helped students prepare for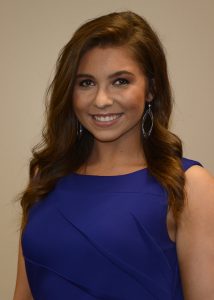 scholarship applications. I also assisted with officer and chapter meetings, college project planning, honors in action project research, fundraising and other service projects," said Boykin. "PTK has impacted my life in numerous ways, too. I am forever grateful for the endless opportunities, friendships, and memories it has given me. I owe all my success to God."
At Jones, Boykin was a member of the college recruitment liaison and campus leadership team, Bobcat Brigade, Fellowship of Christian Athletes, Student Government Association, Sigma Kappa Delta English Honor Society, Charles Pickering Honors Institute and Presidential Student Advisory Task Force. Her honors include being a JC Presidential Scholar, a member of the JC Hall of Fame and receiving the Letter "J" Academic Achievement Award. Boykin was also invited to be the student speaker for Freshman Convocation and for WDAM-TV/Jones College's Top of Class event.  Additionally, Boykin was the 2019 Miss Hospitality for Wayne County where she acted as the ambassador for economic growth and tourism. She will continue her education at Mississippi State University with the hopes of serving Mississippi as a rural physician.
"Layne is an incredibly driven, self-starting student that has a passion for advocacy and service. We were incredibly fortunate that Jones College and PTK were among the organizations for which she served as a wonderful ambassador," said Shows.
Criminal justice major, Jordan Butler aspires to earn her doctorate degree in anthropology to become a Forensic Anthropologist. She honed her skills as the Opinions Editor and writer for the college newspaper, Radionian, and she was a member of the Sigma Kappa Delta English Honor Society, Charles Pickering Honors Institute and the PTK Honors in Action Director. The project she led for PTK's Rho Sigma Chapter at JC titled, "Rho Sigma Breaks the Stigma – The Plea for CTE," won second place honors at the Regional PTK Conference.
"Jordan has been an irreplaceable member of our PTK officer team this year,"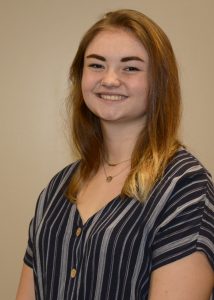 said Shows. "The Honors in Action project she managed focused on researching and reducing the negative perceptions that students can experience when selecting a Career and Technical Education career path.  She contributed her valuable perspectives and skills gained as a member of the College's newspaper staff and an aspiring forensic scientist to our PTK officer team, and she shined as a great organizer, leader, and writer."
Butler's additional honors include being on the President's Honor Roll every semester and receiving the Letter "J" Award. She earned several scholarships including a Journalism scholarship, the Honors College scholarship, the Laurel Leader Call Scholarship through the JC Foundation and she was nominated by English professor, Dr. David Lowery for the Waller English Award.
She said, "My two biggest honors were being appointed the position of Opinions Editor for the Radionian and becoming a PTK officer; without a doubt, these two honors have been the most rewarding." Referring to her career as a forensic anthropologist, Butler said, "My career choice gives people a voice who no longer have one. I can give people the justice they deserve. The career is complex and challenging but I love that."
Currently working at South Central Regional Medical Center in Laurel, Haley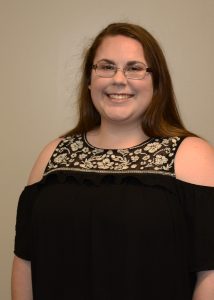 Bounds said while she has achieved her goal of working in a hospital, she hopes to specialize in C.T. (computed tomography) in the radiography field. She will continue her education at the University of Mississippi Medical Center to earn her bachelor's degree. While she is fascinated with X-rays and the ability to aid doctors in diagnosing patients, Bounds also played the clarinet for the Maroon Typhoon Marching Band. Being selected to represent the Jones College student body at the PTK competition she said, is humbling.
"Being selected and having the opportunity to even participate in this academic competition told me that my teachers believed I was worthy of this award. I'm still humbled by the whole experience," said Bounds.
Kelly Odom currently works in Forrest General Hospital's C.T. department after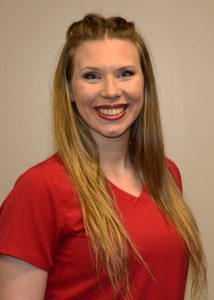 beginning her education at USM studying genetics. At Jones, she served as the Radiography Class Representative and Student Delegate Nominee and she earned 2nd place in the Radiography Student Review Competition. Odom immersed herself in various community activities, including being a volunteer for the Petal Fire Department, Hub City Humane Society and the Salvation Army. She also competed and earned first place honors in the regional and state science fair two consecutive years, which earned her an invitation to a week-long conference in Los Angeles and Pittsburg, Pennsylvania to participate in the worldwide science fair, International Science and Engineering Fair. Additionally, Odom had the opportunity to present her research findings at the Annual Society of Cellular Biology conference in New Orleans, Louisiana. Her findings were published in a scientific journal after discovering connection pathways in the eyes of Drosophila, a type of fruit fly.
Radiography Program Instructor and Clinical Coordinator at Jones, Brittany Weatherford Barron, M.H.S., B.S.R.S., R.T.(R)(M)(CT)(ARRT) shared, the department is extremely proud of both Bounds and Odom.
"These students were nominated by Jones College faculty for their continued excellence in the classroom and community. Throughout their college experience, Haley and Kelly have represented Jones College on both a state and national level for radiologic technology. Kelly placed 2nd in a national prep bowl for radiologic technology students, and Haley received a scholarship from the Mississippi Society of Radiologic Technologists.  These students demonstrate sound moral character and selflessly serve the healthcare profession. The future is very bright for these graduates, and I cannot wait to see their future accomplishments.  It was an honor to work with these students," said Barron.
The four JC students competed with more than 1,800 nominations from each of the 15-community colleges. As part of the Phi Theta Kappa International Honor Society's annual academic and workforce competition, each student submitted an essay, answered discussion questions, and described their leadership roles and activities while in college
The highest scoring nominees from each of the 15 two-year colleges earned First Team All-Mississippi honors and $500 scholarships provided by the Mississippi Association of Community and Junior Colleges. All team members received special medallions, certificates, and printed resolutions from the   Mississippi Legislature.