ELLISVILLE –Last fall, Jones College's Greene County Center in Leakesville began a new program, electrical technology program after seeing a steady demand for qualified electrical technicians. Greene County Center Director and electrical technology instructor, Alan Cook said he is excited about this new program because the job prospects look great for graduates.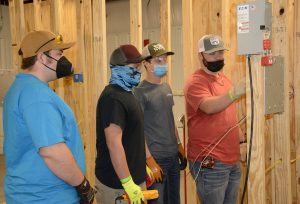 "Students can choose the two-year technical program or the four-semester, Associate in Applied Science route to graduate in a field with lots of options and jobs," said Cook. "Students learn every facet of the business including wiring a residence to programming controllers for a major manufacturing plant."
The electrical technology program trains students in general electrical theory, the National Electrical Code, residential, commercial and industrial wiring, electrical motor maintenance, motor control systems, programmable logic controls, solid-state motor controls and automated electrical systems. Graduates can earn from $28,000 to $95,000 in annual salaries in this industry.
"Our students work with the Mississippi Construction Education Foundation. As they complete the program at JC, they can earn national certifications in Core Construction, Electrical Level 1and Electrical Level 2 through the National Center for Construction which is an industry standard. These graduates should have no trouble finding good, paying jobs with these credentials," said Cook.
For more information about this or any of the academic, career and technical, workforce or adult education programs contact Menyone Barrow by email, menyone.barrow@jcjc.edu or call 601-477-4238 or browse the webpage: https://www.jcjc.edu/workforce/locations/greene-campus/