Agricultural and Poultry Science
A program that focuses on the application of biological and chemical principles to the production and management of poultry animals and the production and handling of poultry products. Includes instruction in avian sciences, nutrition sciences, food science and technology, biochemistry, hatchery design, and related aspects of human and animal health and safety.
If you are interested in in obtaining a B.S. in Poultry Science please review the following information Here
Interested in a University Transfer?
Click below to find out more information.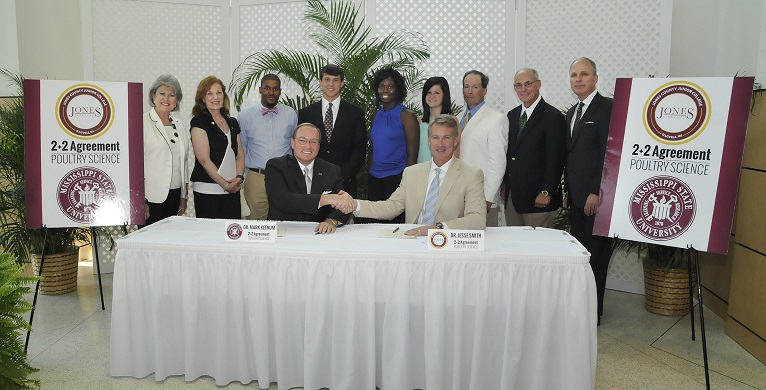 Shaking hands on a new two-plus-two agreement are MSU President, Dr. Mark Keenum, (left front) and JCJC President, Dr. Jesse Smith (right front), as representatives and JCJC poultry science students praise the collaboration between the two colleges. Pictured standing left to right are: Sanderson Farms Director of Organization Development and Corporate Communication, Robin Robinson; MSU poultry science professor and department head, Mary Beck; JCJC P.S. graduate, Twain Womack of Laurel; JCJC poultry science sophomore, Sawyer Taylor of Laurel; JCJC poultry science graduate, Shakyra Smith of Columbia; JCJC poultry science sophomore, Shelby Bradshaw; JCJC agriculture science instructor Tim Ishee; COO and President of Sanderson Farms, Lampkin Butts; and JCJC Chairman of the Board, David Garner.