ELLISVILLE – Jones College honored three of its alumni, Dennis Bohannon of Laurel, Paul Culliver of The Woodlands, Texas and formerly of Raleigh, and Clyde Dease Jr., of Picayune and formerly of Ellisville, during Homecoming festivities.  Each of the three Honor Alumni of the Year has poured their heart and soul into their work and volunteering in various ways at JC according to Vice President of Advancement, Charlie Garretson. Bohannon has dedicated his life to education and athletics and has been a loyal supporter of the college. Paul Culliver and Clyde Dease, Jr., who are also lifetime members of the JCJC Alumni Association, have impacted their field of expertise too. Jones College President, Dr. Jesse Smith added that each of the alumni has inspiring accomplishments and are worthy of recognition.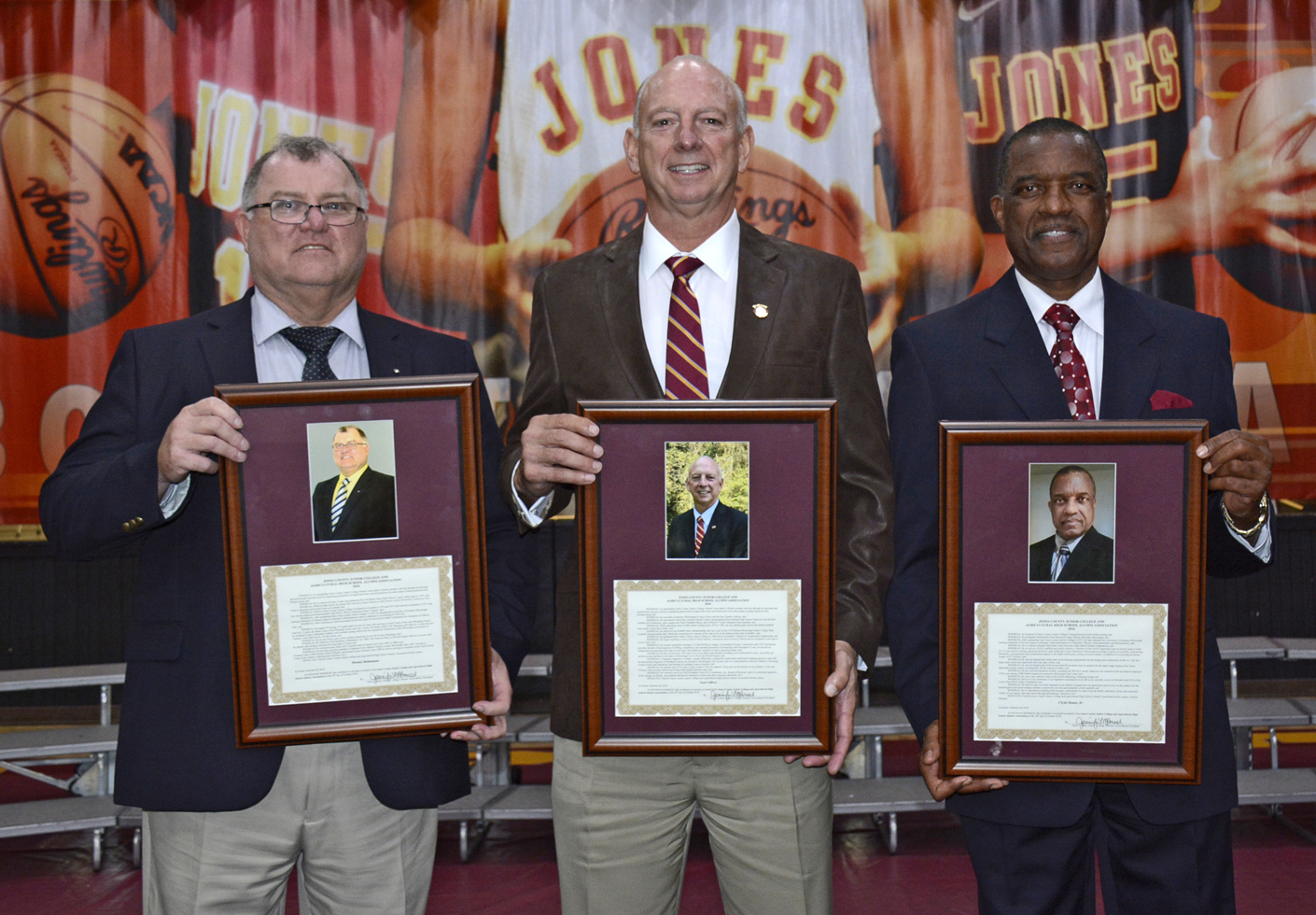 "Each of these men has had different, unique and challenging circumstances they had to overcome to get to Jones but from those experiences, they left Jones and made the world a better place wherever they went. It's very inspiring to see all of their successes," said Smith.
After graduating from Roosevelt High School in1969, Clyde Dease Jr. said he credits Coach Walter Clark who inspired him not be afraid to "sail out in the harbor where the big ships are." Excited about being able to go to college close to home, Dease said Jones was the first desegregated school he had ever attended.  After completing the first test in a class, Dease said he was challenged by a teacher who didn't accept his high test score because of the color of his skin. That experience taught both men a new lesson about life, along with the teacher mentoring Dease and becoming friends. That test also carried Dease through future challenges, he shared with guests.
"I learned from experience what people respect, regardless of color or where you come from is they respect quality work, performance, accomplishments. That's what it taught me. I took that lesson in life because I needed it everywhere I went after that," said Dease.
After graduating from USM with a bachelor's of science degree in biology with certifications in chemistry, physics, instrumentation and biochemistry, some of the places Dease ventured to include the Science department at Picayune High School where he served as chair of the department. Later, he would serve as a NASA satellite and rocket scientist as a member of the NASA leadership team at Stennis Space Center where he also served as Lead within the Center Operations Directorate.  He provided a variety of scientific, engineering, laboratory, programmatic and institutional support to the flight certification testing of rocket engines, in addition to overseeing an annual budget of $75 million. After 35 years working at NASA in various leadership roles, Dease retired with the privilege of being selected from the 25,000 employees on the Gulf Coast, as the Federal Employee of the Year and received the Mississippi Gulf Coast Association of Federal Administrators Award.  Currently, Dease is the President of the Lower Pearl River Valley Foundation which helps to build stronger communities by improving health, education, social and economic vitality.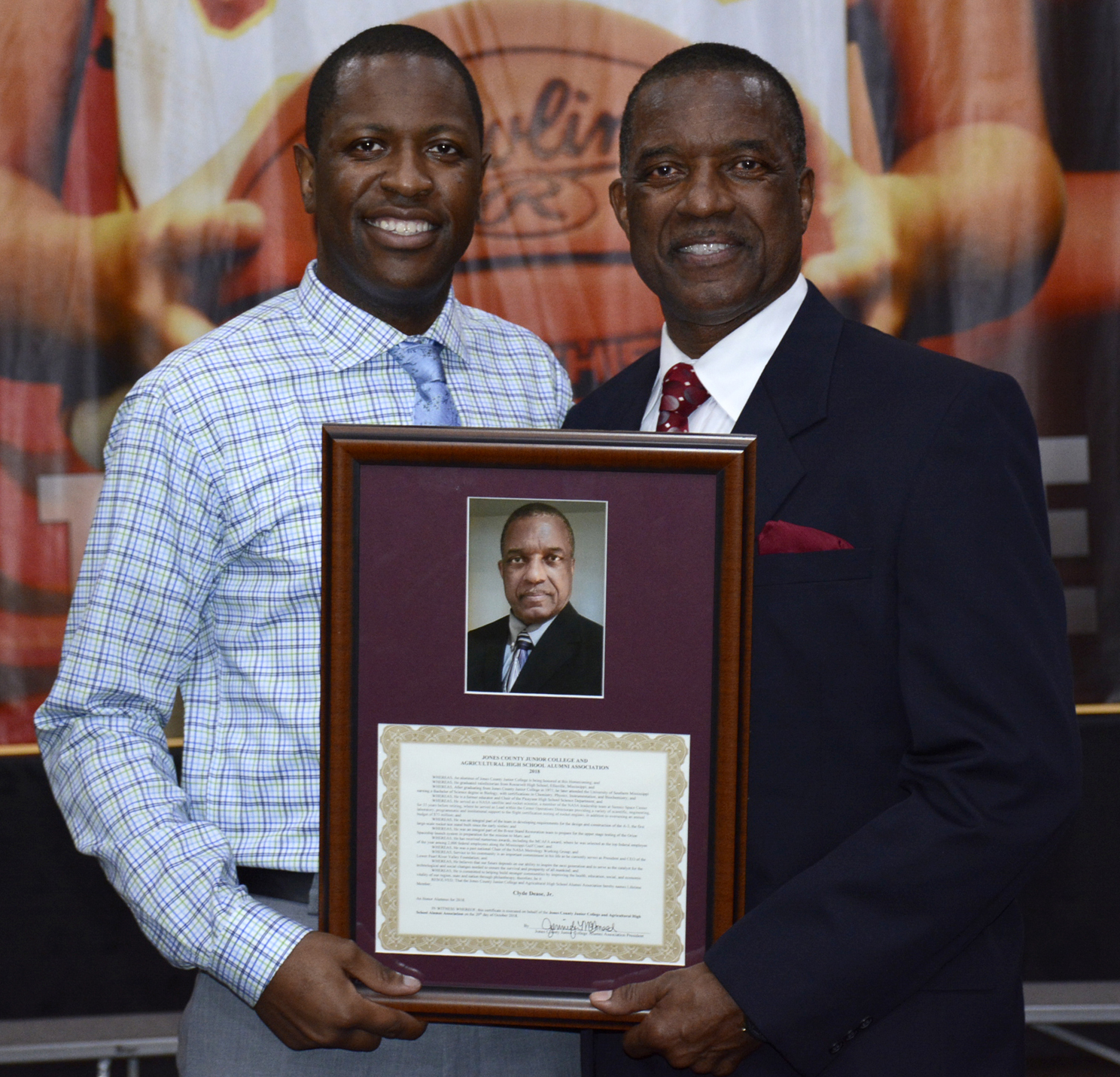 Ironically, his nephew from Taylorsville and 2002 Jones forestry graduate was also selected as a Jones Honor Alumnus in 2014.  The Area Environmental Manager at LafargeHolcim in Pueblo, Colorado traveled back to Ellisville to see his uncle honored.
"My uncle has been a role model to me since I was a young child, but I don't believe I ever truly appreciated what an amazing figure he is until I became an adult. I'm elated that I was able to share this experience with him, and I'm immensely proud that he is getting the recognition he deserves," said Derrick Dease.
Another former Smith County resident and Jones 2018 Honor Alumnus, Paul Culliver left his hometown of Raleigh shortly after earning his associate's degree in construction engineering from Jones. The All-Conference and MVP football and track star moved to Texas and started the first of several oilfield service companies at the age of 23. Two years later, Culliver became operations manager of Triad Drilling & Supply, Geosouthern Energy Corporation and USX Exploration. The independent real estate, timber, and healthcare industry businessman always kept in touch with Mississippi. Over the years, he served as an officer and director of a retirement center in Raleigh and as vice president of the JCJC Foundation Board of Directors and on the Foundation Finance & Investment Committee. Culliver shared with the audience gathered at the Honor Alumni of the Year luncheon his thoughts on how to be successful in life.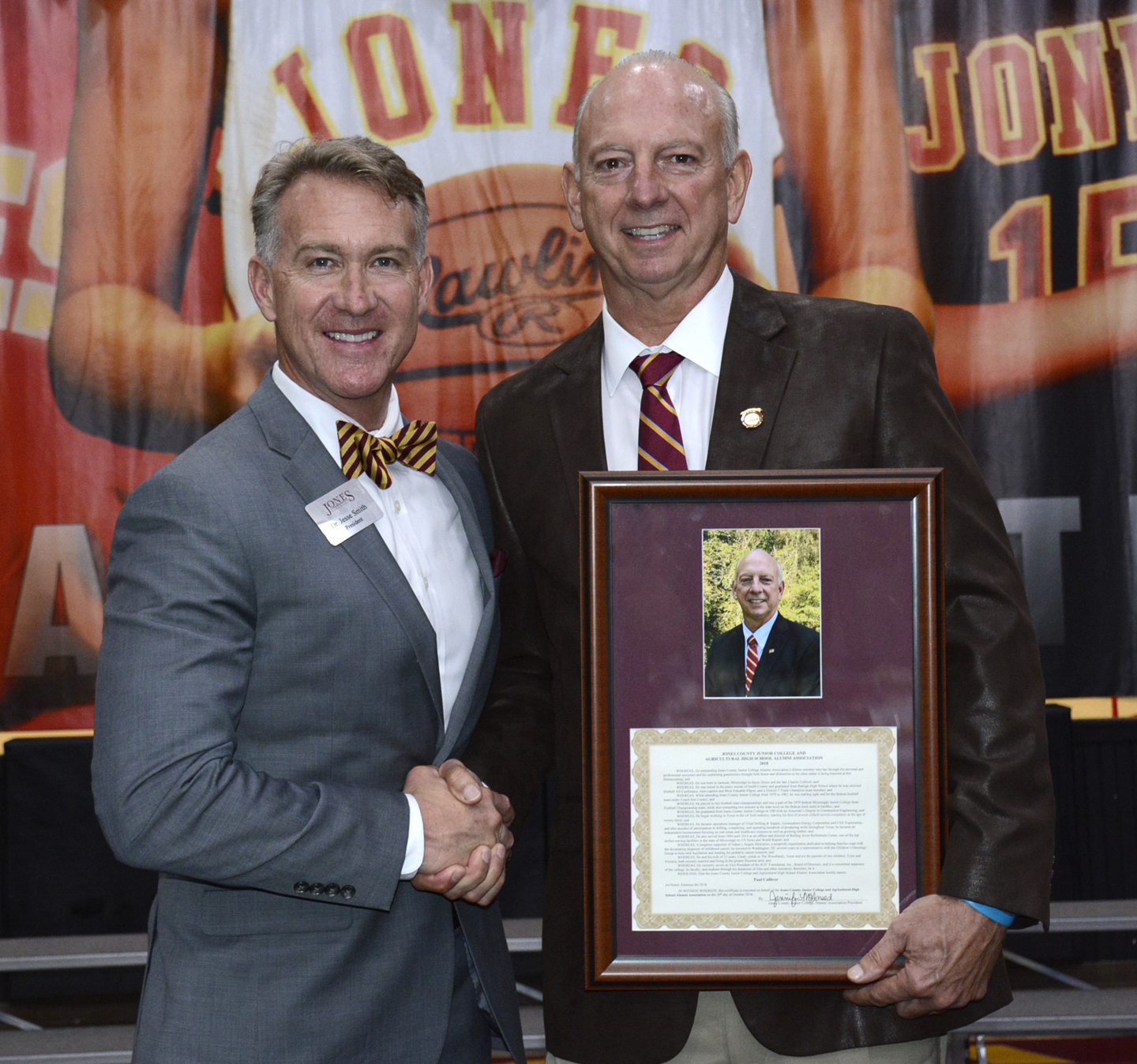 "It's about your DNA, work ethic, upbringing and even your birth order.  All of these things help in how we succeed in life.  An old man told me, 'If you're not willing to get up in the morning and get your boots on to get to work, you'll never amount to anything but go hungry,'" said Culliver.
Dr. Smith praised Culliver for his ability to have an intense focus on the task before him, and yet look across the world to see how to do things best. He's also not afraid to take on the world, Smith said. Culliver is very encouraging, very loyal. In fact, Culliver's special project, Adam's Angels Ministries, a non-profit organization dedicated to helping families cope with the diagnosis of childhood cancer led him to Washington D.C. for several years.  Culliver acted as a representative with the Children's Oncology Group seeking legislation and funding for pediatric cancer research.
"I tell young people all the time. It's about relationships and it's about working hard. I hope I've inspired others to succeed," said Culliver.
Laurel's Dennis Bohannon, or "coach" as many know him, was also selected as a 2018 JC Honor Alumnus.  He retired from West Jones after teaching for more than 26 years.  He spent a couple of more years teaching ACT Math at Wayne County High School before fully enjoying retirement. One of his coaching honors includes being the coach for the South team of the Mississippi Association of Coaches' Girls Soccer All-Start Team in 2004. Dr. Smith said, as a Jones student, Dennis knew everyone and was always encouraging to everyone.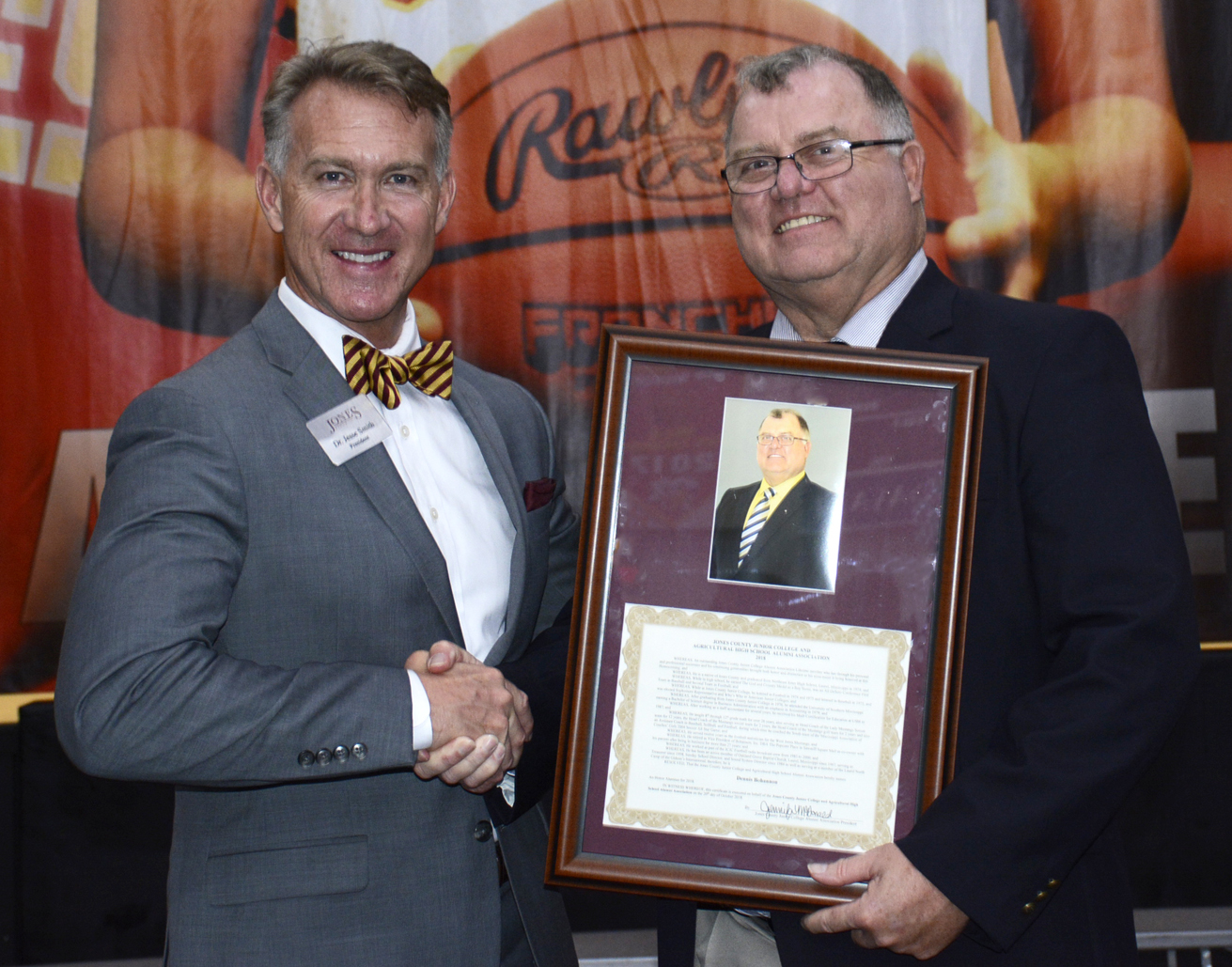 "You could always count on Dennis to give you an encouraging word.  In fact, he convinced my wife I was an OK guy to date!"  Smith added, "Dennis has always consistently donated to the college as far back as we can remember.  He's given part of his earnings every month to the JCJC Foundation."
The Northeast Jones graduate came to Jones in 1974 to play football and baseball. After lettering in both sports, he pursued his B.S.B.A. in accounting at USM.  His math skills assisted his parents who owned the Popcorn Place in Sawmill Square Mall in Laurel for 27 years. Bohannon returned to Jones in 1985 to be a part of the football radio broadcast crew as the color commentator for 15 years. Retired South Jones coach, retired Principal, and former radio commentator for JC, Bobby Murphy shared Bohannon was a friend and great help during those years.
"Dennis is one of my true friends. We did the Bobcat football broadcasts together for 10 years and basketball for two years. We had many great times and I still count those football broadcasts as some of the best times of my life and Dennis made it all possible.  Congratulations to him!"
At the luncheon, Bohannon said JC has always been good to him. He proudly shared with the audience, most of his family, including his parents, two sisters and numerous nieces and nephews looked to Jones for their college education and workforce training.  Jones has always been a part of his family.
"I have always loved this college. It is a great honor to be selected as one of the Honor Alumni of the Year. I am very thankful for this opportunity," said Bohannon.
While Bohannon has served the community in numerous ways, some of his most important work has been as a member of the Oakland Grove Baptist Church in Laurel, serving as Sunday School Director and sound system director since 1984 and as the treasurer for twenty years.  Bohannon has served as a Gideon and is most proud to have earned the Boy Scouts, "God and Country" medal.