ELLISVILLE – Hattiesburg photographer, sculptor, graphic designer and artist, Kim Pluskota's work is on display until September 13, at Jones College's Eula Bass Lewis Art Gallery.  The public is invited to a reception in Pluskota's honor on Friday, September 6, at 4 p.m. in the art gallery on the Ellisville campus.
Pluskota's recent, Savannah College of Art and Design M.F.A. Thesis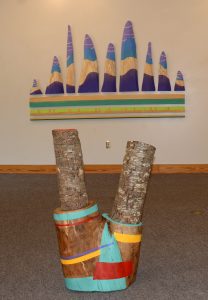 Exhibition, "Of a Sacred Nature" features carved and painted abstract, wooden sculptures.  Her work is an avenue towards being immersed into the "meditative qualities of simple color, texture, line and form," as an escape from the busy world.
"It's important to create art that focuses on aesthetic beauty, abstraction and whimsy in order to offer the viewer a reprieve from the stresses of everyday life," said Pluskota.
Influenced by her Peruvian heritage and her favorite contemporary artists, her year in Estonia further developed the desire to create traditional handmade objects. Her wo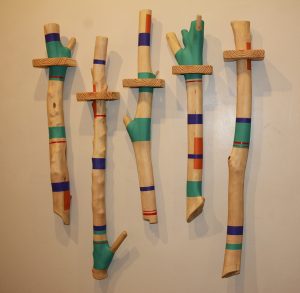 rk embraces the future while also finding a connection to the past.
"My work reflects the significance of nature, heritage, and memories in my life. The sculptures offer a reminder of the sacred qualities of nature and the importance of our harmonious coexistence with it," said Pluskota.  "While echoing aesthetics of the past, the materials, shapes and overall compositions in my art are inherently embedded with a contemporary influence."
For more information about the JC art show contact the gallery at 601-477-4148 or visit the gallery which is open Monday through Thursday, 8:00 a.m. until 3:00 p.m., and Friday from 8:00 a.m. until 2:30 p.m. The gallery is closed for lunch daily from 11:30 until noon. If you want to know more about the Jones College Fine Arts Department check out the JC Fine Arts Facebook page at JCJCFineArts.