ELLISVILLE – Three Jones College Radiologic Technology graduates received honors and scholarships at their completion ceremony recently. Ciera Lightsey of Leakesville earned the 2022 Clinical Student of the Year, and the Academic Student of the Year honors went to Michelle Green of Hattiesburg.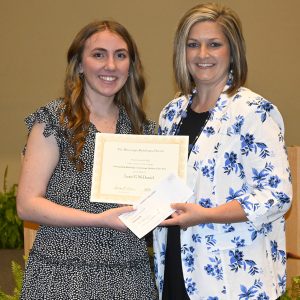 Earning the Mississippi Society of Radiologic Technologists Scholarship was Katelyn McKenzie. The Foxworth resident earned a $400 scholarship to continue her education. The Mississippi Radiological Society Scholarship was awarded to Lexie McDaniel of New Augusta.
The 11 Jones College Radiologic Technology graduates recognized South Central Regional Medical Center's K.C. Singley R.T. (R) as the Technologist of the Year at the ceremony. Carrie Holiefield R.T.(R) with Covington County Hospital was honored as the Clinical Instructor of the Year.
Group Photo with instructors:  Jones College Radiologic Technology graduates are pictured with their instructors prior to graduation. Pictured in the front row, left to right, Samantha Brown, Hannah Burnham, Michelle Green, Lexie McDaniel and Mary Strickland. Pictured in the back row, left to right is instructor, Brittany Barron, students Bre Waite, Cameron McLaurin, Rachel Bryant, Ciera Lightsey, Desiree Brunty, Katelyn McKenzie and instructor, Mandy Pearson.