ELLISVILLE – Eighty-one students from Jones College's High School Equivalency program were eligible to participate in a graduation ceremony honoring the classes of 2020 and 2021 with most choosing to participate in the celebration. Held at the Advanced Technology Center in Ellisville, HSE graduates heard an inspiring message from the keynote speaker, Jones County Drug Court Coordinator for the 18th Circuit Court District of Mississippi, Consuelo W. Walley.
"We learn what we're capable of by going through trials. As Winston Churchill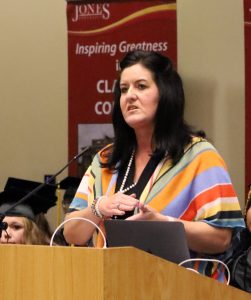 said, 'Success is not final; failure is not fatal: it is the courage to continue that counts,'" Walley declared.
The graduate of Jones College, the University of Mississippi and Mississippi College School of Law shared with the audience that dreams can change. She emphasized the value of knowledge, which is power. Through our experiences, good and bad, Walley told the crowded auditorium, that we can learn to overcome and rise up when we're knocked down.
"Tonight, is a stepping-stone in your journey, graduates. Where you go from here is totally within your power to determine. You just have to have the determination to get there. Don't stop when you fulfill one dream and never, ever stop dreaming. Always be open to changing your plans. Take pride in your journey and look forward to the journey," said Walley.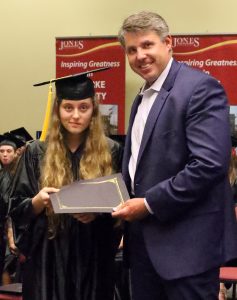 Several graduates' futures will be changing not only because they received their High School Equivalency diploma, but because they also earned a scholarship for their accomplishments. A graduate from each county in Jones College's eight-county district was awarded a full-tuition scholarship for two semesters. The overall high scoring student from Stonewall, Tabitha Mixon earned the Clarke County Scholarship along with an Academic Distinction Scholarship because of her ACT score. Additionally, because she was the overall high scorer on the HSE, Mixon earned the $500 Jones College Foundation Scholarship.
"I was really excited to earn these scholarships because my family can't afford tuition!" said Mixon who wants to be a graphic designer/illustrator. "It was also really nice to have my younger brother, David participating in the ceremony with me, and my family here to celebrate too. They didn't realize I was working so hard and studying to earn these scholarships!"
Mixon wasn't the only graduate with a sibling sharing this special occasion. Four additional families, Bradey and Amanda Hart of Collins, Garrett and Olivia Clark of Buckatunna and Abbigail and Isaac Davis of Seminary enjoyed graduating together. Another family with three siblings, Jeremiah, Noelle and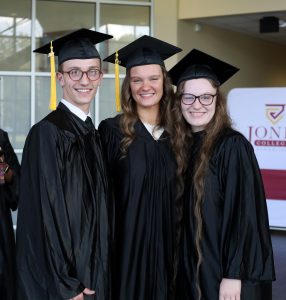 Sasha Barrow started their HSE at the Greene County Center in Leakesville, with David Clark in 2019. They returned from Gate City, Virginia to participate in graduation ceremonies together with the teacher who supported them from more than five hundred miles away to ensure they earn their High School Equivalency diploma.
"Sasha, the oldest sibling, was upset she didn't have her HSE before her siblings completed their testing. However, her frustration stemmed more from her issues with dyslexia and ADHD. After testing, we were able to get Sasha special accommodations and she was able to show off her abilities. Then, her father's job moved the family to Virginia, which didn't offer the HiSet. After some research, Sasha commuted 25 minutes to a junior college in Tennessee to complete the HiSet and earn her HSE diploma," Clark explained proudly. "Sasha and Mary Dickerson are the highest-scoring students in my 17 years in adult education. I'm very proud to have also taught Barrow's mother, Natasha and her two sisters."
Sasha Barrow is currently enrolled in the CNA program with the goal of becoming a registered nurse. Her brother, Jeremiah aspires to be a business owner and is working on his business degree while managing a restaurant. Their sister, Noelle works at the restaurant her brother manages.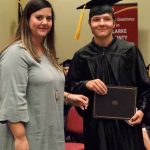 Other HSE graduates who are also on the path to success are County Scholarship recipients, (pictured in order of names listed) Bradley Hart of Collins, who earned the Covington County Scholarship. Leakesville's Mary Dickerson was awarded the Greene County Scholarship. Amber Windham of Bay Springs received the Jasper County Scholarship. The Jones County Scholarship recipient was Helenia Smith of Laurel. Samuel Menzik of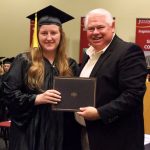 Taylorsville earned the Smith County Scholarship and Justice Pitts of Shubuta received the Wayne County Scholarship.
Also honored during the commencement ceremony were several ACT scholarship recipients: Lydia Davis, Lucedale-Rising Excellence ACT Scholarship; Amanda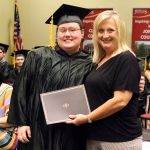 Gilbert, Pachuta-Academic Distinction ACT Scholarship; Mary Dickerson, Leakesville-Academic Achievement ACT Scholarship; Samuel Menzik, Taylorsville-Rising Excellence ACT Scholarship; Tabitha Mixon, Stonewall-Academic Distinction ACT Scholarship; Helenia Smith, Laurel-Academic Distinction ACT Scholarship; Amber Windham, Bay Springs-Academic Achievement ACT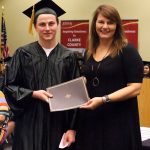 Scholarship.
For more information about the Adult Education Program at Jones College contact, Gwen Matuszewski at 601-477-3125 or email gwen.matuszewski@jcjc.edu.
2020 & 2021 HSE Graduates
Name                 City  
Matthew Adams, Ellisville
Mariano Arellano, Hattiesburg
Noelle Barrow, Lucedale
Jeremiah Barrow, Lucedale
Sasha Barrow, Lucedale
Rikki Brown, Heidelberg
Thomas Bullock, Seminary
Ashley Carlson, Stonewall
Brooklynn Ciessau, Waynesboro
Ashton Clark, Leakesville
Garrett Clark, Buckatunna
Olivia Clark, Buckatunna
Tamika Coleman, Laurel
Tristan Collins, Seminary
Emma Cotton, Ellisville
Elizabeth Crum, Enterprise
Abbigail Davis, Seminary
Isaac Davis, Seminary
Jaylne Davis, Waynesboro
Katlyn Davis, Bay Springs
Lydia Davis, Lucedale
Angel Denson, State Line
Hannah Dickerson, Leakesville
Mary Dickerson, Leakesville
Jessica Duke, Ellisville
Randalyn Dykes, Waynesboro
Candice Finnegan, Enterprise
Linda Foster, Sumrall
Bailey Freeman, Waynesboro
Tonya Gardner, State Line
Amanda Gilbert, Pachuta
Avant Gillispie,  Ellisville
Micheal Gray, Petal
August Hand, Ellisville
Natasha Hargrove, Ellisville
Amanda Hart, Collins
Bradey Hart, Collins
Ethan Hilbun, Laurel
Devin Hill, Petal
Alex Holifield, Ellisville
Jeremiah Holland, Leakesville
Alaina  Hutto, Waynesboro
James Ivy, Enterprise
Ta'Varence Jones, Waynesboro
Aiden Kidwell, Laurel
Makayla Kitchens, Stringer
Chasity Knight, Laurel
Larry Landrum, Mize
Laiken Langley, Ellisville
Dixie Lee, Ovett
McKenzie Lee, Waynesboro
Blake Lowery, Seminary
Paula McAuley, Ellisville
Zachary McLeod, Leakesville
Samuel Menzik, Taylorsville
David Mixon, Stonewall
Tabitha Mixon, Stonewall
Bailey Nicholas, Ellisville
Logan Overstreet, Laurel
Elizabeth Pipkins, Waynesboro
Justice Pitts, Shubuta
Sarah Roberts, Heidelberg
Sofia Ruiz, Laurel
Maricruz Sanchez, Laurel
Seth Schumpert, Soso
Linda Shelby, Bay Springs
Helenia Smith, Laurel
Quendarius Smith, Waynesboro
Shacovia Stevens, Laurel
Waylin Strite, Bay Springs
Harley Taylor, Taylorsville
Darryn Thompson, Richton
Jadin Thrash, Heidelberg
Thomas Tillman, Leakesville
Breana Walker, Lucedale
Dylan Walters, Ellisville
Logan Watkins, Laurel
Shelby Whitehurst, Laurel
Amber Windham, Bay Springs
Dixie Wise, Petal
Dainera Wooten, Bay Springs