ELLISVILLE – Twenty-eight Associate Degree Nursing graduates left Jones College learning more than just nursing because of COVID-19. At the pinning ceremony, Class President, Brigit Kelly reminded the auditorium filled with friends and family, that this group of nurses embarked on the nursing school journey during a very disheartening time in world history.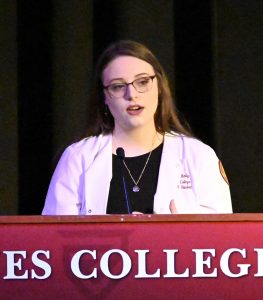 "The day we received our notice we were accepted into the program was the day each of us walked into a somewhat frightening unknown. We began this journey in August of 2020 during the peak of Covid in our nation and only five months after the first positive case was reported in Mississippi. Yet, we all decided to sign up for whatever the next two years might bring us," said Kelly.
Immediately, this group of students learned Covid Protocols and learned while in quarantine through a computer and wearing a mask. Learning to adapt alongside their instructors, Kelly shared the Class of 2022 had some fun memories too.
"We made the best of our situation even though our situation was not the best. In Nursing 3 and 4 we finally got a glimpse of what regular nursing would look like," said Kelly. "We began to associate a name with a face and created lifelong friendships too."
It was during the final semester of nursing school these graduates said they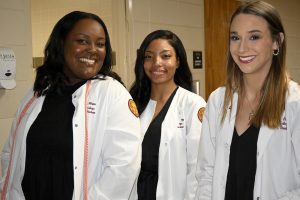 learned the biggest lesson of all. While navigating through the news of vaccine mandates, these nurses learned an important life lesson.
"We navigated intense emotions, debates, and general paperwork with this event. The biggest lesson we learned however was there is immense power in compassionate and considerate coexistence. Together, no matter what our beliefs or stance on any topic, we learned how to acknowledge humanity in one another," said Kelly. However, she continued, "In Nursing 5 we all grew to admire our profession and began to master the power of harnessing harmful emotions and replaced them with civility and compassion instead."
Additionally, during their five semesters, the nursing students overcame numerous obstacles while simultaneously being full time parents, full and part time employees, caretakers and they also dealt with various degrees of grief.
"While we mourn our old reality, many of us continue to mourn the loss of people we loved," shared Kelly. "Regardless, we leave here today not only as soon-to-be registered nurses, but as changed human beings. May we continue to use our voice for kindness, our ears for compassionate listening, our hands for healing, our minds for truth and hearts to love."
Director of the Associate Degree Nursing Program, Mike Cummings agreed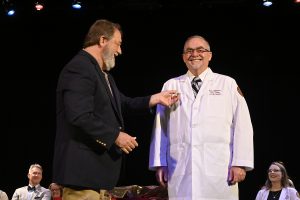 that this class was challenged to the extreme. However, in the face of our number one health crisis, he praised this class for coming to work regardless.
"They didn't have to continue. They could have chosen to take a different career path because of all they experienced but they didn't," said Cummings. "They continued to show up and do the work and accomplished what they set out to accomplish. They were committed and remained flexible as the world changed before them. We commend you. Job well done!"
Noting that the nursing curriculum is one of the more difficult programs to pass, Jones College President, Dr. Jesse Smith said this class has endured extreme challenges. Even so, he shared there's nothing more important than educating outstanding nurses.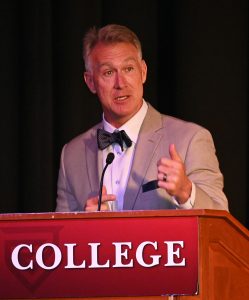 "Everything has to change in nursing school. The way you think, the way you sleep, the way you study, the tears, the joys, the ups and downs, and in the middle of a pandemic with all of those challenges, you've succeeded," said Smith. "Remember our motto is, 'Inspiring Greatness' and we expect you to do so. It's a long road ahead but it's very rewarding. We expect you to make this world a better place because we know you are eminently prepared to take this next step."
Perhaps the overall difference for these 28 graduates' ability to reach today's Pinning and Graduation Ceremony, Smith said is the supportive network of family and friends. Just like the nursing school tradition of the Lighting of the Lamp demonstrates the passing on of knowledge from nursing faculty to graduates, Smith said he is also impressed with the Jones College nursing faculty's ability to adapt to the changes, while still managing to keep what's most important, first and foremost.
For more information about the Associate Degree Nursing program at Jones College check out the website, https://www.jcjc.edu/programs/adn/