PHOTOS BY: Megan Clark, JC Social Media Coordinator 
ELLISVILLE- As Jones College students embark on a new journey taking all classes online beginning March 30, college administrators are aware some students may need help to overcome some obstacles to finish the semester. Among the top issues specifically being addressed by the college include access to a computer and Internet service.
Executive Vice President CMO, CIO, CEMO, Finee' Ruffin said, "To understand the challenges and the needs of our students who may need access to the internet or a computer, we've asked students to complete the Technology Accessibility Survey, located in the campus portal, Canvas."
Currently, college officials are working to understand the technology needs that students are facing in this new model of Learn from Home.
"I live in the middle of nowhere!" said sophomore Layne Boykin of Waynesboro. "I have a laptop and Wi-Fi, but the Wi-Fi just doesn't work well at all. I can't get a quiz to load."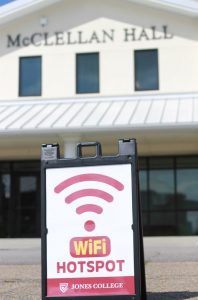 Accessing Wi-Fi is a problem for many in South Mississippi. However, before Jones College launched the Learn from Home format, the college's Internet Technology department went to work finding equipment to increase the availability of Wi-Fi from the campus parking lots for students like Boykin to use.
"If access to the internet is an issue for students, the college is allowing students to access free Wi-Fi from three designated parking lots on the Ellisville campus. The technology department continues to work on plans for additional off-campus sites to come on board with parking lot Wi-Fi in weeks to come. As students prepare to come to campus, we ask that students remain in their cars and come prepared to work on their online courses," said Ruffin.
Students planning to visit the campus for the use of the Wi-Fi should bring their Jones College parking decal as well as their student ID. Campus Wi-Fi will be accessible to Jones College students for use from 8 a.m. until 4:30 p.m., Monday through Friday. Additional Wi-Fi access points will be available in more areas on campus and at the County Centers in the upcoming weeks as more equipment becomes available. Additionally, Jones has listed several resources for free or reduced cost for Internet service on the college's Learn from Home webpage, https://www.jcjc.edu/learn/ Tips are also provided for students using the online portal Canvas on the webpage.  For more information regarding Jones College and the Corona Virus updates, visit the website at https://www.jcjc.edu/collegeupdate/