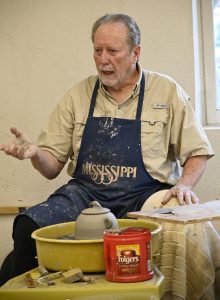 ELLISVILLE – After teaching 34 years at Jones College and enjoying retirement for the last 17 years, Hattiesburg artist, Byron Myrick came back to his once familiar pottery studio at Jones College to wrap up his show, "Quilted" which was on display in March in the Eula Bass Art Gallery. He also took time to share some art wisdom with students, including a demonstration on his favorite pottery firing processes. The Past President and Co-Director of the Mississippi Art Colony, and Fellow member of the Mississippi Craftsmen's Guild is known for his extraordinary work in the Japanese style of pottery known as Raku. The low-firing process is considered one of the most natural techniques, causing crackling because it goes from the firing kiln and into water. Raku translates to "happiness in the accident," which inspired Myrick to explore ways to create art from the breakages which are common in Raku firing.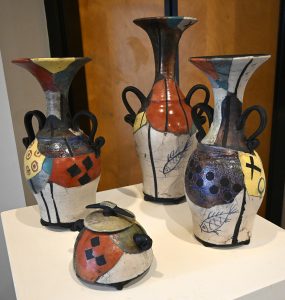 "The Japanese didn't worry about what they were putting tea in, and this type of pottery is not good for storing food. It is a decorative style," explained Myrick. "While creating pottery over the years, things would break, and I didn't like it. Eventually, I just started breaking things, a controlled breaking and then I would piece the broken parts together artistically."
This began a collection of his artwork called, "Quilted." These pieces are influenced from his fascination with reconstructive archaeological findings of vessels seen in museums and the quilt.
"The quilt is a part of the southern heritage, constructed from many parts to make a whole, and functions as well as a decorative object. With my pottery pieces, I never know how this is going to happen, but I look for variety, size, and shape, assigning color, pattern, texture and marks to each piece. The shards are glazed and fired using the Raku firing technique, which enhances the surface and colors. Each piece is put back together using a strong epoxy," Myrick shared.
Ellisville graphic artist, and Jones College sophomore, Jonathan Hayes was amazed by Myrick's pottery skills. He fully respects artists and the skills used to create masterpieces.
"The level of mastery Mr. Myrick has is not something you can get in two courses or even after four years of doing this and nothing else. I don't think I could do what he does and nothing else and reach his skill level and artistry," said Hayes. "He showed us how he puts two pieces of pottery together in a modern way which is what I wanted to learn. I love ceramics way too much and I really enjoy making stuff!"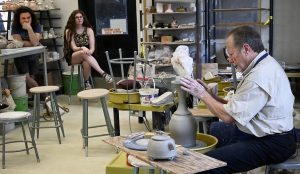 Buying the necessary equipment, pottery wheel and firing kiln, along with the glazes and clay can be expensive. Myrick suggests that students wanting to build a ceramics business should either buy used equipment or be patient; buying as you can afford it. Artist communities found in larger cities often combine resources allowing artists to make money until they can purchase their own equipment.
Myrick completed his undergraduate and graduate work in art at the University of Southern Mississippi and his work has been displayed at the U.S. Ambassador's residences in Portugal by invitation of Ambassador John Palmer (2001-2009) and the "Arts in Embassies Program."  He was also privileged to be one of the many talented southern artists selected to exhibit their works in an exhibit titled, "My South, A Celebration of Southern Art," held in New York City.  His work is in many private and corporate collections throughout the South.