ELLISVILLE – The Jones College Practical Nursing Program's Pinning and Diploma Ceremony was very emotional, especially for those who overcame numerous challenges to reach the end of the three-semester program successfully. Molly Mize of Sandersville was one of the 58 graduates who had to endure tragedies and took a break before reaching her goal.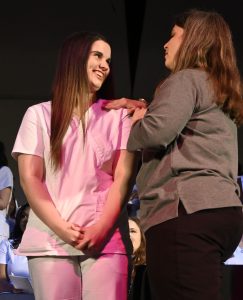 "Today means everything to me. My dad died, I had a baby and my mom had cancer but she's doing well now," explained Mize. "I made it through a very hard year, however, my 11-month-old is my motivation. I had him and came back in the summer when he was four-and-a-half months old. I knew he deserved more."
Also inspired by her children is 36-year-old Renee Price of Waynesboro. The mother of four children, a 16-year-old, two five-year-old twins, and a one-year-old, worked in another job for 16 years before finally following her dream of becoming a nurse.
"I did this for my baby so they can see and be encouraged that they can do whatever they set their mind to do," said Price. "At the end, I tripped up a little, and couldn't get over the finish line but I kept pushing and I did it. Walking across that stage and getting my pin means everything to me and I'm ready to take on the next challenge!"
Nursing is one of the most difficult programs and requires the support of friends and family to make it. Jones College Practical Nursing Program Director, Amy Myers explained to graduates that instructors are also proud and are celebrating their accomplishments.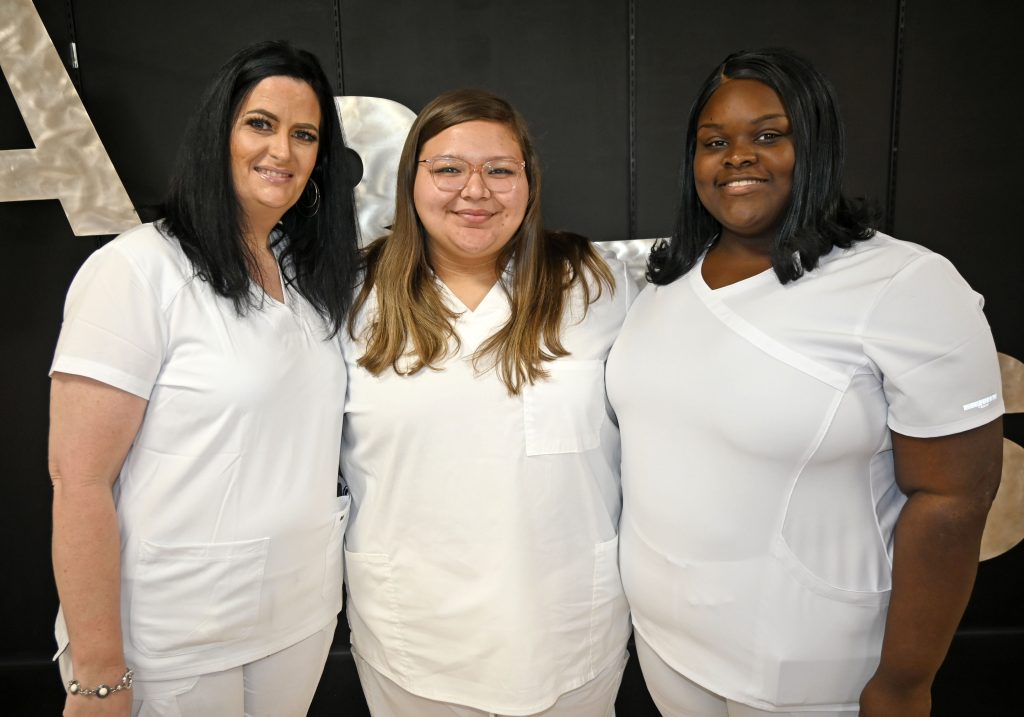 "Seeing nursing students achieve their goals and succeed is one of our proudest moments as instructors. Graduates, you have proved yourself capable of great things!" said Myers. "This semester we have PN graduates in both our full-time and part-time programs. Several of our students struggled to juggle work, home, and school. Several had very difficult personal and family situations to overcome. I am very proud of ALL our students for the hard work and dedication that they showed to further their nursing goals."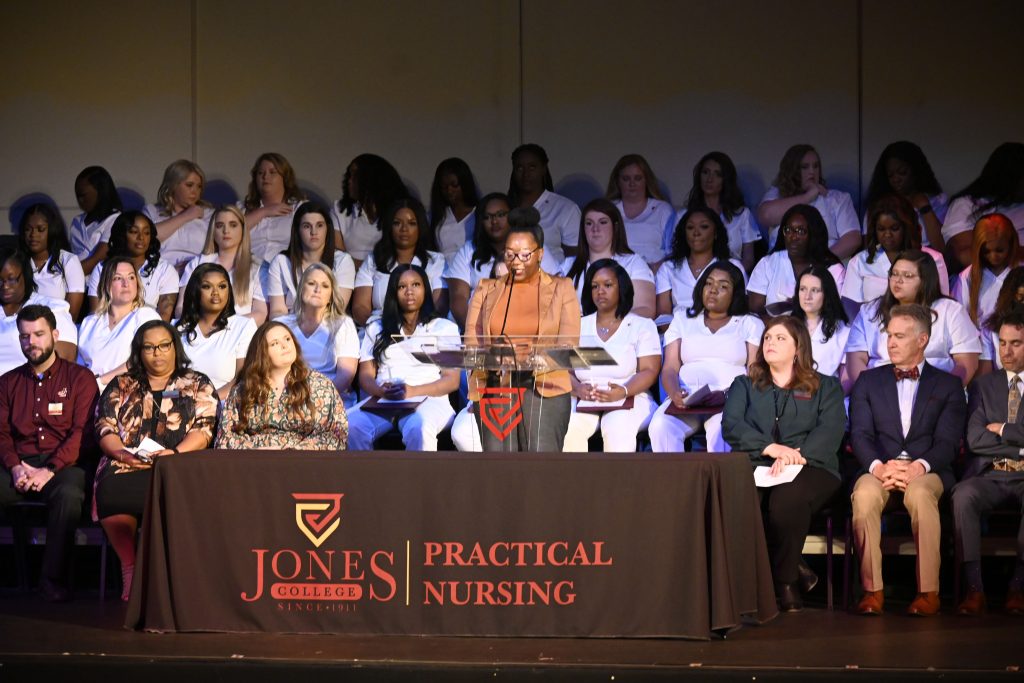 Faculty members honored several members of the graduating classes from the Ellisville full time program, part time night class program and Wayne County Center program. Three students from each program were honored with three different awards for their accomplishments during the three-semester program.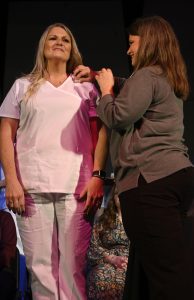 Cyndi Colson of Magee, Kimbula Ducksworth of Laurel, and Sharrangelia Green of Waynesboro each received the Florence Nightingale Award for exhibiting the true spirit of nursing qualities, like the founder of nursing, Florence Nightingale who showed compassion, dedication, and kindness with professionalism, integrity, and a selfless attitude toward humanity.
The Rising Star Award was presented to Inez Bridgeman of Jackson, Tameria Bunch of Canton and Shanteshia Morgan of Wayne County for their continuous dedication and growth in the classroom and clinical setting, and their positive attitude and perseverance which has enriched their professionalism and nursing knowledge.
Karen Windham of Hattiesburg, Lakesha Woulard of State Line and Sarah Gonzalez of Leakesville each earned the Academic Excellence Award for having the highest academic average. Gonzalez said she attributes her success in the program to her deep desire to care for people and being a nurse is the only thing she wanted to do.
"I feel it's my calling and I'm ready to get my first job and build a future for my future kids," said Gonzalez, who wants to work with geriatric patients. "I enjoy geriatrics because that's a community that needs the most love. I feel like they should get extra attention because they've lived their lives so long and we should be in debt to them."
Hattiesburg's Kia Pruitt, who is currently a pharmacy technician also answered a "calling" to become a nurse. The 29-year-old explained she enjoys working in the pharmacy, but the Covid 19 pandemic enlightened her to the need to do more.
"I still like what I do but I chose to come to nursing to lend a helping hand. Pharmacy technicians work behind the scenes but what I do in nursing is all hands on and I can help more people physically and mentally. I also like a challenge!" said Pruitt.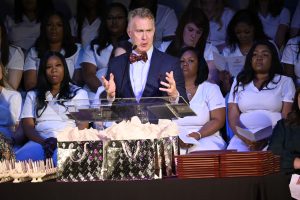 Jones College President, Dr. Jesse Smith shared with the graduates and audience, the college has high expectations of nursing students. He explained, at the conclusion of the Pinning and Graduation Ceremony, where graduates light each other's lamps as part of the traditional "Lamp Lighting" inspired by the founder of nursing, Florence Nightingale who carried a lamp to help wounded soldiers during the Crimean War in 1854, is very significant.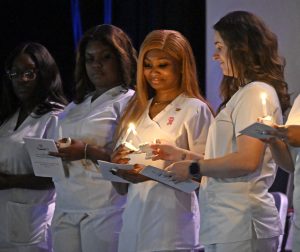 "The lamp lighting ceremony is much more than just a moment. It is an actual representation of the enlightenment of your minds, and it is also an enlightenment of love, joy, and the great care that I unequivocally endorse of the health care these ladies will do in the future and be exceptional. We're excited for your future graduates!"
As the graduates' lamps were lit, Practical Nursing instructor, Oshaugnessye McCormick, challenged the newest nurses to be more like Florence; innovative, critical thinkers, warm and compassionate and to let their lights shine.
Jones College Practical Nursing Graduates December 2022
Jakeria Bailey, Waynesboro
Miranda (Wright) Beckwith, Laurel
Haley Boutwell, Sandersville
Alexis Boyle, Sumrall
Inez L. Bridgeman, Jackson
Amber Brignac, Seminary
Tameria Raymona' Bunch, Canton
Cyndi Colson, Magee
Wayn-Keyera Davis, Waynesboro
Kasey Dayon, Petal
Chanece Denton, Meridian
Kimbula Ducksworth, Laurel
Briana Frierson, Hattiesburg
Sarah Gonzalez, Leakesville
Breuna Gray, Louin
Sharrangelia Green, Waynesboro
Makenzie Grimsley, Petal
Kaitlyn Hennis, Hattiesburg
Bailey Hobby, Greene County
Arnissa Holloway, State Line (Wayne)
Tacora Monique Houston, Ellisville
Brooke Sky Hudson, Seminary
Halie Jones, Laurel
Jordyn Kittrell, State Line
Kamecia Love, Hattiesburg
TaQuana Magee, Tylertown
Madison Matthew, Seminary
Ashlynn McLeod, Leakesville
Molly Mize, Sandersville
Jelesia Moody, McLain
Kaneesha Michele Moody, Beaumont
Brittney Paige Morgan, Waynesboro
Shanteshia Morgan, Wayne County
NaToria Moulds, McLain
Miracle Monai Murrell, Hattiesburg
Ni'Esha Nelson, Heidelberg
Megan Noble, Laurel
Charla Packer, Hattiesburg
Joy Dionne Powell, Prentiss
Renee Price, Waynesboro
Kia Deshae' Pruitt, Hattiesburg
Kasia Rankin, Waynesboro
Hayley Deann Revette, Raleigh
Jakarta Kyannah Ruffin, Laurel
Knija Russell, Waynesboro
Courtney Scarbrough, Ellisville
Mahala Shelby, Richton
Iiesha Stuckey, Mendenhall
Alexis Keonna Taylor, Magee
LaBrittany Triplett, Louisville
Jacey Ann Varnado, Picayune
Jonnah Walters, Ovett
Stephanie Leann Wardell, Laurel
Brooke Lashe' Williams, Gulfport
Gabriella Noelle Williams, Shubuta
Karen Windham, Hattiesburg
Lakesha Woulard, State Line
Taniya Young, Richland