ELLISVILLE –Thirty-five Jones College associate degree nursing graduates should have no trouble finding jobs. Jones College Associate Degree Nursing Division Chair, Erin Knight said the shortage is still evident in the region.
"Hospitals in our community and surrounding areas are hungry to employee Jones graduates," said Knight. There are so many jobs available that we know each of these graduates will find the right place to work and be excellent employees. Healthcare institutions in our area have very competitive salaries and great benefits.  We look forward to seeing what a difference this group will make in our area."  
 At least four Jones College nursing graduates should have no trouble finding the job of their choice. During the graduation and pinning ceremony, Knight praised, Abby Atwood-Hattiesburg, Madison Hall-Petal, Mackenzie Moreau-Collins and Maggie Pittman-Petal, who should make excellent employees because they were not absent or tardy in the five-semester program, over two years.
"This is a very admirable accomplishment and quality to have. I'm sure they will take that work ethic with them to their workplace. I appreciate their dedication," said Knight.
 Also honored were the graduates in the Student Nurse Organization which held a blanket, socks and hat drive for senior citizens who don't have heated homes during the winter, clothing for mental health patients, and box-tops for education to assist dyslexic children. The group also raised $4,880 to purchase hearing aids for a young girl.
"These students, Makenzie Baker-Purvis, Tiffany Blair-Magee, Lexi Guthrie-Hattiesburg, LeAnn Dennis-Laurel, Mary Kathryn Dossett-Seminary, Taylor Gordon-Hattiesburg, Madison Hall-Petal, Angelique Hughes-Laurel, Amy Long-Hattiesburg, Diane McPhail-Collins, Maggie Pittman-Petal, Kaprisha Robinson-Hattiesburg, and Amber Walters-Soso, are being commended for their outstanding leadership, professionalism and community service, as well as participation in the SNO," said Jones College A.D.N. instructor, Nan Pritchard. "Thank you for everything you've done to make our community, our college, our nursing program and nursing organization proud."
 Earlier in the year, nine members of the class of 35 graduates were inducted into the Nursing Honor Society, Alpha Delta, Abby Atwood-Hattiesburg, Makenzie Baker-Purvis, Alexis Bond-Lucedale, Lexi Guthrie-Hattiesburg, Madison Hall-Petal, Amy Long-Hattiesburg, Alexis McNair-Hattiesburg, Kaitlyn McQueen-Seminary, and Maggie Pittman-Petal, met the rigorous requirements to be in the Alpha Gamma chapter of the A.D. Honor Society. The graduates received their honor cords during the special pinning ceremony.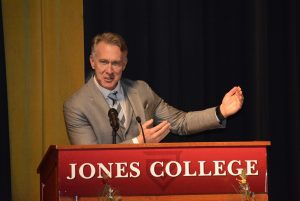 Recognizing the difficulty of graduating from the nursing program, Jones College President, Dr. Jesse Smith applauded the graduates for successfully completing a rigorous, academic program. He also commended their choice of a noble vocation. However, he also applauded those that supported the graduates.
"Thank you for supporting them. I know it's hard on family, to give up family time. Your support helped them to become admirable nurses, and to fulfill a dream for many of them," said Smith.
For more information about Jones College's Associate Degree Nursing program, contact Erin Knight by email at erin.knight@jcjc.edu or online at http://www.jcjc.edu/programs/adn/index.php
Abigail Atwood-Hattiesburg
Makenzie Baker-Purvis
Tiffany Blair-Magee
Alexis  Bond-Lucedale
Hannah Burks-Hattiesburg
Alexandria (Alex) Cannon-Bay Springs
Lauren Dean-Lucedale
LeAnn Dennis-Laurel
Mary Kathryn Dossett-Seminary
Taylor  Gordon-Hattiesburg
Brandon Green-Hattiesburg
Deborah Gunn-Hattiesburg
Lexi Guthrie-Hattiesburg
Madison Hall-Petal
Jayde Hendry-Ovett
Miles Huff-Taylorsville
Angeleque Hughes-Laurel
Cherish Johnson-Hattiesburg
Kaylee Jones-Soso
Amy Long-Hattiesburg
Hayle Lott-Petal
Jamie McCoy-Hattiesburg
Madison McDonald-Laurel
Alexis McNair -Hattiesburg
Diane McPhail-Collins
Kaitlyn McQueen-Seminary
Mackenzie Moreau-Collins
Brooke Pace-Hattiesburg
Maggie Pittman-Petal
Charlsey Roberts-Waynesboro
Kaprisha Robinson-Hattiesburg
Anna Cathryn Sanford-Seminary
Taylor  Simpson-Hattiesburg
Megean Spight-Hattiesburg
Tristan Tate-Carriere
Amber Walters-Soso