JACKSON- In an effort to get the Mississippi Legislature's attention, Community College presidents, faculty, and students reminded everyone at a Capitol building press conference, community/junior colleges provide a vast array of educational and economic opportunities for everyone. Additionally, the two-year college system also provides a healthy return on every dollar spent on the nation's oldest community college system. MACJC Legislative Co-chair and Jones College President, Dr. Jesse Smith encouraged legislators to "face the facts."
"For every dollar invested in the community college system, the return on the investment is four-dollars and eighty-six cents.  That's a worthwhile investment if you're just talking about an investment but what about the people?" asked Smith.
Long lists of facts were shared with the crowd, like Mississippi ranks 4th in the nation in the percentage of students who transfer from community colleges to four-year universities, beating the national average by eight-percent. In 2017, Community/Junior college students earned 20,432 degrees, certificates and awards which is a 42-percent increase over 2011. In regards to economic development, community colleges served 551 companies with workforce training.
"Folks, we have to pay the bill," said MACJC President and Mississippi Gulf Coast Community College president, Dr. Mary Graham. "It's time Mississippi legislators get some help for our community/junior colleges. People continue to pat community colleges on the back, saying 'You're doing a great job' but continuous pats on the back without financial support begin to feel like kicks in the teeth."
Northwest Community College's Adam Conner has experienced similar disappointment when he had to quit college the first time he took classes at Northwest because of difficulties in chemistry. When he tried to return a year later, he learned he was not eligible for the Pell Grant. Conner didn't feel financially apt as an 18-year-old to take out a loan so he waited until he turned 24 to be eligible for aid as an independent student.
"A quality education provides an array of benefits but there are many barriers to success. Rising tuition, time, and financial aid restrictions keep countless Mississippians from accessing higher education," explained the Student Government Association president at Northwest. "Every Mississippian is entitled to opportunities for educational and professional growth."
Without more support for community colleges, Dr. Jim Haffey is concerned more people will be dependent on the state. The MACJC Legislative Co-chair and Holmes Community College president shared his mother's story. She earned her nursing degree at Hinds Community College after 20-years of raising kids and being a housewife. He calculated a 1,600 percent return on the states' investment into her education from the state taxes she paid over the 26-years she worked at a rural county hospital. Haffey is challenging legislators to provide support to anyone who wants an education can be served.
"There are hundreds of Mississippians who do not get a chance to enroll at an allied health program every year because we have limitations on our space. We stand poised to help hundreds but we cannot open or expand new programs without a strong commitment from the state. Two years ago, the community colleges were cut 11-percent while the state made other areas a priority. I'm asking the Legislature to restore those cuts immediately and invest in a proven economic development entity, the Mississippi Community Colleges."
Dr. Andrea Mayfield, the Executive Director of the Mississippi Community College Board added community colleges are the best value for the taxpayers and individuals seeking an education.
"The community college system does it all while offering affordable college tuition and with every experience, you can find at a university. But, you can also (earn a degree) and begin work without a large debt. The community college's purpose is to put people to work and it's the best value to Mississippi's economy."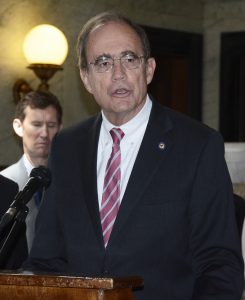 Longtime community college supporter and Secretary of State, Delbert Hosemann urged community college leaders to continue to share their "good value" message because two-year colleges make a difference.  While visiting schools across the state, Hosemann said he has met first-generation college graduates and problem solvers thanks to community colleges.
"The first autistic child was diagnosed in 1947 in Mississippi. It's a growing problem but what are we going to do? How are we going to educate teachers who haven't been faced with the challenges of teaching an autistic child? We went to the community colleges and they devised a program and it's taught at Holmes."
While the successes of community colleges are abundant, administrators are faced with the challenge of funding a system that continually lacks support from legislators. For every dollar spent on education, only seven-cents go to community colleges with 18-cents going to the Institutes for Higher Learning, and 75-cents fund kindergarten through 12th grade. Community college leaders are asking for legislators to spend a dime of every dollar to educate the 100,000 students and the additional 70,024 individuals seeking skilled training.
"We are not just another group of people who want more money," said Meridian Community College Associate Degree Nursing instructor, Dr. Holly Crane, R.N., CNE. "We, the community colleges are the catalyst that grows this economy and we are simply asking our legislators, our leaders, to invest in us like we invest in our students."