ELLISVILLE – Jones College's Associate Degree Nursing program held a pinning and graduation ceremony for 26 graduates who have spent almost two years preparing to be of service to others.  This intense education and rigorous clinical training has prepared them for the challenges they will encounter on the job.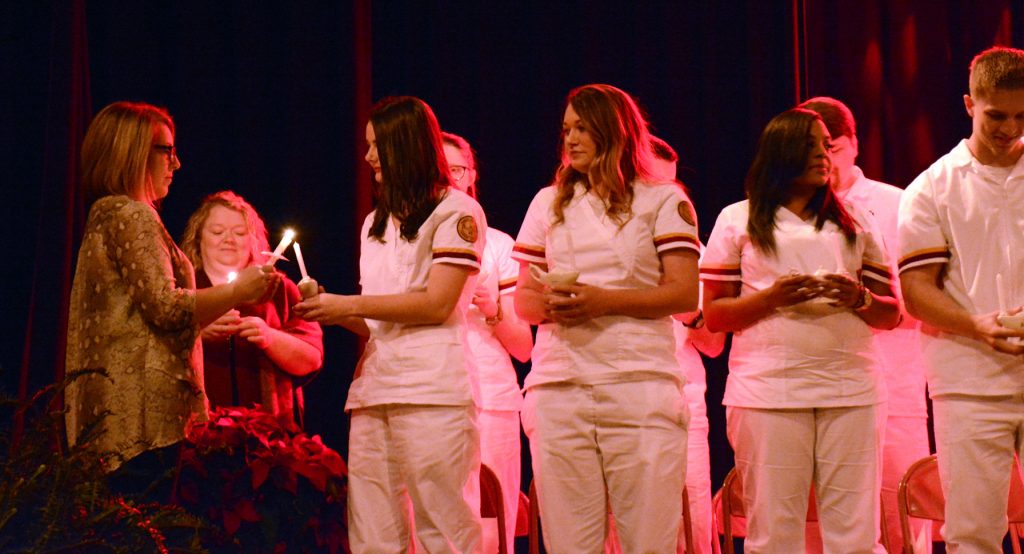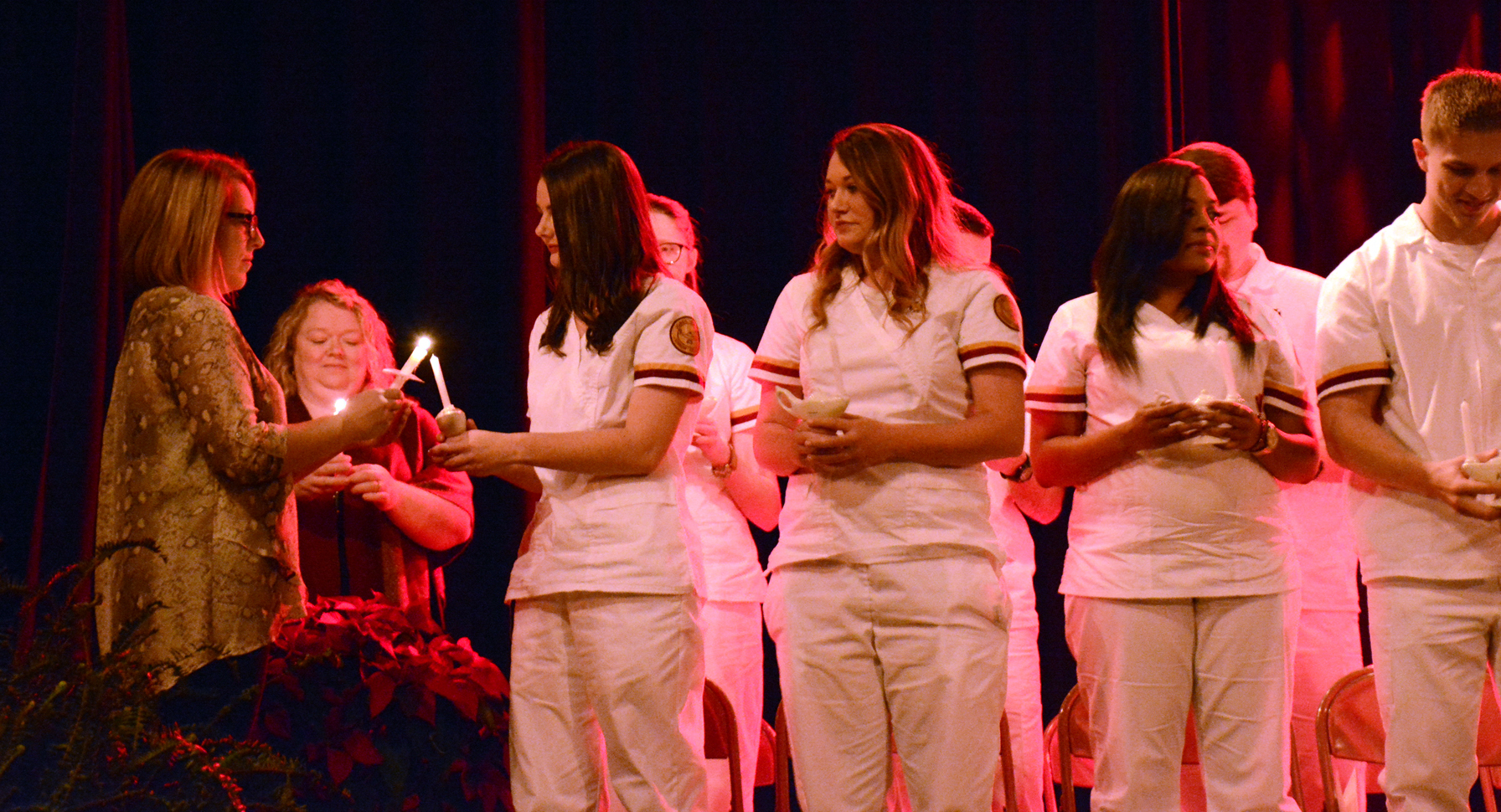 "We have the best faculty and they are dedicated to this difficult curriculum because lives are at stake," said Jones College President Dr. Jesse Smith. "These folks are going to touch lives, save lives and they're going to ease the transition of some lives into the next life and they're going to be prepared. I want to congratulate families for supporting these graduates and allowing them to concentrate on this difficult task."
Class president, April Phillips of Purvis agreed with Dr. Smith. While her classmates have sacrificed a lot, they have also been encouraged by faculty, friends and family to help them reach this goal.
"We've all had different reasons for pursuing this profession; we've sacrificed a lot. In some form or fashion, we've also been encouraged by someone to pursue our dreams. Whatever employer hires from this group, they are getting a well-trained, skilled, educated, safe, caring nurse. I am so proud of each of you," said Phillips.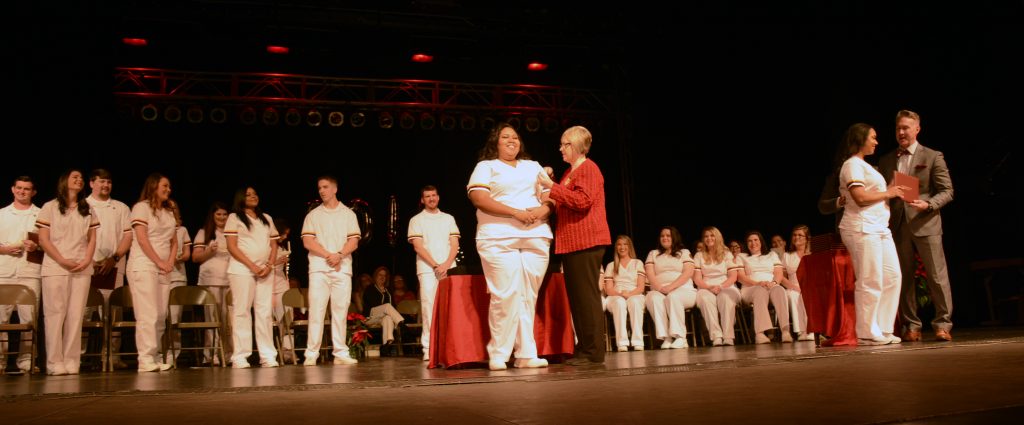 Jones College nursing faculty played a significant role in preparing confident nurses, graduate, Alex Hill of Laurel shared with the audience. On the first day of classes, Hill said the classes' fears impaired them from remembering how to do simple tasks but waned with more experience and support from faculty.
She explained, "We knew they'd be watching our every move. We knew what to do but we were unsure of ourselves," said Hill. "However, I don't believe any of us will be able to thank them enough for sharing their knowledge, teaching us things we need to know, and even teaching us things to do at clinical to make our lives a little bit easier. They are not only our instructors, but they are also our role models," said Hill.
As the students endured through the nursing program, several students earned special honors and were recognized by the Associate Degree Nursing program division chair, Erin Knight, MSN, RN. Four students were inducted into the National Honor Society for Associate Degree Nursing programs, Alpha Delta Nu, including Emily Davis of Laurel, Austin Griffith of Laurel, MaCalla Matthews of Laurel and Haley Merritt of Lucedale. Eight students had perfect attendance in both the classroom and clinical meetings: Cheyanne Boyd of Laurel, Emily Davis of Laurel, Daniel Haas of Laurel, Megan Livingston of Laurel, MaCalla Matthews of Laurel, Megan McCarty of Waynesboro, Kwadric Smith of Hattiesburg and Carole Grace Wilson of Seminary.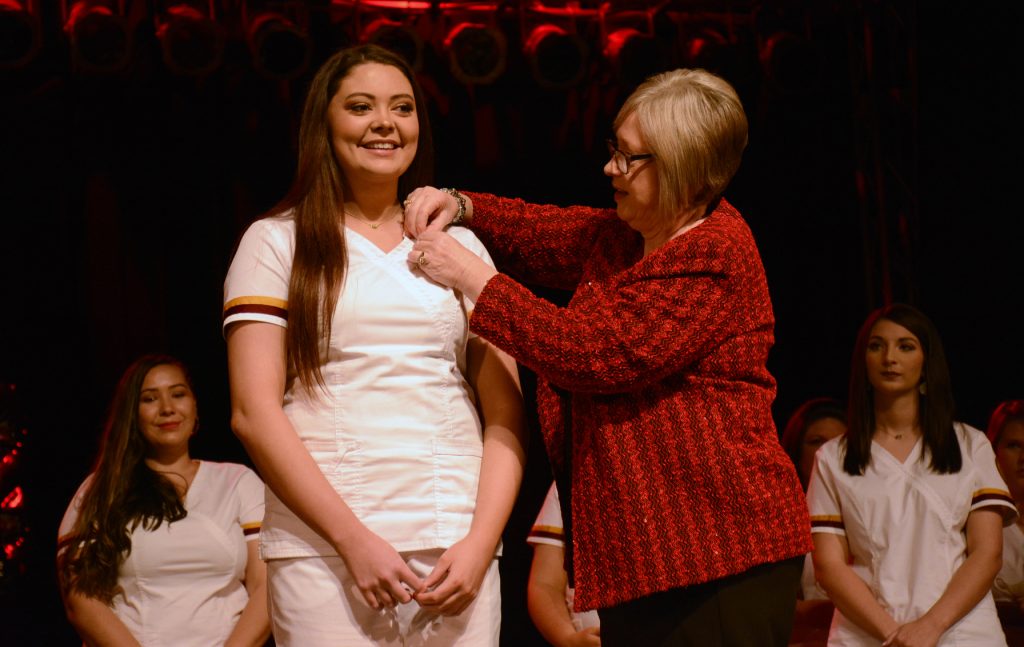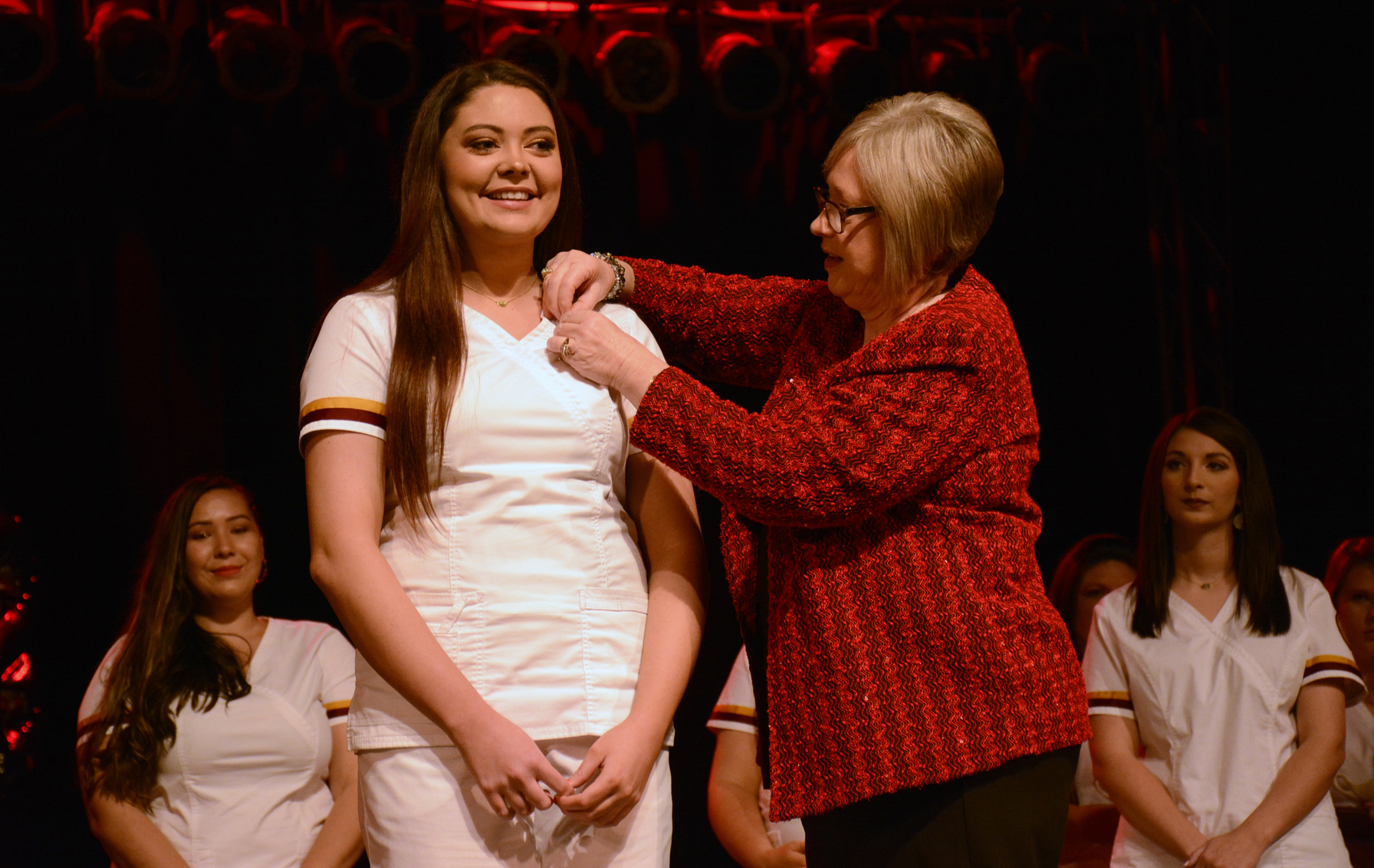 During the Pinning and Graduation program, Knight also challenged the 26, new nursing graduates to never stop learning and continue to make a difference. As she explained the purpose behind the pinning ceremony, she reminded graduates that they've answered a higher calling and have dedicated their lives to serving others.
"The nurses' pin has a Maltese cross with eight points. Each of these points represents Christian values. It's a source of pride because it symbolizes you have earned the right to serve others," said Knight. During the traditional Lamp Lighting ceremony, Knight also shared the nurses' purpose as demonstrated by the modern founder of nursing, Florence Nightingale. "This lamp, such as the one she carried, symbolizes the demonstration of compassion for people. In addition, the lamp symbolizes the passing on of knowledge and experience from the faculty to you graduates… We challenge you to never forget the cornerstone or hallmark of nursing, which is compassion and is shown to every patient that comes your way.  Never let your flame go dim."
Associate Degree Nursing Graduates 2018
Cheyanne Boyd, Laurel
Mason Brewer, Richton
Luke Cargile, Bay Springs
Jessica Carter, Seminary
Allie Cross, Purvis
Emily Davis, Laurel
Ronterrius Fisher, Hattiesburg
Jacelia Fountain, Woodville
Austin Griffin, Laurel
Daniel Haas, Laurel
Seairra Hayes, Petal
Alex Hill, Laurel
Megan Livingston, Laurel
MaCalla Matthews, Laurel
Meagan McCarty, Waynesboro
Amber McGill, Laurel
Haley Merritt, Lucedale
Stephanie Myers, Waynesboro
April Phillips, Purvis
Baylea Powell, Mt. Olive
Martha Ramirez, Laurel
Alexis Riddle, Hattiesburg
Bailey Rogers, Bay Springs
Kwadric Smith, Hattiesburg
Holly Sturdivant, Meadville
Carole Grace Wilson, Seminary