ELLISVILLE –Jones College's visual arts instructor, Melanie Eubanks has been selected as the Jones College 2021-2022 Mississippi Humanities Teacher of the Year. She will be honored by the Mississippi Humanities Council and the college on Tuesday, March 8, at 10:30 a.m. in the M.P. Bush Fine Arts Auditorium. The public is invited to see her free presentation, "Getting to Creativity Through Ceramics."
"It is quite an honor to receive this award. It validates so many things that are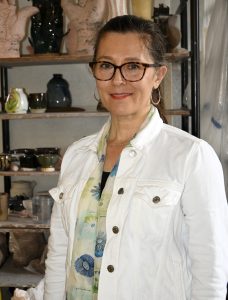 important to me, primarily, the role of the arts in examining what it means to be human," said Eubanks.
The Pascagoula native and current Hattiesburg resident said it was her 4th grade to 12th grade gifted teacher, Charlotte Davis who allowed her to discover the many forms of art, which birthed her love for the arts.
"She took us to see art shows in New Orleans and Mobile which was fascinating as a child. She taught us architecture and we drew our dream house. It was also the first time I was exposed to Gothic Architecture and other things I wouldn't normally be exposed to," said Eubanks.
Her Smith County cousins also played a role in realizing art takes on many forms, including creek bed clay.
"As a child, I was OCD about getting my hands dirty. However, I was at my cousin's house in Smith County and the boys were five or six years older than me and playing in the creek bed. They were making animals out of clay. It was counterintuitive for me to get my hands dirty, but I was hooked! I didn't even realize my hands were dirty because it was fun creating clay animals!" Eubanks shared. "However, I was a freshman in college before making anything again with clay as an art major."
While primarily a ceramics artist, Eubanks paints and has tried many different materials and crafts. Amongst her new favorites are weaving and hot glass/lamp work.
"Artmaking for me, is about the process of using materials to make something," said Eubanks. "My presentation for the Mississippi Humanities Council at JC will discuss the components of the creative process and creativity in the ceramics arts. The creative process is such an important part of being human. It is a way of thinking that propels us forward."
Eubanks serves as the president of the Mississippi Community College Art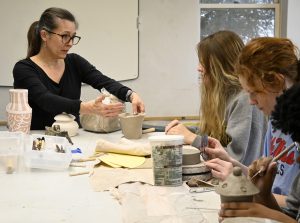 Instructor Association, which hosts a student competition each year. Over the years, she has worked on several, "Empty Bowls" projects in Laurel and Hattiesburg, she is a board member for the Hattiesburg Civic Light Orchestra, worked in community theater, and Eubanks is a member of the Women's Art Collective and the Mississippi Art Colony.
She earned her Bachelor of Fine Arts with an emphasis in painting and drawing, and a minor in art history from the University of Southern Mississippi in 1992. She earned her master's degree a year later and began teaching at JCJC in the fall of 1994. Her colleague, JC art instructor Mark Brown has been working with Eubanks for many of the 27 years she's been teaching at Jones College and is proud Eubanks is being honored for her work.
"I couldn't ask for a better colleague than Melanie Eubanks," said Mark Brown. "Melanie cares greatly about the Visual Arts Department and her dedication is evidenced by the many initiatives she spearheads. Amongst the duties she manages, include the Eula Bass Lewis Art Gallery, and the Student Exhibition Group and she chairs the Art Department Scholarship Selection Committee. Melanie is frequently reflective of her teaching methods to ensure that visual art students are getting what they need to move forward with their degrees."
Additionally, Eubanks has been honored with the Lamplighter Award in 2016 and is a ceramics adjunct instructor at William Carey University. For USM's theater department, she assisted with the set painting for the 2017 play, The Phantom of the Opera. Melanie is married to Mark Rigsby and they have one child, Hank Rigsby who is a sophomore in high school.