ELLISVILLE –Agricultural science courses have always been a part of the curriculum and lifestyle at Jones College since Jones County Agricultural High School was established in 1911. Now, the two-year college is expanding its agricultural roots with the creation of the state's first, Livestock Show Team.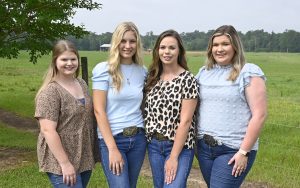 Six Jones College students, Karley Cotton of Heidelberg, Lilli Dixon of Smithdale, Bri Fenton of Ellisville, Hayden Kilgore of Taylorsville, Faith Sullivan of Mize and Tucker Woods of Seminary, are the first members of the newly formed Livestock Show Team at Jones College.
"I'm ready for the new challenge and to widen my knowledge on a different breed of cattle," said Karley Cotton. She began helping on a neighbor's farm at the age of 11, showing Black Angus cattle. Enjoying the opportunity, her parents launched out on their own buying Simmental cattle for Karley to show. In 2021, she earned the title of Mississippi Junior Simmental Association Queen and a 2022-23 tuition scholarship to be on the Jones College Livestock Show Team.
Her story is like most of the members of the JC Livestock Show Team who all have been raising cows since they were at least eight years old. As Animal Science and/or Agricultural Science majors, they are preparing for a career in the agricultural industry. Now more than ever, Jones College Agriculture Science instructor and advisor for the Livestock Show Team, Leanne Kilgore, said the role of agriculture is very important in our daily lives. Educating the public on the role of farmers has really become a vital priority.
"Generally, the public is so far removed from agriculture; two or three generations removed from farm experiences. They don't have any idea where their food sources are coming from. We need to do a better job of being the voice of agriculture and promoting our farmers," said Kilgore.
Adding the Livestock Show Team for Jones College students already invested in the agricultural lifestyle provides more opportunities to continue competing, expanding their knowledge, and developing an ag science network for their futures. The six-member team will care for the daily needs of four Red Angus heifers and compete throughout the state and region. Plans also include a trip to Oklahoma City for the annual Cattlemen's Congress in January.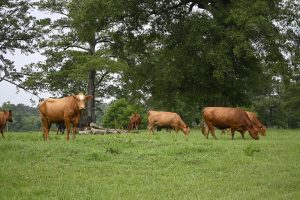 "The students on this team have a tremendous amount of responsibility," said Jones College's Farm and Cattle Manger, Jason Mills. "They will live on campus and the animals will be their responsibility, even on holidays. They will wash, feed and care for the animals' daily needs, even when school is closed."
Freshman, Faith Sullivan of Mize said she enjoys having the opportunity and responsibilities that come with being in the "ring" again. The criminal justice major has been showing cattle since she was 11 years old through 4-H and the Future Farmers of America (FFA). She's won numerous Sale of Champions awards and agriculture accomplishments, including the title of Watermelon Teen Queen 2020. Sullivan said she may change her major to animal science now that she is on the JC Livestock Show Team.
"I thought I was done showing after Dixie Nationals this year, but I've always been interested in investigating; I want to know why things happen and why people do the things they do. I could do farm investigating of stolen animals with my agriculture background. Regardless, I'm just excited to be on the team at Jones," said Sullivan.
For Bri Fenton of Fenton Farms in Ellisville, her goal is to take over and expand the family business. Being on the team is just another way to reach that goal. She has been raising Simmentals for the family's cow/calf program and training horses since she was nine-years old.
"I've always enjoyed showing cattle, traveling and meeting new people. I really like to venture out and see what all there is because there's always something new to learn," said Fenton. "It was really exciting in Oklahoma recently, meeting all the big name people."
Lilli Dixon of Smithdale, the former president of the Mississippi Junior Red Angus Association and Dixie National Sale of Junior Champions winner, said she loves the idea of establishing a new gateway for college students to continue to work in agriculture.
"I would like us to be something people see and say, 'Wow! That's awesome and I want to be a part of it!' They can look at us at Jones College and see agriculture can be fun, you can learn a lot, and it can offer you new experiences," said Dixon.
The barn and related facilities for the Livestock Show Team are currently under construction. However, that will not delay training and preparations for the newly established team that is ready to show off Jones College's newest agriculture programs. The college is also preparing to re-establish the Livestock Judging Team and establish a Rodeo Team in the next five years.