ELLISVILLE – Motorcycles and ministry were not on the top of Jarrod and Cassidi Hankins' minds until recently. About a month ago, the 2011 Jones College grads announced they were "moving for the ministry." The 2008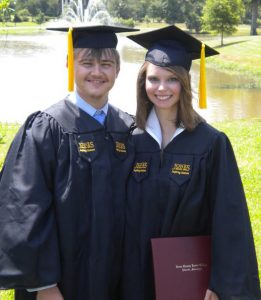 (Jarrod) and 2009 (Cassidi), West Jones High School graduates and natives of Laurel, Mississippi, have decided to join the ministry full-time at the Christian Motorcyclists Association headquarters in Hatfield, Arkansas, August 16.
"About a year ago, we attended a Christian Motorcyclists Association rally in Hatfield, Arkansas. While there, we met the national evangelist for the area, John Ogden Jr., and his wife, Holly, the International Ambassador for CMA. They contacted us this spring about some job openings, and everything worked out. God took care of every obstacle we thought of like, housing, daycare, everything!" said Cassidi Hankins.
Amongst the concerns the couple had to consider included their two young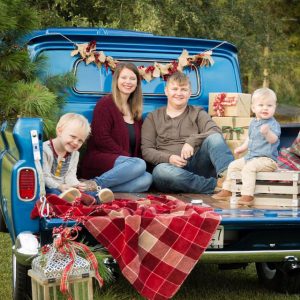 boys, four-year-old Collin, and two-year-old Benton. Jarrod, a mechanic and classic car lover had just started working as the Assistant Manager of Sales and Production at Headrick Signs and Graphics, in May 2020, after leaving a seven-year career in sales at Southern Pipe and Supply in Laurel. Cassidi left her journalism career with WHLT-TV and the Laurel Leader Call six years ago to begin teaching at East Jones Elementary School. She was ready to leave her students either.
"It's funny, our foundation at Jones for our careers has completely changed in different directions. I love teaching. I love every minute of teaching and the only way I'd leave the classroom is if God told me to," said Cassidi. "Which He did so we're following His lead."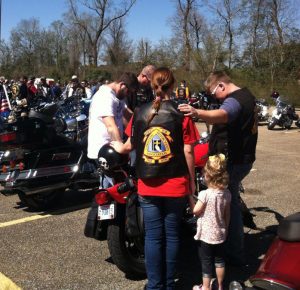 After God revealed his plans to the couple about a month ago, they started preparing for their new roles. Cassidi's duties with CMA will include being the event coordinator for CMA's national rallies and assisting the international ambassador. Her main job will consist of coordinating the Changing of the Colors Rally every year in October and any regional or national rallies, including a CMA International Rally, along with different, smaller events and rallies at the CMA's campground, Iron Mountain.
Meanwhile, her husband, Jarrod will be heading up the CMA Motorcycle Repair Shop for local CMA riders and coordinating emergency road assistance and repairs for CMA members traveling in the area. Ironically, Cassidi admits now, none of this would have happened if Jarrod had not brought home a sports bike, on a whim.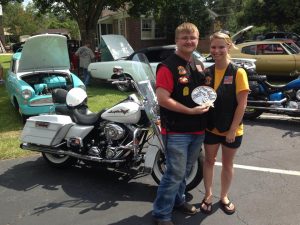 "Nine years ago, I had no desire to ride a motorcycle, or even touch one," said Cassidi. "However, a few months after we got married in 2013, Jarrod came home with this 'crotch rocket' and I thought he had lost his mind! We went riding after he learned how to ride, and it wasn't so bad, especially after I told him he had to get a Harley Davidson! Now, I can't imagine not riding," said Cassidi.
As they looked for others to join them riding motorcycles, the couple was introduced to the Christian Motorcyclists Association in 2015. Immediately, Cassidi thought this would take up too much of their time but agreed to attend a monthly meeting.
"I was super skeptical. Once he convinced me to go, I met everybody in the local chapter in Laurel and they were like family, instantly. At the second meeting, Jarrod got 'saved' or gave his life to Christ and that changed everything!"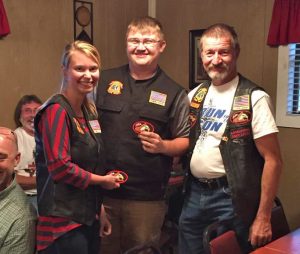 It wasn't long before the couple immersed themselves in participating in the Blessing of the Bike Rallies, fundraising events, and traveling across the country. In fact, Jarrod served as CMA President (2018-2020) and Chaplin (2020-2021) while Cassidi has served as Secretary for four of the six years, they've been members of the local CMA Chapter, Freedom Riders. Their two young boys, even "ride" along, said Cassidi!
"Every Christian is called to minister in some capacity. Whether it's to be a part of the church, another ministry organization like CMA, or in our daily lives. Being able to serve with people who are like family and then to be able to eventually see the fruits of our service is very rewarding," said Cassidi.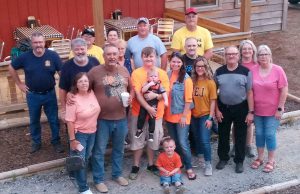 The CMA's goal is to tell every stranger we meet, you need Jesus. Cassidi explained, the group doesn't just talk about Jesus, they show the "Jesus in us" as they work, picking up trash, cleaning bathrooms or giving out water.
"We're not doing anything glamorous as we serve others at CMA and at "secular" events. We see people and they may be talking, spewing out cuss words. Then, they look at your patch and they realize who we are and who we represent, and they respect it, whether they are Christians or not, most of the time, they respect that," said Mrs. Hankins.
Her respect for Jones College is also apparent. Both Jarrod and Cassidi keep in touch with their teachers and mentors at JC.
"Jones was an awesome experience for me. In high school, I was the quiet, shy girl. I literally grew up at Jones. This side of Heaven, the two most important decisions I tell people are, Know Jesus and Go to Jones!!!"
At Jones College, Jarrod Hankins earned his degree in Automotive Technology and Cassidi (Bush) was a Journalism major. After graduating from JC in 2011, they began dating while Cassidi continued her education at USM. She graduated with a bachelor's degree in Mass Communications in 2013, and they were married a week later.