ELLISVILLE – Most of the 20 graduates from Jones College's Practical Nursing summer program returned to campus to participate in the traditional Nurses' Pinning Ceremony. They joined the 26 Fall graduates at the Nurses' Pinning Ceremony prior to Thanksgiving, at the end of the semester. The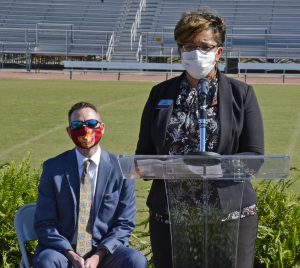 CDC's COVID-19 protocols restricted most gatherings last summer, including graduation ceremonies to help prevent the spread of the virus. However, using a little creativity, Jones College Practical Nursing Director, Teresa McDonald, and Jones administrators found a way to celebrate safely, outside in the Bobcat Stadium/Sim Cooley Football Field.
"Nursing school is hard and as a nurse, you will face many challenges every day when you arrive to work.  These graduates have adapted, adjusted and accepted the challenges and the changes, and they were successful," said McDonald. "We are especially happy that we can celebrate your accomplishments together today, with those who have supported you through this journey, amidst this pandemic."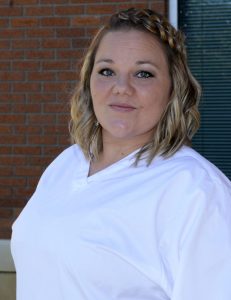 One of the graduates from the inaugural part-time practical nursing program at the Wayne County Center was Kimberly Breland. At 35 years of age, the wife and mother of two children said she knew when the program started in Waynesboro, she wanted to be in class.
"I knew it was going to be a struggle because my husband works out of town; it was all on me to succeed. Then, classes switched to online, and my kids were home and they needed help with their schoolwork, which turned into a fight to get them to study and complete assignments," said Breland. "Online courses have all the resources and information, but you have to teach yourself which takes determination. In the end, I have learned more than becoming a nurse. It has taught me to lean on others too."
Breland's determination exceeded her own expectations. Not only did she succeed, but Breland landed at the top of her class.
"I have always been a helpful and giving person who fell in love with the medical field as a teenager. Graduating from the Jones College practical nursing program is a huge accomplishment for me," said Breland.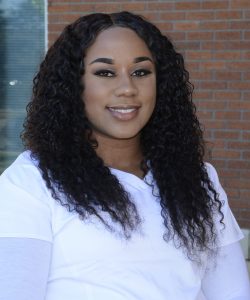 Jacque Fitch of Meridian also faced the challenge of learning online, raising kids, and keeping her job. In addition to commuting to Wayne County, Fitch lost her mother prior to starting classes.
"As I close one chapter in my life with graduation, I am starting another chapter," said Fitch.  "I want to make a positive impact on my community, support my family and be a good example for my child.  With my passion and a drive to be a part of the healing process, I want to continue my education at Jones and through its partnership with the University of South Alabama, earn my bachelor's degree in nursing. Hopefully, I can also get my master's degree and be a Nurse Practitioner."
Also seizing the opportunity to accomplish her dream of becoming an L.P.N.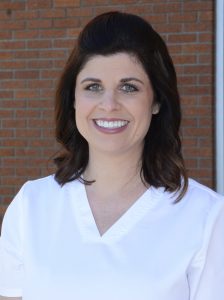 was 38-year old Candice Ball of Laurel. Initially, she left her career as a dental assistant and office administrator to homeschool her then, 11th-grade daughter. Ball soon recognized it was also the perfect opportunity to fulfill her lifelong dream by applying at Jones College.
"I used to dream of applying and I finally did it! I figured it was now or never! Graduating this program means everything to me," said Ball.  "Of course, nursing school is very challenging, but my classmates became family.  Having an amazing support system at home was also crucial. It's been a hard journey but definitely worth it!"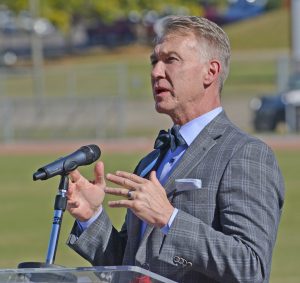 During the Pinning Ceremony, Jones College President, Dr. Jesse Smith praised the class of 46 new practical nurses. As they take the next step in their lives, he commended the graduates for overcoming the many challenges which will prepare them, unlike any other group.
"There is nothing we do more important at the college than to educate nurses, who are going out into the front lines and making a difference in people's lives. There will be no other graduates that will be more prepared to make a difference in humanity, than these fine graduates," said Smith.
The Jones College practical nursing faculty members recognized three groups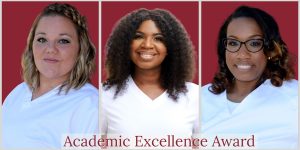 of students who have excelled in the program. Receiving Academic Excellence Honors were Kimberly Breland of Waynesboro and Jamie Ramsey of New Augusta. Ramsey earned the top academic award for the Full-Time program. Makeshia LeFlore of Waynesboro earned the top Academic Honor for the Night program.
Earning the Rising Star Award for the Full-Time program was Brittani Dozier of Laurel. Night program graduate,

Joretta Ellison of Petal, Summer Program graduate, Roantonio Hollins of Hattiesburg, and Wayne County Center graduate, Lakeryia Lacey of Waynesboro were named Rising Stars. They were chosen for their positive attitude and perseverance, which enriched their professionalism and nursing knowledge.
The Florence Nightingale Award was given to students who encompass all the qualities of Florence Nightingale-professionalism, integrity and selflessness towards humanity. Faculty selected Candace Ball of Laurel, for the Wayne County program, Makeshia LeFlore of Waynesboro for the Night program, and Elizabeth Lee of Raleigh for the Full-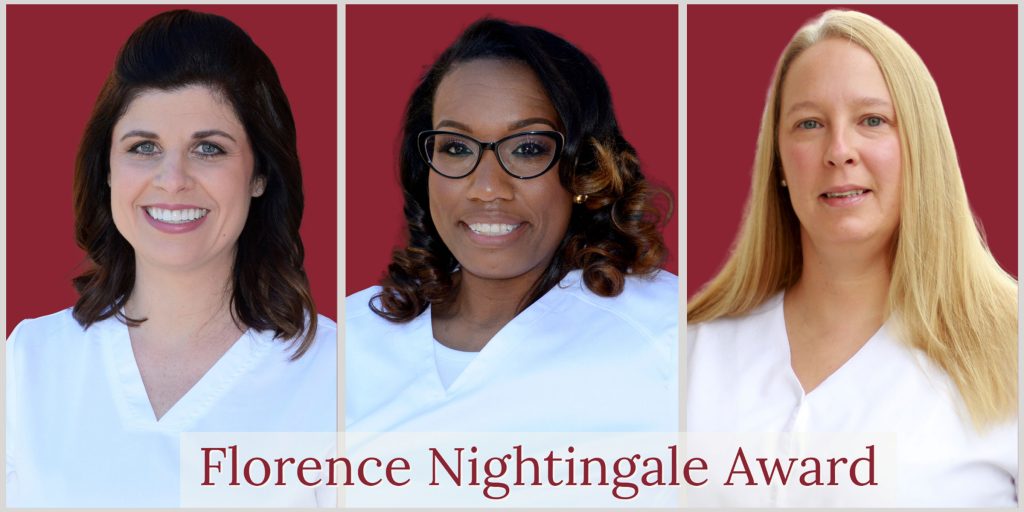 Time program.
Practical Nursing faculty member, Jill Burge challenged the new graduates to be like the founder of nursing, Florence Nightingale. As they lit their lamps, Burge reminded graduates, "Florence Nightingale cared for the wounded and dying by lamplight. Patients knew when the light approached, so did comfort and mercy. Graduates, as you leave and begin your careers, you too will bring light to the sick, anxious and suffering. Never forget how important you are. We are proud of you. Let your light shine! We faculty members, pass the flame of nursing on to you."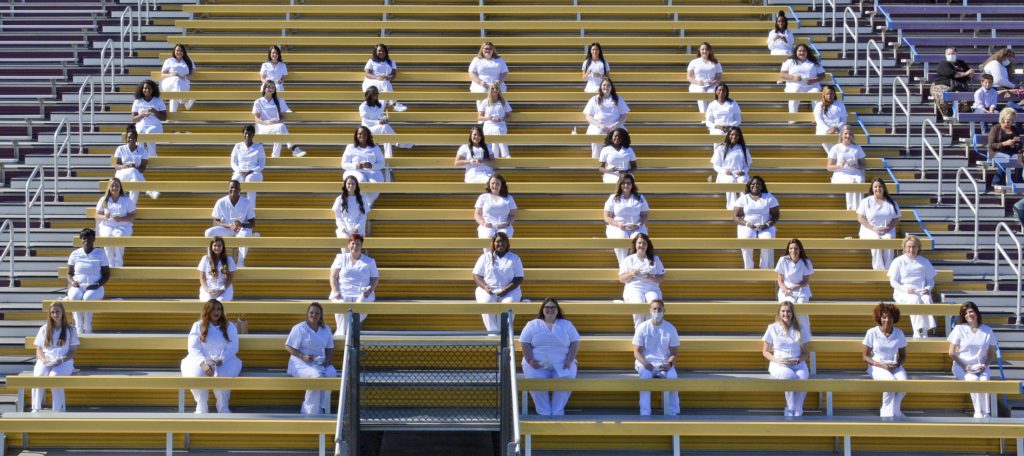 Practical Nursing Graduates Fall/Summer 2020
Candice Ball, Laurel
Shelena Benamon, Porterville
Jordan Boss, Richton
Stuart Bowman, Petal
Emerald Bradshaw, Raleigh
Kimberly Breland, Waynesboro
Deborah Craig, Waynesboro
Sarah Davis, Seminary
Tania Dean, Ellisville
Laurie Dear, Hickory
Jessica Deese, Waynesboro
Brittani Dozier, Laurel
Ginger Ekes, Laurel
Joretta Ellison, Petal
Raven Evans, Laurel
Jacque Fitch, Meridian
Candice Forrest, Waynesboro
Lauren Fowler, Meridian
Kashareya Funches, Cleveland
Kandy Griggs, Waynesboro
Catalynn "Gabi" Hodge, Laurel
Samantha Holifield, Laurel
Roantonio Hollins, Hattiesburg
Leeanna Hutto, Laurel
Abbigail Johnson, Waynesboro
Lakeryia Lacey, Waynesboro
Karri Lambert, Petal
Kelsie Lawson, Laurel
Makeshia LeFlore, Waynesboro
Tammie Lofton, Waynesboro
Elizabeth Lee, Raleigh
London Magee, Franklinton, LA
Essence McCray, Laurel
Ashley McKenzie-Skipper, Quitman
Jalynn McLain, Waynesboro
Amberlee Miller, Waynesboro
Trina Moore, Lumberton
Katelyn Parker, Ellisville
Jamie Ramsey, New Augusta
Sujeila Rios, Petal
Kassidy Roney, Ellisville
Tatiana Savage, Hattiesburg
Savannah Sumrall, Perkinston
Shakera Thigpen, Shubuta
Christina Welch, Laurel
Kaila Willis, Philadelphia
Latorius Wilson, Waynesboro