ELLISVILLE – Practicing life-saving skills gives students majoring in several health care professions at Jones College additional confidence when faced with real-life situations on the job. The two-year college's Simulation Lab opened about 10 years ago with grant money from a private donor to buy a few manikins. Now, with additional Cares Act grant funds, the one-room Sim-Lab the EMT/Paramedic and nursing students have used to practice various skills has nearly doubled. The newly expanded Health Care Simulation Center offers a wide variety of training options for students and the community.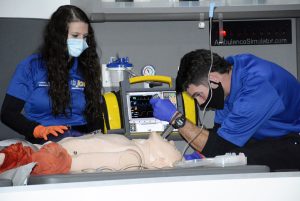 "Because of COVID-19, our hospital clinic sites and ambulance services were not available to our students," said JC's Emergency Technology/Paramedic Program Director, Health and Human Services Division Chair and Coordinator of the Simulation Center, Benji Sessums. "We had to do some shifting to coordinate students into lab settings, but we weren't able to accommodate a large number of students. We renovated a storage area near the current lab and expanded the Sim-Lab."
The enlarged Health Care Simulation Center had about $750,000 in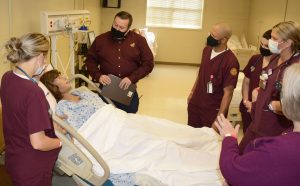 equipment. An additional $850,000 in new equipment and $89,000 in infrastructure have turned the now, $1.5 million dollar facility into a state-of-the-art training center for students in emergency services, nursing and radiology.
"It's great to be able to share between all our health care programs to enhance learning and practice the skills learned in class and in clinical, in a safe environment," said Associate Degree Nursing Division Chair, Erin Knight, MSN, R.N. "Students come here and get comfortable talking to patients/manikins and practice situations that may never happen while at clinicals in a hospital setting."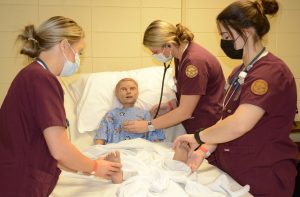 Several A.D. nursing students recently touring the new simulation center were excited to begin training.
"When you get to Nursing 1, you're really nervous and scared to talk to people but this helps build confidence," said Molly Mize of Sandersville. "We can concentrate on getting vital signs instead of trying to communicate with patients."
As Raleigh's Abby Lillie noted, nurses see patients on their worst days. "The manikins talk with us like patients, having real conversations. We're getting used to talking with people other than our peers, so we won't be shocked when we work on live patients."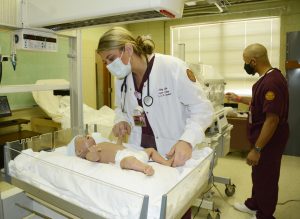 Jones College has invested in manikins that can have a baby and simulate various stages of growth and delivery of the baby. Some of the manikins can produce various vital signs and can be programmed for different medical scenarios. The simulation center also has a neo-natal nursery with life-like infants and practice equipment for administering I.V.'s and suturing.
"The worst thing for a sick patient to see is their health care provider afraid to do what they were trained to do. All the scenarios you can go through at the simulation center opens the door to so many possibilities preparing us before we experience it in reality," said A.D. nursing student, Alex Ducksworth of Petal.
Students in radiologic technology at Jones College are also excited about their new life-size manikin which helps them get a true picture of working with adult patients.
"This radiographic positioning 'doll' is an invaluable teaching aid for training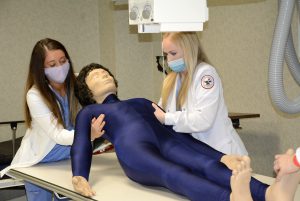 students about patient positioning and x-ray manipulation. Utilizing this life-size manikin, which contains a fully flexible articulated skeleton, allows students to manipulate the anatomy without discomfort or radiation exposure to a human subject," said Radiologic Technology instructor, Mandy Pearson M.S. R. T. (R).
In addition to the new manikins, the center is equipped with cameras, speakers, and video training capabilities to help students feel more comfortable. The Health Care Simulation Center is also able to offer more community training opportunities with a wide variety of ways to engage, practice skills and critique skills in a class setting.
"Every room has cameras for faculty to watch students and 2-way screens to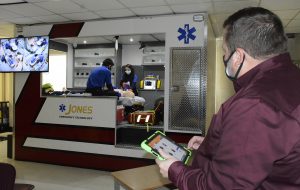 help students feel less intimidated," said Sessums. "In the ambulance simulator, we can record the students for the skills test and change the equipment to replicate each ambulance providers' specific monitoring equipment to prepare students to work for any ambulance service."
Eventually, Sessums' goal is to be able to provide interdisciplinary training allowing each of the college's different health care students to work together like a health care team in a real medical setting.