ELLISVILLE – Seventeen Jones College faculty and staff members were recently honored for their accomplishments in the workplace over the previous year.  The Employee Appreciation Awards began in 2004 with funds contributed by retired JCJC President, Dr. Ronald Whitehead, and the college's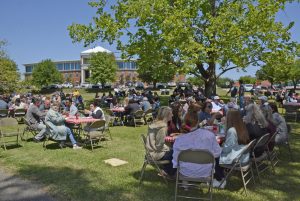 Foundation, Inc. Finalists were selected and interviewed by the Faculty and Staff Recognition Program's Selection Committee. Prior to the employee recognition program, a picnic lunch and games were provided by the college and the JCJC Foundation Inc.
"Celebrating accomplishments and offering an afternoon of fun and fellowship is our way of saying 'thank you' for making Jones great," said Joel Cain, VP of Advancement and Athletics, and Dean of Students. "We wanted to honor and appreciate all of our employees who have worked especially hard through a challenging year."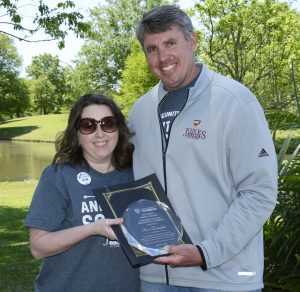 The Leadership Award for Administrative Excellence was established five years ago to honor a mid-level administrator whose commitment to the profession stands out amongst their peers.  Financial Aid Director, Kari Dedwylder was selected as the recipient of the 2021 Leadership Award for Administrative Excellence. The Ellisville resident has been employed at Jones for six years and works with the Enrollment Management Department.
"Kari was nominated because she goes above and beyond to improve services for students. She has digitized the financial aid and admissions offices creating a more efficient workflow. She also cross-trains the two teams and is always seeking more ways to improve service," said Jones College President, Dr. Jesse Smith as he awarded Dedwylder a $500 check and plaque.
English instructor, Amanda Robertson was selected to receive the Barbara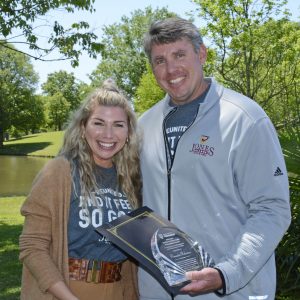 and Gary Sauls Award for Excellence in Teaching Humanities. The Humanities Division faculty member exemplifies intellectual integrity in the classroom, and has encouraged independent analytical thinking skills, loves humanitarian pursuits and fosters a positive rapport with students. This award was initiated by JCJC alumni, Mr. & Mrs. Gary W. "Buddy" and Barbara Sauls. Their daughter, Tracy was a 1990 JCJC graduate. Mr. Sauls was a former JCJC Board of Trustees member and Barbara Sauls is currently on the JCJC Foundation's Advisory Board.  Robertson was awarded a $500 cash prize and an acrylic plaque.
Additionally, 15 individuals from three categories of employees, faculty members, office staff and administrative support, and employees working in, maintenance, housekeeping, campus grounds and campus police were each awarded certificates of achievement. Faculty finalists each received a cash prize of $250 and the overall winner received an additional $750 and an acrylic plaque. Each staff employee finalist was awarded a cash prize of $125 and the overall winner received an extra $500 and an acrylic plaque.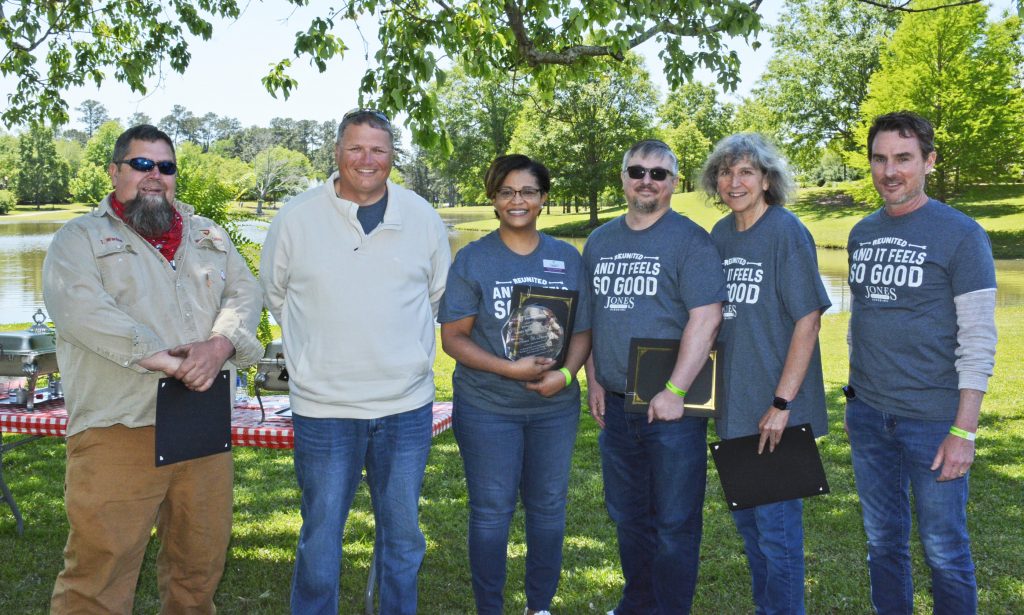 The finalists for the faculty awards were History instructor, Carson Atwood who has worked at Jones for 20 years. Practical Nursing Program Director, Teresa McDonald has taught the Health Care Assistant and Practical Nursing courses at Jones College for seven years.  Chris Robinson has been teaching Health and Leadership classes for 20 years while also serving as the Assistant Athletic Director and the Head Coach of the Softball team. Sociology instructor, Stacy Ruth has 28 years of teaching experience at Jones. Workforce Development and Welding instructor, Tracy Warden has been teaching welding, millwright, machining, heavy equipment and NCCER specific industry standards and OSHA safety training for nine years. McDonald was chosen for the overall JC Faculty of the Year Award.
"The faculty awards appreciation is always a special time for employees to come together at Jones College. I was truly honored to receive the award. We are all family and I consider it a privilege to be part of such an amazing family," said McDonald.
The 1990 Jones College graduate taught the Allied Health and Health Science programs at the Clarke County Career and Technology Center and the Wayne County Vocational-Technical Center before going back to school herself. She earned her Bachelor of Science degree in nursing in 2012 and her Master of Science degree in Nursing Education from William Carey University in 2014. The Wayne County resident began her career at Jones College seven years ago working in the Wayne County Center. She has taught in the Healthcare Assistant and Practical Nursing programs in Waynesboro before becoming the Director of Practical Nursing at the main campus in Ellisville in 2014.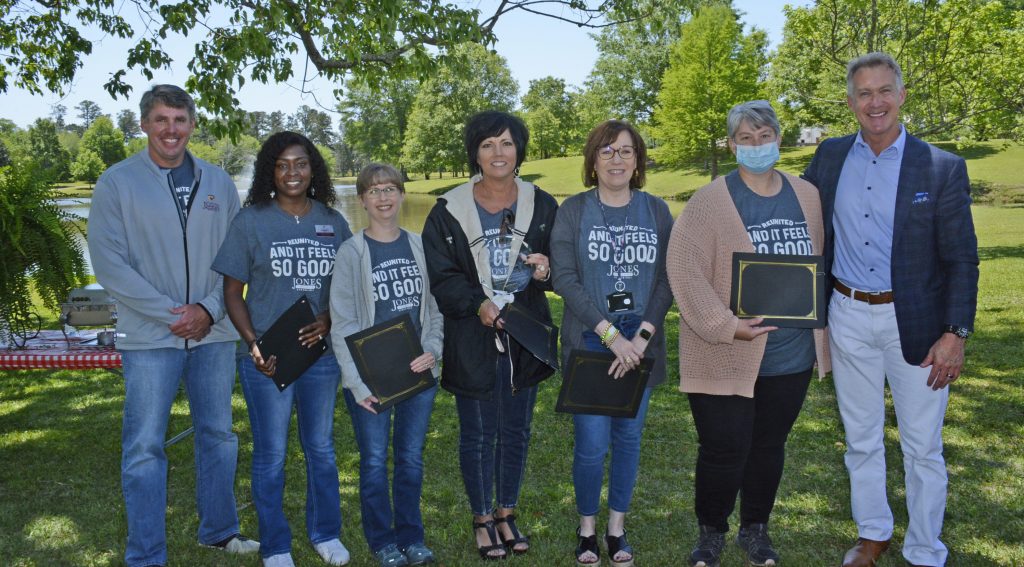 Nominated for the Office Staff and Administrative Support Employee of the Year award included Tina Livingston in Student Affairs, Jessica Martin in Accounting, the Wayne County Center's administrative assistant, Courtney McInnis, Tamara Parrish in Admissions and the Health Clinic EMT, Kristen Register. Livingston was selected as the Employee of the Year for the Office Staff and Administrative Support division.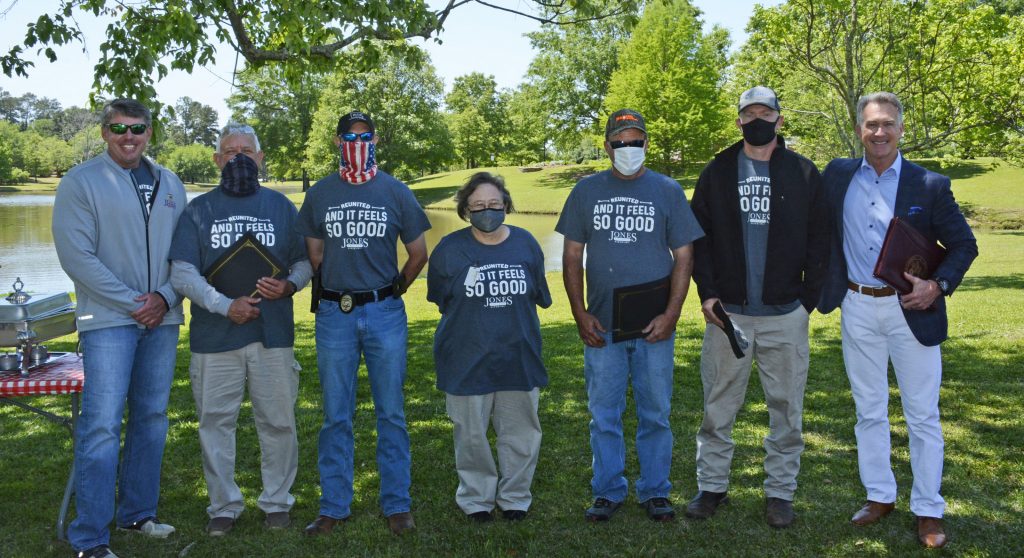 In the maintenance, housekeeping, campus grounds and campus police departments division, two employees in the Maintenance Department were finalists. Jason Bonner and Jimmy Freeman. Campus Policeman, Jared Hutto and Scott Sumrall in Transportation were also finalists with Angela Parker in Housekeeping. Taking the top spot as Employee of the Year was Jason Bonner.