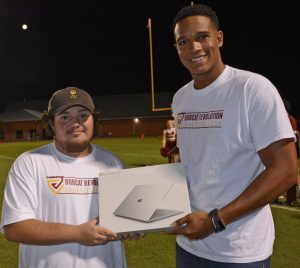 ELLISVILLE – A Jones College freshman from Waynesboro, Matthew Williams won tuition for a year and a laptop for attending Convocation and Hall of Fame events on September 12. The nursing major's name was randomly drawn to win tuition and compete for a Microsoft Surface laptop while attending the Hall of Fame football game against Hinds Community College.  To win the laptop, donated by Coca-Cola, Williams had to win the football throwing competition against Oak Grove's Ja'Darius Sims, who was also randomly chosen to win a year of tuition.  The computer engineering major came up short against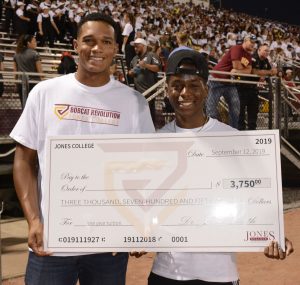 Williams in the competition but said he is blessed to be chosen to participate in the event.
"Winning tuition will push me to do well in college. I don't have any scholarships, so this is really a gift from God," said Sims.
Williams said his parents are happy to have tuition paid for this year. Upon graduation from Jones, Williams plans to get his bachelor's degree in nursing at the University of Mississippi Medical Center or Southern Miss.
"I didn't know what to do when they called my name," said Williams. "Financially, winning the tuition will relieve some stress, however, I hadn't thrown a football in a long time, so I'm a little surprised to also win that competition."
Jones College and the Student Government Association also awarded Cole Mozingo of Laurel an Apple Watch, who was randomly chosen during the football game.