ELLISVILLE- Former Jones College baseball and football player, Dennis Bohannon loved sports. When he played for the Bobcats during the 1974 and 1975 seasons, his younger sister, Diane Bohannon Smith cheered for him, and the team, as a JCJC football cheerleader. The Laurel residents were a year apart in age and very close.
"He was a year ahead of me and the oldest of the four siblings," said Diane Bohannon Smith. "We had the time of our lives. We were close in age and had a lot of similarities. We loved people and sports."
During the recent "Day of Giving" fundraising drive for the Jones College Alumni Foundation, Smith decided to endow an athletic scholarship in her brother's memory. He passed away November 7, 2020, doing something he loved for the West Jones High School football team. Even though he retired from teaching math and coaching the girls' Mustang soccer team, Bohannon continued helping the football team as its statistician. He left his last football game to go home and finish figuring up the stats for the night and then relay the info to the media and coaches. However, Dennis unexpectedly passed away in his sleep that night.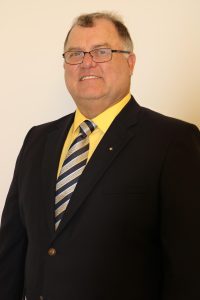 "Dennis left part of his estate to me, so I wanted to endow a scholarship as a way to continue his legacy," said Smith. "As a math teacher, he invested in children and yet he had no children of his own and never married. He loved kids and was all about the community. I thought JC would be a good place to leave a legacy in Dennis' memory. He loved JC, and he coached high school golf and girls' soccer for over 12 years. He also served as an assistant baseball, softball and football coach. He impacted a lot of children over his 26 years of teaching and coaching," said Smith.
Faithfully, Dennis also made a monthly donation of $85.22 to the JCJC Foundation, which was the combination of his baseball and football jersey numbers. The 2018 Honor Alumnus felt it was important to donate to the college he loved. Smith knows first-hand how scholarships impact students' lives.
"My daughter Morgan earned music scholarships when she was at Jones. I know how thankful we were for those scholarships. We know college is expensive. Hopefully, this scholarship in Dennis' memory provides students the opportunity to have funds available to help them with their education," shared Smith.
After graduating from JCJC, Dennis Bohannon earned his B.S.B.A. in accounting at USM. Later, he opened and managed the KarmelKorn Shoppe/Popcorn Place in the mall with his parents, for 28 years. As a member of the Oakland Grove Baptist Church in Laurel, Bohannon served as Sunday School Director and sound system director since 1984, and he was the treasurer since 1998. Bohannon was also an active member and treasurer for the Laurel North Camp of the Gideon's International.
"Even though he was very involved in the community, I think about him with every sport that comes around. There are sports going on all the time with West Jones, Jones College, and USM. I hear it all the time on the news, so I'm constantly thinking about him," Smith shared. "Establishing this scholarship has been on my heart for a while. I'm glad Dennis will be remembered by even more people at Jones."
The Dennis Bohannon Athletic Memorial Scholarship will be awarded to eligible Jones College athletes, after meeting other academic guidelines. Students can apply for scholarships by checking the website, https://www.jcjc.edu/alumni_foundation/scholarships/ through March 2023. Jones College Foundation scholarships will be awarded for the fall 2023 semester.
Tax-deductible contributions towards the Dennis Bohannon Scholarship or other scholarships can be mailed to Jones County Junior College Foundation, Inc. at 900 South Court Street, Ellisville, Mississippi, 39437, or contributions can be made online at https://www.jcjc.edu/alumni_foundation/giving-support/. For more information, please contact Jo Anna Newcomb in the JC Foundation Office at 601-477-4145.