ELLISVILLE – Today's issues are similar but different according to retired U.S. Federal Judge, Charles Pickering. He proceeded to share with Jones College students selected to be a part of the Honors Institute which bears his name, some of the issues he faced. Growing up in what he considered to be the "best decade," the 1950s, Judge Pickering said the 1960s civil rights era was very different. After witnessing brutal acts against "young blacks" at a lunch counter, Pickering admitted to Jones College students is what led to his decision to take a stand in the civil rights debate.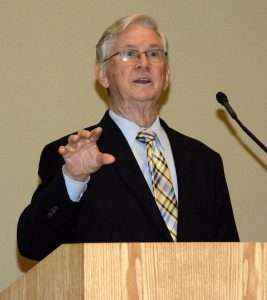 The Jones County native and 1957 Jones County Junior College graduate said, "I couldn't remain silent any longer. I had to choose sides and I didn't consider anything else. I had to stand up for the rule of law," said Pickering.
As the Jones County Attorney in 1963, the KKK took notice of his stand with minorities and threatened him. The KKK's Imperial Wizard, Sam Bowers lived in Laurel and was convicted for the murder of Vernon Dahmer who led the fight for voter rights for African Americans. However, despite helping minorities fight for their rights, Judge Pickering was depicted as a racist in 2001, when President George W. Bush nominated Judge Pickering to the Fifth Circuit Court of Appeals in New Orleans. He had been serving as the U.S. Judge for the Southern District of Mississippi since 1990, after being appointed by President George H. Bush. With his confirmation stalled in Congress, in January 2004, President George W. Bush recess appointed Judge Pickering to the Fifth Circuit Court of Appeals. He was forced to retire in December 2004, after the Senate adjourned without confirming him to the federal bench.
"The Democrats filibustered, and I had to retire because I didn't get confirmed. They made it a political-racist issue, despite support from the NAACP," said Pickering.
His story caught the attention of Mike Wallace at CBS's "60 Minutes" news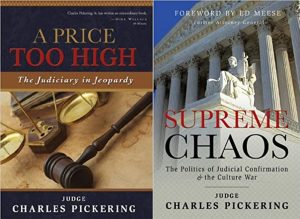 program. Judge Pickering also shared details of his experiences with the "broken judicial confirmation process" in two books he authored: Supreme Chaos, The Politics of Judicial Confirmation and the Culture War in 2006 and, A Price Too High, The Judiciary in Jeopardy in 2007.
While progress with racial reconciliation continues today, Judge Pickering noted this generation faces some issues he hoped would be resolved or farther along. JC student, Jordan Scott of Bay Springs said she was impressed with Judge Pickering's persistence in standing up for what was not popular in his day. While her generation is forced to deal with discrimination via the Internet, she said she is thankful for the progress the U.S. has made over the years and acknowledges more needs to be done.
"As the 'land of the free and home of the brave,' we should be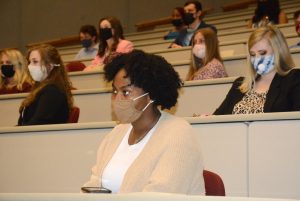 farther along in the fight for racial equality and reconciliation. These issues should not be just another box waiting to be checked on the 'To-Do List.' I hope that in the upcoming years we can successfully operate as a more diverse, unified country," said Scott. "Not only should there be the acknowledgment of wrongdoings and reconciliation for African Americans, but there should also be acknowledgment and reconciliation for all minority groups."
Living in the South has put race relations front and center, said JC sophomore, Faith Houston of Laurel. She believes forgiveness and communication will be key to improving race relations. Yet, she adds there is no such thing as "race" except the human race.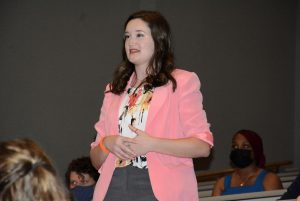 "We are One Blood, One Race. One Blood is something I get from my Christian worldview. The Bible does not use the word 'race' in reference to people. Instead, it describes all human beings as being of 'one blood' in Acts 17:6 KJV. Terms such as these emphasize that we are all related, from one family, the descendants of the first man and woman," said Houston.
Judge Pickering declared in his presentation, "Racism is not systemic. Since the 1960s, secularists used free speech to be successful in changing the culture of our nation. Now, these secularists use free speech to change culture and silence Christians. The First Amendment is not to prohibit Christians, churches, from one thing. It prohibits the government from interfering with religion."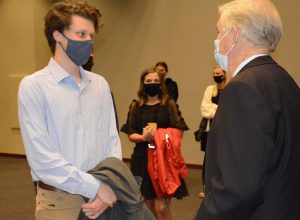 After citing several examples of how the "cancel culture" can lead to the demise of the United States by stifling innovation and advances in society, Judge Pickering challenged students. He encouraged the audience to be the best they can be, take on bigger projects than themselves and then the Judge quoted Winston Churchill, Britain's leader during WWII.
"In all things big and in all things small, never, never, never give up! Do your best to be an ambassador for freedom in our society and get involved."
These challenges, Houston said, were ideas her parents instilled in her and they have led her to volunteer in her community and in political campaigns.
"This is also why I will continue to try to be my best self and never quit, as I finish college to continue to make a difference in my community in the health field," said Houston.
For more information about Jones College's Charles Pickering Honors Institute, check out the webpage, https://www.jcjc.edu/honors/