ELLISVILLE – The more than 120 students from Jones College's High School Equivalency program were challenged by graduation keynote speaker and Mississippi Community College Board Professional Development Specialist, Brandi Ratliff, to keep going past this "moment" in their lives and pursue excellence in everything. After dropping out of high school in Grenada at the age of 17, Ratliff explained she earned her HSE diploma in hopes of finding better opportunities to position her for success.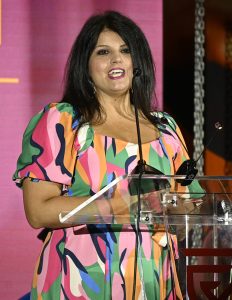 "I felt a strong calling towards education. I wanted other people to have the opportunities that I didn't know that I had," explained Ratliff who is currently earning her doctorate degree. "You have unlimited opportunities in front of you no matter what happens, no matter what path you take when you leave here. I hope you know this is only a 'moment' right now. The moment continues in everything you do hereafter, and in every life you impact hereafter. Sitting here today, you have already proven it can be done…. My encouragement for you today is that I hope you'll keep going and I want to say, I'm so proud of you!"
One of the graduates, 49-year-old Jeffry Nichols of Quitman could relate to Ratliff's desire to find more and better opportunities. He decided in February, after recovering from a year long battle with cancer, to get his High School Equivalency when his 19-year-old daughter, Kathryn decided to get her HSE. She was homeschooled and a little nervous about attending classes alone, yet she dreamed of becoming an author. With a little encouragement from his wife, Cindy, the two came to classes at the Clarke County Center in Stonewall. Soon after, a friendly competition ensued as they learned their scores were similar.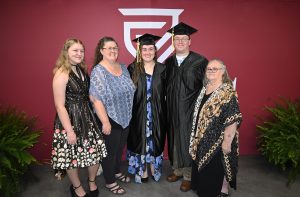 "I actually stayed with something and achieved the goal of getting the HSE and I did much better than I expected to," said Jeffry. "It's kind of a competition, not heated but a friendly competition seeing if I could score well. Once we took the first test, we were pretty close so I thought if I put a little more effort into it, I could get closer to her score. Then, she did better. Kathryn finished with one point better, a 91. She inspired me and I helped with her nerves being in a classroom."
The Nichols also decided to walk across the stage at the HSE commencement ceremony and celebrate their accomplishments together, with family.
"I was really happy to get to share that moment together, walk together and receive our diplomas on the same day," said Kathryn Nichols.
Both HSE graduates also earned academic scholarships, with Kathryn earning an Academic Distinction Scholarship and Jeffry earned an Academic Achievement Scholarship. The two also have plans to return to Jones College in the fall.
"I knew the academic side wasn't really for me, the technical side is what I'm hoping to do, like the electrical program, residential construction or electro-mechanical technology all interest me. I have done some residential carpentry, so I'm also interested in the HVAC program and doing a little welding," said Jeffry.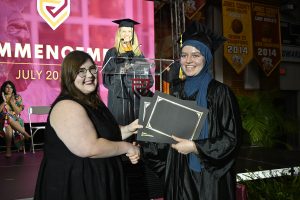 County Supervisors from each of the eight counties in Jones College's district, awarded an academic scholarship to the highest High School Equivalency test scorer in each of the counties, that will be attending Jones College in the fall. The full tuition scholarship for two semesters was awarded to Covington County's Kaleb Harrell, Clarke County's Ember Mixon, Greene County's Eliza Holder, Smith County's Sandra Page and Wayne County's Tyler Freeman. Perry County's Kylie Atwood and Jones County's Carmen Pearson also earned the Rising Excellence Scholarship, while Jasper County's Alex Davis earned the Academic Achievement Scholarship. Additionally, Mixon was awarded the HSE Overall High Scorer Scholarship of an additional $500 presented by the Jones College Foundation Director of External Funding, Sabrina Young.
"Coming to Jones was a simple choice because I earned so many scholarships and it is a great place for an education. I love all the teachers. They make it enjoyable to learn and be inspired," said Mixon. "I was homeschooled and my older sibling, Tabitha Lee Mixon also earned her HSE diploma and came to Jones so I figured if she could do it, so can I!"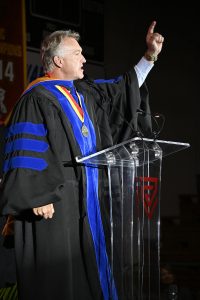 Mixon also earned a Presidential Excellence Scholarship with her high ACT score, which translates to $13,000 over four semesters at Jones College for her to earn a nursing degree. Director of Integrated Pathways at Jones College, Wendy Evans told the large audience at the commencement ceremony that this group of graduates has earned more than $100,000 in scholarships. An additional eight students earned ACT scholarships after the ceremony. Jones College President, Dr. Jesse Smith proud of the HSE's accomplishments, concluded the evening with a few rousing words of encouragement for the new graduates.
"Look around the hallways at these Championship banners in the Bobcat Gym. We have so many we had to store them. There's a word on there that tells you what you are, and I don't want you to forget it. That word is 'Champion.' Don't forget it. You are a champion today. It is awesome to share this experience with you today. I leave you with the words of Tina Turner, you are simply the best!! You are the best!!!"
HSE Scholars Scholarships
Ember Mixon, Stonewall Presidential Excellence, Clarke County HSE Scholarship, Overall HSE Scholarship
Kaleb Harrell, Seminary Covington County HSE Scholarship
Eliza Holder, Neely Academic Achievement, Greene County HSE Scholarship
Alex Davis, Bay Springs Academic Achievement, Jasper County HSE Scholarship
Carmen Pearson, Laurel Rising Excellence, Jones County HSE Scholarship
Kylie Atwood, Richton Rising Excellence, Perry County HSE Scholarship
Sandra Page, Raleigh Smith County HSE Scholarship
Tyler Freeman, Waynesboro Wayne County HSE Scholarship
Kathryn Nichols, Quitman Academic Distinction
Caitlyn Myers, Petal Academic Distinction
Noah Shows, Stonewall Academic Distinction
Isman Brady, Laurel Academic Achievement
Emily Daigle, Seminary Academic Achievement
Lillian Hall, Moselle Academic Achievement
Graysen Irvin, Laurel Academic Achievement
Tristin Johnson, Laurel Academic Achievement
Nicolas Kelly, Laurel Academic Distinction
Madison Newcomb, Soso Academic Achievement
Jeffry Nichols, Quitman Academic Achievement
Morgan Welch, Ellisville Academic Achievement
Kaden Dunagin, Ellisville Rising Excellence
Keila Escamilla, Laurel Rising Excellence
Micah Holifield, Ellisville Rising Excellence
Kaleb Harrell, Seminary Rising Excellence
Mylee Pitts, Louin Rising Excellence
Zoey McAndrews, Bay Springs Rising Excellence
Memory Smith, Waynesboro Rising Excellence
Wynstin Strite, Bay Springs Rising Excellence
Jonathan Westbrook, Taylorsville Rising Excellence
Jones College High School Equivalency Graduates 2023
Name City
Kylie Cheyenne Atwood, Richton
Breanna Charlene Beatty, Leakesville
Courtney A Booth, Laurel
Judith J.B.H. Borboa Hernandez, Laurel
David Eugean Bourgeois, Laurel
Anna Grace Boykin, New Hebron
Kimberly Lane Bradley, Leakesville
Isman Joshua Brady, Laurel
Alyson Jolene Brownlee, Moselle
V Buquoi, Laurel
Carley Elizabeth Cleaver, Buckatunna
Tyler Lee Cleaver, Laurel
Dalton Paul Cochran, Ellisville
Gabe Hayden Cooke, Ellisville
Amil Ranita Cooley, Laurel
Brendan Zane Cosper , Bay Springs
Lillie Sabrina Coxwell, Leakesville
Caleb Crownover, Ovett
Emily Grace Daigle, Seminary
Hunter Ray Daniels, Raleigh
Micah Lee Davenport, Laurel
Alex Camden Davis, Bay Springs
Bryleigh Lakin Dueitt, Neely
Kaden Dale Dunagin, Ellisville
Jessica Hanna Ezell, Seminary
Rachel Lauren Ezell, Seminary
Tyler Garrett Freeman, Waynesboro
Robyn La'Tora Gaines, Shubuta
Kiana LaQuavier Gavin, Laurel
Gage Michael Graham, Seminary
Ramsay Lee Grimes, Leakesville
Lillian Marie Hall, Moselle
Kaleb Michael Harrell, Seminary
Callie Mackenzie Hawkins, Raleigh
Auderyana Elaine Haynes, Mize
Judith Hernandez, Laurel
Paris Alyssa Hicks, Ovett
Sasha Noel Hogue, Laurel
Eliza Michelle Holder, Neely
Blain Allen Holifield, Ellisville
Ansleigh Brooke Holifield, Stonewall
Kanyen Leighana Hutchinson, Laurel
Wilson Kar Ishee, Bay Springs
Braxton Kirk Johnson, Ellisville
Abigail Alizabeth Kelley, Laurel
Stephen Dakota King, Enterprise
Ardarrin Lavon Kirksey, Shubuta
Christopher David Laznovsky, Laurel
Madlyn Marie Lee, Collins
John Michael Limerick, Laurel
Kimberly Anne Malone, Richton
Becca Elizabeth Martin, Laurel
Zoey Kylan McAndrews, Bay Springs
Cambrie Nicole Mckean, Ellisville
Hanna Jo Miles, Lucedale
Ember Genesis Mixon, Stonewall
Hayden Mackell Moulds, Lucedale
Caitlyn Grace Myers, Petal
Madison Paige Newcomb, Soso
Kathryn Elizabeth Nichols, Quitman
Jeffry Franklin Nichols, Quitman
John Robert Nicholson, Laurel
Leedarius Shondricus Rapheal Owens, Waynesboro
Carmen Pilar Pearson, Laurel
Natalee Bree Peebles, Meridian
Mariah Marsha Pierce, Paulding
Mylee Morgan Pitts, Louin
Cameron Joseph Poolson, Taylorsville
Olivia Jordan Samaniego, Ellisville
Chloe Saul, Hattiesburg
Alleyson Elaina Sellers, Waynesboro
Noah Thomas Shows, Stonewall
Memory Paige Smith, Waynesboro
Chance Jacob Smith, Seminary
Lakyn Alexis Soto, Ellisville
Wynstin Paul Strite, Bay Springs
Essie Lynn Susano, Bay Springs
Preston Thomas Sykes, Louin
Hanna Caroline Tilford, Laurel
Micah Joseph Van Etten, Laurel
Gabriela Vargas, Laurel
Dylan James Claude Vincent, Moselle
Hank Anthony Walker , Louin
Morgan Raine Welch, Ellisville
Jonathan David Westbrook, Taylorsville
Shannon Elizabeth Wheat, Meridian
Jackson Wayne Williams, Seminary
Khloe Williams, Soso
Charles Stanley Williamson, Louin
Phillip Trey Windham, Ellisville