ELLISVILLE – About 100 students from Jones College's High School Equivalency program were eligible to participate in a graduation ceremony honoring the class of 2022 with about 70 choosing to participate in the celebration. Held at the Advanced Technology Center in Ellisville, HSE graduates heard an inspiring message from the keynote speaker, a 2022 Jones College graduate and Case Manager for the Forrest/Perry County Drug Court, Shayna Clark of Petal. The 34-year-old wife and mother of two children shared her 15-year journey of addiction and recovery. Homeless and alone, Clark said her life changed when she was arrested and went to prison for the fourth time at the age of 29. For the first time, the arresting officer told Clark, she could do better and there's a better life for her, which she finally believed.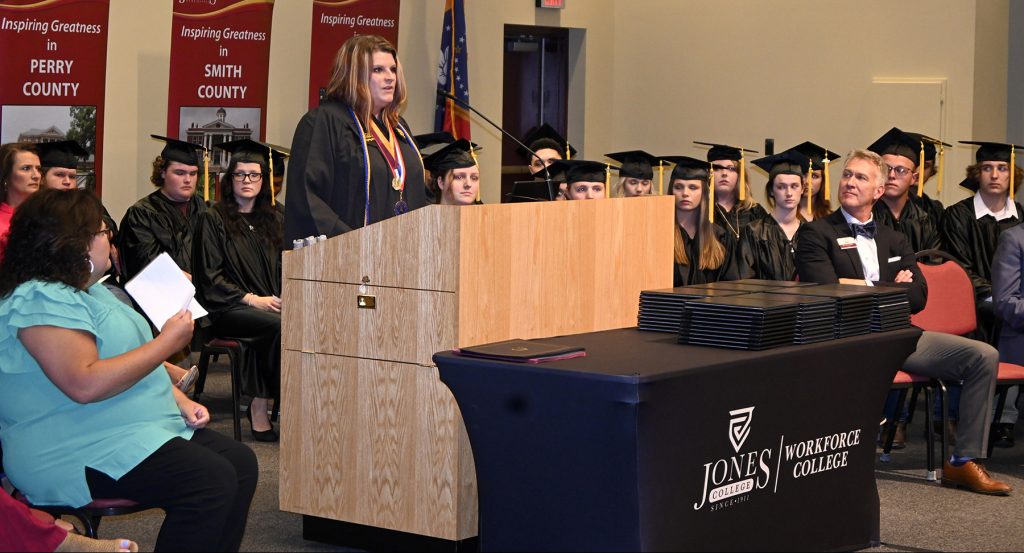 "He believed I could do it," Clark explained to the graduates and their guests. "So, I made a deal with myself, if I can graduate drug court, then I'll enroll in college."
The Lamar Christian High School graduate attempted college previously and failed. She said those thoughts of failing again almost kept her from trying again. However, she said everyone at Jones College supported her every step.
"I was super nervous but everyone at Jones was there for me, encouraging me, believing in me and celebrating me all along the way," said Clark.
In April, she celebrated being sober for six years, got married, and bought a house. In May, she was one of two selected to be on the Phi Theta Kappa Honor Society All-State Academic Team. Clark also started a non-profit, "Renters to Recovery" to help others like herself overcome the challenges of being homeless and addicted. She challenged the new, HSE graduates, "What's next for you?" and encouraged them to share their journey with others.
"I'm sure, like me, you've had moments where you wanted to quit… and those voices in your head keep telling you I can't; I'll never, and it's too late. But you kept juggling your responsibilities with family and work, and you did it!! You came and you conquered! Every day I want you to relish this moment."
Clark continued to challenge graduates by continuing to reach for new goals. "I hope all of you know, the sky is the limit. Don't let this graduation be the end. Let it be the beginning of something new and exciting in your life. There will only be one you in this whole world, so please let your light shine bright. Always be learning and growing, onward and upward. And go out and share your story with other people. You never know what kind of wildfire you may light in someone just by sharing."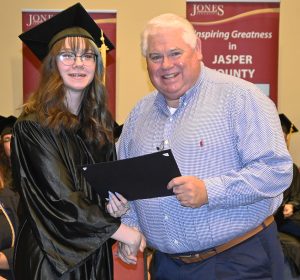 For several graduates, like Annie Wester of Richton, and Penelope Davis of Waynesboro, the Covid-19 pandemic, along with other "life" issues interrupted their education and their dreams. However, their determination to get their high school education helped them to also earn an ACT scholarship at Jones College for having the top ACT score in their home county.
"I'm really happy for getting another chance to get my education and pursue my dream of becoming an orthodontist," said Wester, who dropped out halfway through her junior year of high school. However, the HSE program at Jones has enabled Wester to graduate ahead of her class. "If you told me my sophomore year, I would be a HSE graduate I would have been shocked. I didn't see myself getting this far. Now, I'm really excited about meeting new people and living on campus this fall."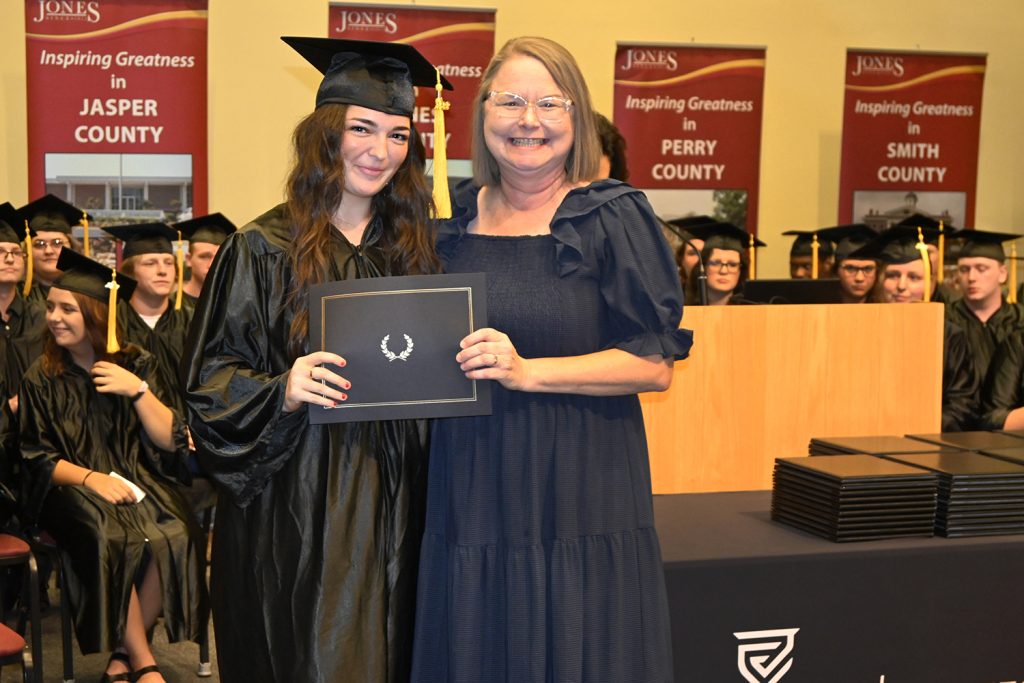 Sixteen-year-old Penelope Davis and her 18-year-old sister, Chloe decided to drop out of high school because their grandmother was at high risk for Covid. After home schooling for a while, they decided to come to Jones College's HSE program to earn their diplomas. Now, Chloe plans to become a cosmetologist while Penelope has decided to major in radiology.
"This is a step in the right direction," said Penelope. "Because of Covid we missed a lot but going to Jones has helped, especially finding friends here."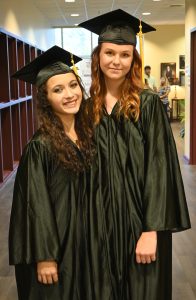 Taking a different route, Alexis Britain of Stonewall said she plans to enter the workforce now with her welding certificate. "I've always been interested in doing things typically done by men. As a little girl, I loved watching my papaw who worked for a wrecker company," said Britain.
Earning an Academic Achievement scholarship at Jones College, Jonathan Musgrave of Sandersville said he's excited about becoming a first responder. "I'm very happy to get the scholarship because I didn't think I did that well on my ACT, but I am glad it will pay for me to become an EMT/Paramedic."
Director of Integrated Pathways (Adult Education) Wendy Evans said more than $50,000 in scholarships were awarded to the HSE graduates because of their academic achievements. Each county's highest scoring student earned a full tuition scholarship for two semesters at Jones College and more than $20,700 was awarded in ACT scholarships. The overall high scoring student, Sylvia Leonard of Bay Springs, earned the Jasper County Scholarship and the $500 Jones College Foundation Scholarship.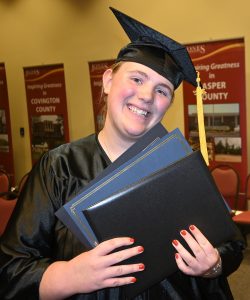 "I'm so excited I don't have to pay for college!" said the former resident of Ohio. Leonard explained her mother moved to Mississippi for a job, which didn't allow her to finish her senior year of high school. "Earning the HSE diploma was a lot more difficult because I only had two more classes to finish in Ohio. However, I am excited about this scholarship opportunity! I wasn't expecting to be the overall high scorer!"
The Clarke County highest scoring student was elementary education major, Heather Thomas of Stonewall. Covington County's highest scoring student was Anna Grace Ellis. Greene County's Makenzie Parnell and Perry County's Annie Wester scored the highest in their respective county's. Celina Russell was Smith County's highest scoring student and Wayne County's Penelope Davis earned her county's top spot. Collin Jones of Soso was the Jones County highest scoring student scholarship recipient.
Earning the Rising Excellence Scholarship with $1500 over four semesters at Jones College are Erin Hutto of Waynesboro, Emily Brownlee of Moselle, Sunny Sokol of Moselle, Gavin Hicks of Leakesville, and Selena Russell of Louin.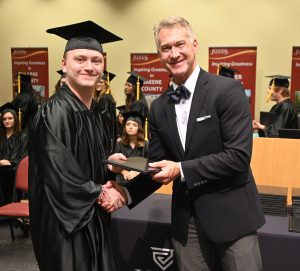 Four students, Jonathan Musgrave of Sandersville, Makenzie Parnell of Leakesville, Penelope Davis of Waynesboro, and Annie Wester of Richton, earned the Academic Achievement Scholarship, receiving $3300 over four semesters.
HSE 2022 GRADUATES
Mercedes Alexis Allen, Sandersville
Keldrin Blackston, McLain
Mary Caitlyn Victoria Brewer, Waynesboro
Alexis Taylor Britain, Stonewall
Emily Austen Brownlee, Moselle
Wyatt Cole Bullock, Ovett
Kelsie Nicole Callender, Waynesboro
Caleb Aaron Camp, Ovett
James Alton Carr, Ellisville
Daleree Mayne Clark, Leakesville
Carley Elizabeth Cleaver, Buckatunna
Cassidy Louise Cooper, Ellisville
Landon Thomas Coulter, Ellisville
Chloe Serene Davis, Waynesboro
Penelope Ann Davis, Waynesboro
Mallory Blaire Downs, Enterprise
Anna Grace Ellis, Collins
Mya Rose Gagnon, Leakesville
Maria Isabel Garcia, Ellisville
Joana Manni Garcia, Laurel
Alyssa Caroline Giovengo, Laurel
Jacob Paul Hamby, Ovett
Christian Eli Hammonds, Lucedale
Kadence Jolee Henson, Waynesboro
Arely Anet Hernandez, Waynesboro
Cameron Nathaniel Herrington, Laurel
Gavin Brody Hicks, Leakesville
Sarah Leslie Howell, Enterprise
Erin Nicole Hutto, Waynesboro
Collin Alexander Jones, Soso
Sylvia Mae Leonard, Bay Springs
Elizabeth Nicole Limerick Guy, Laurel
Landyn Kel Longmire, Leakesville
Alexia Victoria Lott, Beaumont
Samuel Wesson Lott, Ovett
Samantha Rose McCarty, Leakesville
Baylee Morgan McCool, Bay Springs
Lynzee Alishea McDonald, Lucedale
Omari  Ta'Zyron McGill, Taylorsville
Jordan Christina Moore, Ellisville
Clifton Bernard Moss, Laurel
Jonathan Glenn Musgrave, Sandersville
Phillip Jeral Nicholson, Richton
Makenzie Skye Parnell, Leakesville
Ashton Taylor, Laurel
Dawson Reece Reynolds, Ellisville
Makayla Lauren Roberts, Lucedale
Millicent Annanelle Rogers, McLain
Celina Jean Russell, Louin
Jaden Israel Santos, Laurel
Gracie N Siniard, Hattiesburg
Cambre Grace Smith, Ellisville
Preston Thomas Smith, Petal
Sunny Rochelle Sokol , Moselle
Jonathan Cole Strickland, Laurel
Abriegail Michelle Taylor, Laurel
Heather Kay Thomas, Stonewall
Houston Edward Tillman, Leakesville
Kimberly Michelle Trudeau, Ellisville
Ouida Cheyanne Waites, Waynesboro
Layton Chance Walley, Richton
Annie Marie Wester, Richton
Kaydence Zellene Wilde, Laurel
Angie Worsham, Buckatunna