ELLISVILLE – Mexican artist, Hector Boldo's collection of artwork titled, "The Past, Present and Future" is currently on display at Jones Eula Bass Lewis Art Gallery through December 3, 2021. The public is invited to see his dynamic and colorful artwork free of charge. Boldo will also be giving an "Art Talk" on Tuesday, November 16, at 1:20 p.m. in the Gallery, hosted by the JC Art instructors and students in the Exhibition class.
"His artwork is bold and fun," said Jones College art instructor, Melanie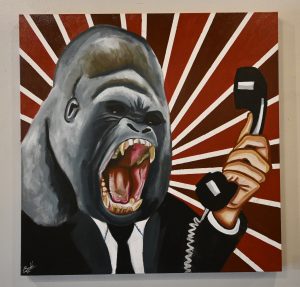 Eubanks. "We're excited to have up-and-coming artists like Hector show their work in our gallery. I'm sure our students and the public will enjoy his story and this exhibition, with various mediums displaying a creative collection of culture."
Boldo started his journey as an artist by working as an apprentice for a local artist in his hometown of Mexico City, Mexico. After finishing his apprenticeship, he moved to the U.S. with his family and started making a name for himself. Boldo's work is dynamic, full of color and reflective of his roots, mood and personality.
The current exhibit at Jones College incorporates three periods in Boldo's life. On display is a series of portraits with animals as metaphors to compare the similarities between animal and human behavior. Boldo is also currently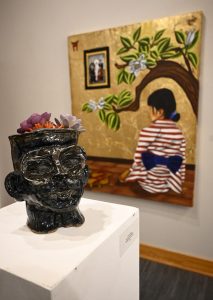 working on a series of portraits of first-generation immigrants in the United States. His artwork depicts the immigrants in their environment as they establish themselves in the U.S. Additionally, Boldo's artwork consists of oils to deconstruct Mexican culture and American pop culture, folkloric dancing, celebrities, and his dreams while finding inspiration in other artists.
For more information about the JC art show or to arrange a visit to the gallery call, 601-477-8401. The Eula Bass Lewis Art Gallery is open Monday through Thursday, 8:00 a.m. until 3:00 p.m., and Friday from 8:00 a.m. until 2:30 p.m. The gallery is closed during the holidays. If you want to know more about the Jones College Art Department, go to the JC Art Department's Facebook page, JC Art Department and on Instagram @artatjonescollege.