ELLISVILLE- Twenty-nine associate degree nursing graduates from Jones College are ready to join the workforce as they celebrated with a Pinning, Graduation and Lamp Lighting Ceremony. The transition from student to nurse has been especially challenging for this group of nursing graduates said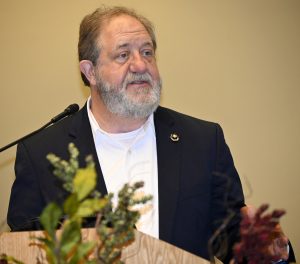 Associate Degree Program Director, Mike Cummings. The constant adjustments made to comply with COVID-19 restrictions during the past two years have prepared these nurses for the "real world" of nursing.
"This class had to endure many more difficult situations, constantly adjusting. We here at Jones understand the value of the support from friends and family because, without it, it would have been more even difficult for these graduates to succeed," said Cummings. "We've thrown a lot to the faculty and students but their resolve to adapt has been exceptional. They worked hard when things got tough and succeeded. Well done and great job!"
Jones College President, Dr. Jesse Smith told the audience of friends and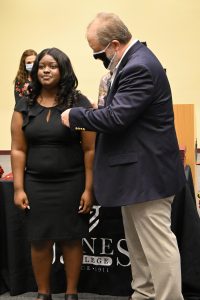 family at the Nurse Pinning Ceremony that the ability to be adaptable during an unprecedented pandemic is admirable. He continued praising the 2021 class of Associate Degree Nurses for choosing a noble profession.
"There's no greater profession than nursing because it impacts lives, many lives. Everyone has been impacted at some point in your life by a nurse and if not, you will be. We expect great things from you," continued Smith. "You'll see so many emotions and you'll enrich some many lives like you've never imagined."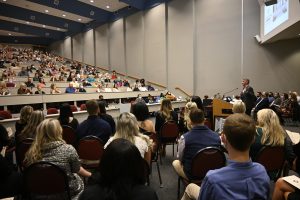 Several students willingly choose to serve their class as officers. Germecca Bolton of Laurel-President, Courtney Boothe of Heidelberg-Vice President, Bobbi Gamble of Petal-Treasurer, Anna Grace King of Ellisville-Secretary, Breanna Boyles of Brookhaven-Chaplain, and Abby Lillie of Raleigh-Activities. Additionally, five students were selected to join the honor society for associate degree nursing students, Alpha Delta Nu. The following students have maintained a "B" average every semester and were inducted into the Alpha Delta Nu Honor Society for the Fall 2021 graduating class: Jamie Parker of Stringer, Bobbi Gamble of Petal, Alexander Ducksworth of Petal, Abby Lillie of Raleigh, and Courtney Boothe of Heidelberg.
Th
e nursing school tradition, the Lighting of the Lamp concluded the special Pinning and Graduation Ceremony. This ceremony is a symbol of the passing on of knowledge from nursing faculty to graduates after receiving their official Nurse Pin with a Maltese Cross. For more information about the Associate Degree Nursing program at Jones College check out the website, https://www.jcjc.edu/programs/adn/
Associate Degree Nursing Fall 2021 Graduates
Ondranna Barnes- Mt. Olive
Germecca Bolton- Laurel
Courtney Boothe- Heidelberg
Breanna Boyles- Brookhaven
Christina Breazeale- Ellisville
Layken Carney- Columbia
Alec Culbertson- Ellisville
Kayla Daley- Laurel
Alexander Ducksworth- Petal
Morgan Freeman- Waynesboro
Bobbi Gamble- Petal
Kelsey Hamilton- Raleigh
Kris Hudson- Clara
Josh Kemp -Hattiesburg
Rachel Kendrick – Hattiesburg
Anna Grace King – Ellisville
Tori Kitchens Lott- Richton
Abby Lillie- Raleigh
Bryce McMullan Landrum-Soso
Payton Nelsen-Lucedale
Ashlea Odom Carlton- Petal
Jamie Parker-Stringer
Terra Pitts- Laurel
Katie Runnels Shows- Mt. Olive
Jamal Sampson- Hattiesburg
Kanai Spiney- Hattiesburg
Legend Waldrup- Laurel
Alainna Wells- Hattiesburg
Laken Windham- Heidelberg