ELLISVILLE – The 2001 MACJC Championship Football Team is the epitome of the Jones College Homecoming Theme, "Jones Family." This team overcame numerous obstacles, including the impact of the attacks in New York City on September 11, 2001, to its head coach being injured during a scrimmage game prior to the first game of the season. Some players also had to overcome personal issues. Through this groups' trials, a bond was formed that holds them together still today.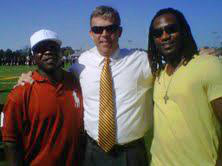 Some of the key players from the 2001 team, Ralph Davis of Quitman and current Mobile, Alabama resident and Rashad Phillips of Ellisville and current Pensacola, Florida resident shared their insight along with 2001 Football Assistant Coach, Ed Smith as they celebrate their third Homecoming Reunion as Grand Marshals of the Homecoming Parade with festivities on October 8 and 9, on the Ellisville campus.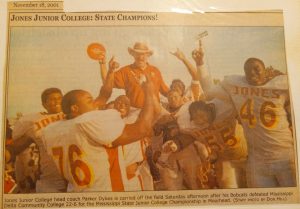 This team has the distinction of being the last Bobcat football team to bring home the MACJC State Championship. The road getting to that point was not easy. Various obstacles challenged a talented team, but it also created a bond that keeps many of them together, still today.
Head Coach Parker Dykes' 1998 team may have earned a National Championship going 12-0, but according to Assistant Coach, Ed Smith, the 2001 Football Team was within reach of a National Championship too.
"The 2001 team didn't get as much praise and press as the 1998 team, but they were right there with them as far as talent level. If Quarterback, Charles Hales of Ellisville, known as "Chachi" had not cramped up, missing the entire 3rd quarter of the first game against Northwest, the 2001 team would have been undefeated and we would have played for the National Championship," said Coach Smith.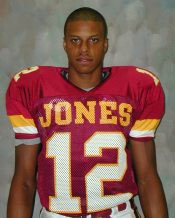 Hales wasn't the only one who left the game because of cramping. NJCAA All-American Honorable Mention and running back for the Bobcats 2001 team, Ralph Davis, and Rashad Phillips, otherwise known as "Thunder and Lightning" passed each other leaving the field. Additionally, Head Coach Parker Dykes was dealing with a torn ACL after being run over during a scrimmage game prior to the first game of the season against Northwest CC. Dykes was coaching from a golf cart and on crutches for the first half of the season. He also had to climb the stadium stairs to the press box, said Coach Smith.
"I think seeing the head coach tough it out like that made an impression on the players. He was not quitting."
Before the first game of the 2001 season, a winning spirit had already been birthed in Ralph Davis. While watching his brother, Corey Wallace play and win the National Championship in 1998 and the Golden Isles Bowl Game, Ralph was inspired to pursue being a winner too. Unfortunately, Davis didn't get a call from JCJC Coach "P.D." his senior year of high school because a technicality kept him from graduating. One year later, somehow, Coach Dykes tracked him down at his girlfriend's house and invited Davis to Jones in 2000.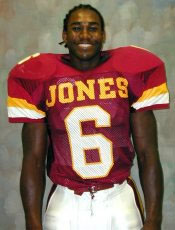 "I literally packed my bags and told my dad to drop me off in Ellisville, I was playing football for JC," said Ralph Davis. "I don't think my dad believed me, but he realized I was going to follow my dream."
The first game of the 2000 season for Davis and the football team was anything but a dream. After witnessing the 1999 team finish with a losing season (3-7) after going 12-0 in 1998, Davis said he was determined the 2000 team would repeat the success of the 1998 team. However, the Northwest Rangers had other plans for the Bobcats and crushed them with a stinging 72-7 loss in the opening game of the 2000 season. (NOTE: Northwest CC was penalized for practicing before the season and not eligible for the playoffs.)
"I have never seen that many points on a team in my life!" said Davis. "That game changed my perception about everything. I made it my goal then, to never lose like that again. It was a real eye opener for me. Not just losing but realizing the importance of the team's attitude. We have to play as a team."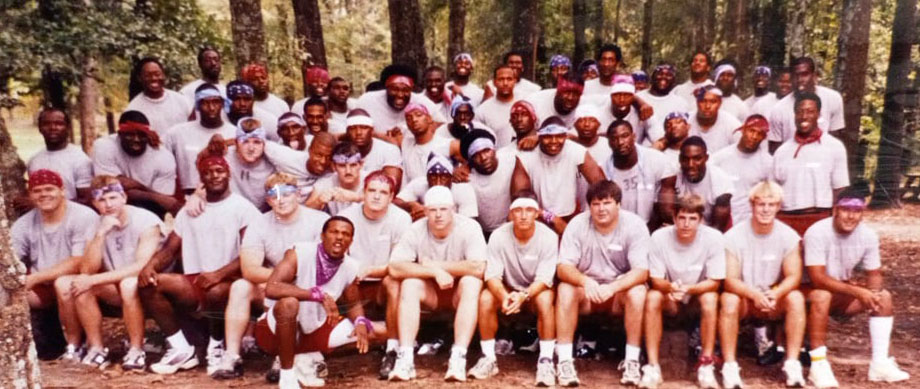 Coach Dykes and assistant coaches, Ed Smith, Eddie Pierce, Steve Boyd, and graduate assistant coach, Chris Robinson had a formula for team building which included a day at "Challenge Country." The obstacle course and team building skills at the Ellisville facility instilled a bond and created a brotherhood that remains today, according to Davis.
"Coach Dykes was a father figure to a lot of us guys," said Davis. "He instilled in us a real bond, a brotherhood. At Challenge Country, we had to climb walls and we were going to do it together, even the coaches. We were going to conquer this obstacle course together. That is what started a special bond and it was our destiny to succeed."
Even though the first game against Northwest CC didn't end the way they would have liked it, 30-20, the Bobcats finished the season with a 10-1 record. The winning streak began with the Itawamba CC win, 23-7. Then the Bobcats seemed unstoppable as they easily outscored Southwest MS CC (26-0), Pearl River CC (24-14), Mississippi Gulf Coast CC (24-14) and East Mississippi CC (30-6). Then, the East Central CC Warriors tried to upend the Bobcat's winning season. Leading 34-10 in the fourth quarter, East Central not only closed the gap but took the lead, 36-34 late in the game.
"We were up by three touchdowns and suddenly we're down by two points with a minute and a half left to play. It came down to a fourth-down and 10, and Chachi hit Davon Rodgers on a 60-yard touchdown pass, winning 40-36," said Coach Smith.
The Bobcats closed the regular season with wins over Hinds CC 28-7, and Copiah-Lincoln CC 7-3. In the playoffs, Jones got revenge for their only loss of the season by defeating the NWCC Rangers, 24-10.
In the State Championship game, JCJC traveled to Moorhead to face Mississippi Delta CC. A field goal by Nickolas Terracina tied up the score 3-3 before Ralph Davis added 6 points with a 2-yard touchdown run. Before the end of the first half, the Trojans kicked a 49-yard field goal to go into halftime ahead, 9-6. The Bobcats extended the lead to 16-6, with 11:29 to play in the fourth quarter on a 20-yard touchdown run by Hales. Jones clinched the championship when Rashad Phillips ran 87 yards for a score in the final minutes to give Jones a 22-6 victory.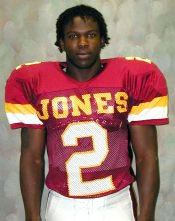 "They don't call me Lightning for nothing! I was fast and Ralph loved to look for people to block and hit; that's why he's called Thunder and I'm Lightning!" said Rashad Phillips.
Coach Ed Smith said Phillips inherited some of that athleticism from his dad, Robert Phillips Sr, who was known as "Train" during his days at Jones. Robert Phillips Jr. was known as the "Little Train" and Rashad Phillips was known as the "Choo-Choo."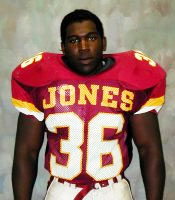 "When Robert Phillips Sr. hit you, they said it was like being hit by a train. His sons played the game the same way. Rashad had a touchdown run and Robert Jr., our nose guard picked up a fumble and returned it for a touchdown in the playoff game against Northwest CC. It was pretty neat to see both brothers score in the same game," said Ed Smith. (Side Note: The Phillips' brothers also have a younger cousin, who played at Jones College and just made the Houston Texans roster, Scottie Phillips-JC 2016-17.)
The 2001 season ended with a few honors including, defensive back, David Scott was an NJCAA All-American First Team and defensive lineman, Fred Blueford was an NJCAA All-American Second Team member. Davis earned NJCAA All-American Honorable Mention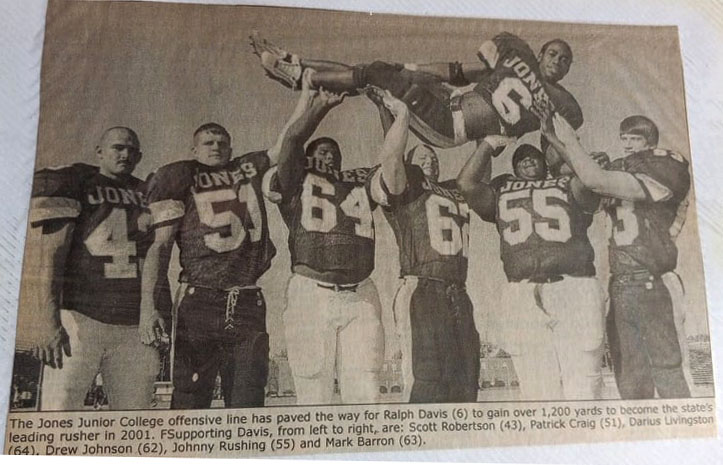 honors with 1334 yards rushing on 212 carries-the state's top rusher in 2001. According to Davis, he overheard the conversation with Parker Dykes and the Georgia Military coach discussing Bowl Games.
"I could not believe what I heard!" said Davis. "The Georgia Military coach said he didn't want to play us because they always lose against Jones! No one wanted to play us!"
Even more than the honors and incredible season, Davis said he appreciates two people at JCJC who were not a part of the football team. Dr. Randolph and Anne Strickland of Ellisville "adopted" Davis and treated him like a son. As an instructor and program director for displaced homemakers, Anne helped Davis earn his GED and Machining Certificate and prepared him for academic classes.
"She adopted me, took care of me and kept me on the right path. She even made a scrapbook with all my newspaper stories and pictures. Dr. Strickland (Dean of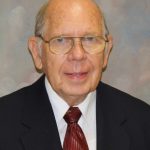 the College) was also like a grandfather. They loved me like a son which meant so much to me. They really helped me start a new life because I didn't know what I was doing," said Davis.
Davis earned a B.S. in Sociology from Louisiana Tech University where he played football. He continued his career in football playing for the Edmonton Eskimos, after playing on the practice squad for the Atlanta Falcons. His goal was to play for the NFL, "But I guess God had other plans," said Davis.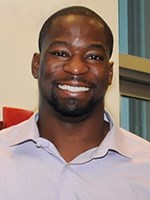 One of his JCJC teammates, Chauncey Davis of Bartow, Florida, did find success in the NFL playing for the Atlanta Falcons in 2005 until 2010, after playing for Florida State. Chauncey also played for the Chicago Bears for one season after that. He was inducted into the JC Hall of Fame in 2013. JC football teammate, Dr. Mark Barron of Laurel, and current Brookhaven resident was inducted into the JC Hall of Fame on September 9, 2021. Regardless of their achievements, Coach Dykes always said he was most proud of "his guys" for other reasons.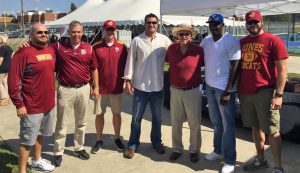 "This will be our third reunion with this team and the turnout for the others has been great. It's really special to see how these guys, who were a great team, have turned out to be great fathers and husbands and just overall really good people. That is what Coach Dykes was the proudest of," said Coach Ed Smith.
This will be the first reunion Coach P.D. will miss. He passed away in July 2020, after battling cancer. Ralph Davis said Parker still lives in the guys who really became Parker's sons, and who now also make up the Bobcat Football Nation.
"I owe Coach Dykes a lot," said Davis. "I was going nowhere when he invited me to play for Jones. He was so positive, and his signature sign-off, 'Go Bobcats!' is something I'll always remember about him."
Davis said he regularly talks with about 30 of his brothers or teammates from the 2001 MACJC State Championship Team. Parker coached a lot of winning teams, but his guys became a family on earth and in Heaven, which was Parker's ultimate goal.