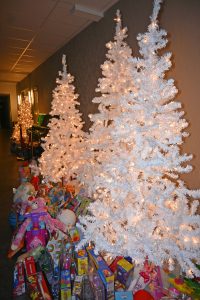 ELLISVILLE – After 11 years, Jones College's Christmas with the Arts toy drive continues to serve as a vital part of the annual Salvation Army's Angel Tree program. The community's donations of new unwrapped toys for admission to the Jones College Christmas program have often provided hundreds of families some happiness during the holidays with these gifts. Toys will be distributed on Monday, December 11, to the nearly 250 families who signed up for the program, with 611 children needing a little Christmas joy. Salvation Army's Commanding Officer in Laurel, Captain Keisha McMullin explained that an additional 150 kids were added to the list this year, but she's grateful for the tremendous response from the Jones College family.
"There are several 'Angels' still hanging on the tree in the mall in Laurel and if no one adopts them, these gifts will fill those needs, so we don't have to purchase gifts. We are so thankful for what the college community does to help every year with this program. I wish everyone could see my smile right now looking at all these gifts!" exclaimed Captain McMullin.
Necessities and Christmas gifts are provided for disadvantaged children from infants to age 12, through the Salvation Army Angel Tree Program in Jones, Jasper, Wayne, Clarke, Smith and Simpson counties. For more information about the Angel Tree project, go to https://salvationarmyalm.org/
For more information, call the Jones College of Art, Music and Performance Office at 601-477-4203 or follow Jones College Art, Music and Performance Facebook Page and Twitter.