ELLISVILLE – At Jones College's 94th Commencement Ceremony held outdoors on the North Lawn of Jones Hall, Jones College President, Dr. Jesse Smith offered a special thank you to the approximately 660 graduates participating in the ceremony. The college's motto, "Inspiring Greatness" is especially fitting for this class because as the president acknowledged publicly, the class of 2022 has inspired administrators, faculty and staff as they persevered through the challenges of the COVID-19 pandemic.
"You were required to adapt in unprecedented circumstances. The level of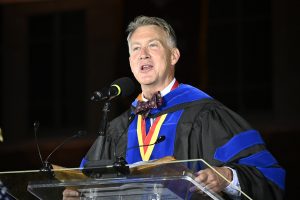 success you attained in the midst of this season of uncertainty is remarkable. Your commitment to the classroom, your strong work ethic and your engagement in the Jones community are evidence of the future impact you will have in the world," said Smith.
Just like the Jones College Class of 2022, President Smith said the keynote speaker and former TOPGUN Navy pilot, Major Nick Laviano also embodies the college's theme. The Ellisville native graduated from Jones County Junior College in 2005 as a student athlete, playing soccer and golf. He earned his Bachelor of Science in mechanical engineering from Mississippi State University in 2008 and was accepted into the United States Navy Officer Candidate School and was commissioned as an Ensign in January 2009. A few years later after being designated as a naval aviator, his first operational assignment was in Lemoore, California, attached to the Strike Fighter Squadron 86 (VFA-86) where he flew the FA-18E Super Hornet. While there, he decided to pursue a lifelong dream and apply to the Navy Fighter Weapons School known as TOPGUN.
"The (TOPGUN) course was three months long and it was extremely demanding. To this day, I still consider graduating TOPGUN as the highlight of my career. I was also lucky enough to remain on staff as a TOPGUN instructor at the conclusion of my class. Over the following three years, I worked with the most talented group of individuals I'd ever met. It was extremely humbling and rewarding," said Laviano.
After serving 12 years active duty in the Navy, Major Laviano has recently joined the District of Columbia Air National Guard, flying the F16 while living in Alexandria, Virginia with his wife Alicia and son, Myles. As he was preparing for the JC commencement address, Laviano realized a mantra repeated at TOPGUN would be the best advice he could share with the Class of 2022.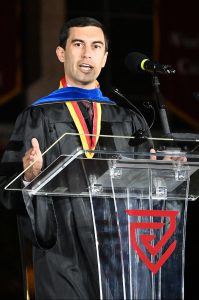 "Be humble, approachable and credible. These three words are how you are expected to act as a student, and more importantly, how you are expected to act as an instructor. If you are not humble, approachable and credible, you will not be an effective instructor. Therefore, you will not be able to pass on the knowledge you gained through your training. I realized, this doesn't just pertain to the military side of things, but also to everyday life," said Laviano.
At some point in our lives, Laviano reasoned, everyone will be a teacher, mentor, advisor, or a consultant and part of the responsibility of having this knowledge is passing it on to future generations.
"If you are not humble, approachable and credible, people you are expected to train will not seek out your advice and thus break the chain you worked hard to achieve," said Laviano.
Considering the stereotype of a fighter pilot, Laviano stressed to the audience, from his experience, the loud, cocky, brash type of people exist. However, he explained, they are usually not the best at what they do.
"The ones who are consistently sought out for their advice, are the ones who let their actions and reputation speak for themselves.  There is a high level of confidence in these people, but that is not the same as cockiness," he explained.
Laviano's definition of humble in a professional sense, is being a professional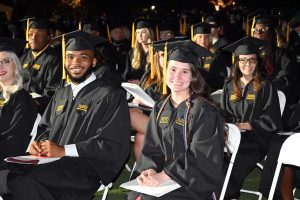 with a high standard. He said the leaders he esteemed always held themselves to a higher standard, and he always wanted to meet them with that standard. Laviano urged graduates to be that person who sets the standard with their actions and let their peers be the ones who notice the results.
"Treat others like how you would want to be treated…. You can always find a teachable moment but always pay attention to the type of feedback a particular person responds to best and try to tailor your instruction to help them," Laviano advised.
Being credible is like building your brand, the Navy pilot shared. As people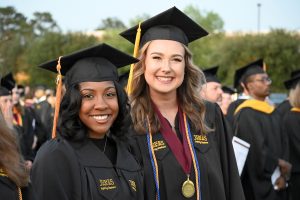 notice how you execute your job with good results, others will want to emulate you.
"Establish yourself as a credible source and people will naturally seek you out and your advice. In my opinion, there is no greater compliment than others seeking you out based on your expertise," Laviano explained. "However, as long as it takes to build that credibility, it can be lost in an instant. If you hold yourself to that high standard, you'll be just fine."
With Major Laviano's example of success and words of wisdom, President Smith reminded the class of 2022 the sky is the limit for them too.
"Graduates, I hope you see that your beginning here at Jones College can lead you anywhere in the world. Specifically, from a seat in Calculus Based Physics into the cockpit of America's most advanced fighter jets. Literally, the sky is the limit! Beyond that, you can see Major Laviano's flight plan, that you could also climb into the clouds as a TOPGUN. What could we learn from his life? He's a great American and JC graduate and he certainly embodies our theme, 'Inspiring Greatness!'"
Jones graduate, W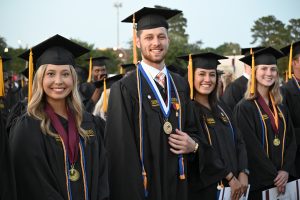 yatt Reid of Laurel said he thinks Laviano's three standards are advice that would help him in his future endeavors. For the next seven years, Reid's plans include getting his accounting degree, become a licensed CPA, and then earn his law degree and tax law certifications.
"My dream job would be a constitutional law, first amendment, intellectual property lawyer and I would love to represent a college or an individual on a first amendment case," said Reid who is headed to MSU to tackle the first part of his goal.