ELLISVILLE- Jones College's theater production of "Mamma Mia!" will have you singing the ABBA tunes of the '70s and '80s while enjoying the Greek Islands during three performances on the Ellisville campus. The musical opens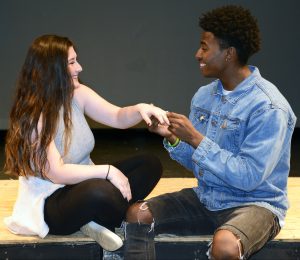 with Sophie, played by Olivia Pippin of Laurel, sending out wedding invitations. Sophie's mother Donna, played by Lauren Hankins of Laurel, was the lead in a pop group, "The Dynamos" in her younger years. She raised Sophie at the Inn she manages on a secluded Greek Island. JC theater instructor and musical producer and director, Dr. Jennifer Bruton said as the wedding guests arrive, the chaos begins, and the family mystery unravels.
"'Mamma Mia!' is widely known for its popular music, originally written and performed by ABBA. Many of the songs are familiar and have entertained audiences of all ages. It's hard to resist the urge to get up out of your seat when you hear 'Take a Chance on Me,' or 'Dancing Queen!'" said Dr. Bruton. "The musical is one of the Top 10 longest-running shows on Broadway and the West End, it has toured around the world, and it was made into an extremely popular movie. The show features a large cast, great singing and energetic choreography."
The 22-member cast of Jones College students will have three performances open to the public on Friday & Saturday, March 27 & 28, at 7 p.m. and on Sunday, March 29, at 2:30 p.m. in the M. P. Bush Fine Arts Auditorium on the JC campus in Ellisville. Tickets are $5 for children 17 and under and $10 for adults with free admission for JC students and faculty with a valid ID. Tickets can be purchased at the door. The movie version was rated PG13, however parents should use their discretion for children younger than middle school. For more information, please contact Jennifer Bruton at 601-477-2675 or email her at, jennifer.bruton@jcjc.edu.
Playing her "dream" role as Sophie, is a newcomer to the JC theater, Olivia Pippin. However, the JC sophomore has been involved in numerous Northeast Jones High School productions, including Grace in "Annie Jr." and Gertie in "Larceny and Old Lace."
"One of the most challenging things about playing Sophie is unlocking a vulnerable facet of myself that I typically don't interact with. Sophie is an incredibly complex character who combines the utmost femininity and emotional capacity with lighthearted vivacity, courage and bravery. It is a welcome challenge that brings out the best in me."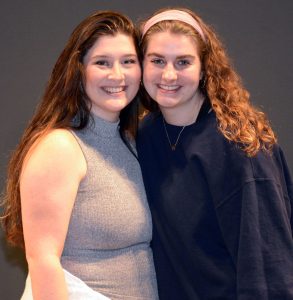 Sophie's mother Donna, played by Lauren Hankins, is also no stranger to the stage. She played Velma von Tussle in JC's musical production of Hairspray last spring and has performed in more than 50 productions around Jones County. The Northeast Jones High School graduate played Fiona in "Shrek: The Musical" and Pinky Tuscadero in "Happy Days." Hankins said her character is also a dream role she wanted to portray and is thrilled to be acting alongside her best friend and daughter in the play.
"Donna literally can embody a teenager in an older woman's body. It's hilarious to see her go from serious to super easy going with her girlfriends.  She can be so overly dramatic and it's so much fun to portray," said Hankins. "Donna's songs are definitely the hardest part about playing her. So much emotion, so much power and so many lyrics!"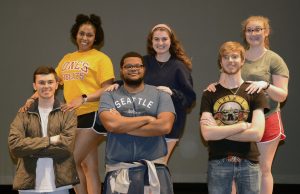 One of the three men in Donna's life that is creating some of the drama is Harry Bright, played by sophomore, Lane Smith of Columbia. In JC's "Hairspray" last spring, Smith enjoyed the role of playing the father to the star of the show. This spring, he plays one of the three men who could be Sophie's father.
"Harry is very different than most of the other roles I've played in the past. He is very much like me because he is very quirky, dependable and a really nice guy," said Smith. "The most challenging thing about playing Harry is his British accent. I have a huge Southern accent and it has been difficult for me to keep the voice for the entire performance. Each night, I get better."
For a look at rehearsal pictures, find the Facebook page, Jones College Musical Theatre.
Cast of Mamma Mia!
Erin Biglane, Ellisville-Ensemble
Coriana Carmichael, Laurel- Ensemble
Chicago Collins, Brookhaven-Ensemble
Alexander Dailey, Buckatunna-Bill
Ty Evans, Laurel-Eddie
Cameron Glenn, Ellisville-Ensemble
Peyton Griffin, Ellisville-Pepper
Lauren Hankins, Laurel-Donna
Khalil Herron, Laurel-Sky
Peyton King, Petal-Rosie
Kyra Lampley, Petal-Tanya
Faith Lewis, Silver Creek-Dancer
Stuyuncey Nobles, Laurel-Ensemble
Jalin Phillips, Waynesboro-Ali
Olivia Pippin, Laurel-Sophie
Katelyn Powell, Petal-Ensemble
Josarah Slover, Laurel-Lisa
Lane Smith, Sumrall-Harry
Janna Swanner, Taylorsville-Ensemble
James Smith, Hattiesburg-Sam
Krimel Chandler, Liberty-Ensemble
William Crook, Madison-Stage Manager