ELLISVILLE – The University of South Alabama's "Pathway USA" partnership with Jones College has established more ways for Jones students to earn a bachelor's degree. South Alabama President, Dr. Tony Waldrop said the partnership benefits everyone involved but most importantly, we're expanding access to four-year degree options for the residents of South Mississippi and South Alabama.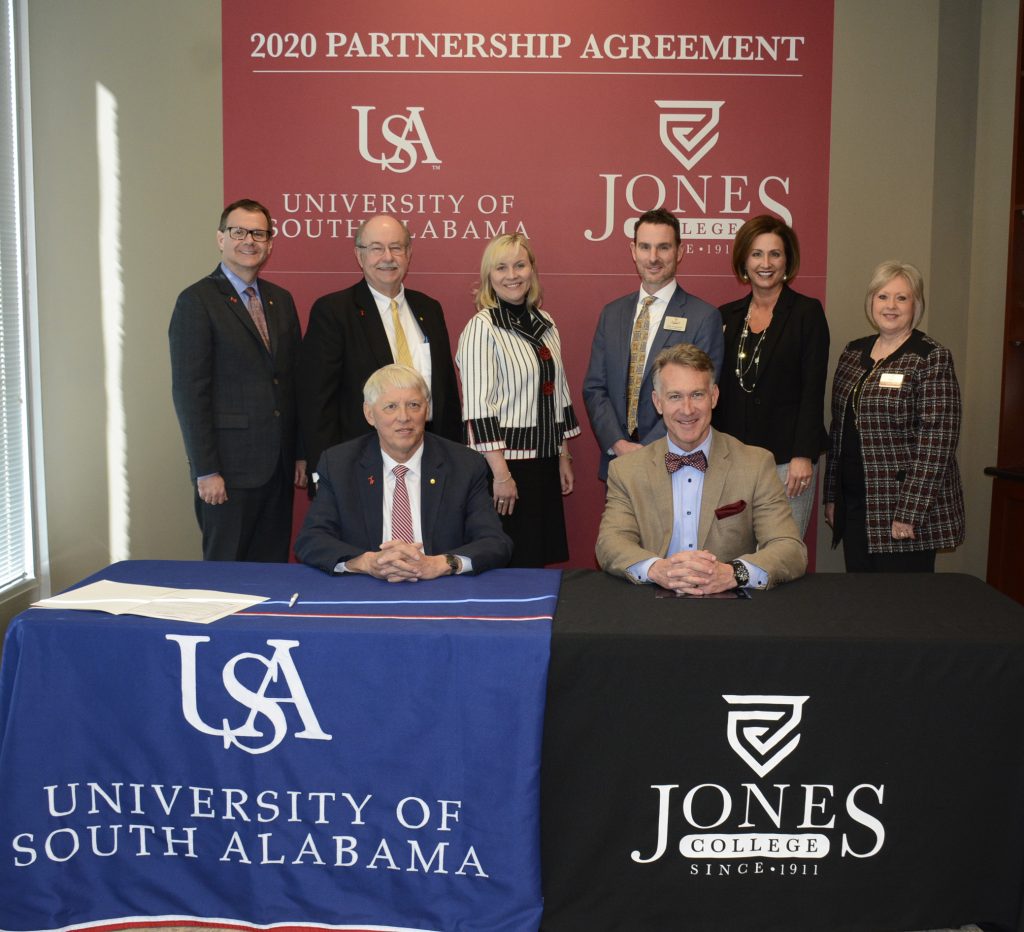 "Pathway USA will enable more Jones College students to receive a degree from the University of South Alabama and provide these students with an earlier involvement in USA activities," said Dr. Waldrop. "South Alabama has educated generations of Mississippians who are making positive impacts on their communities. We're very excited to build on that success by bringing Jones College into our Pathway USA family."
To ensure the direct admissions process is a smooth transition for Jones students, a University of South Alabama advisor will be assigned immediately upon signing up for the Pathway USA program. Additionally, USA officials announced a financial incentive to help ensure Jones students earn a bachelor's degree at South Alabama.
"Students who sign up for the Pathway program will receive a South Alabama Pathway ID that will allow them to access resources at the University of South Alabama like athletic events and library privileges…. For those students with a 2.75 GPA at Jones, you'll qualify for an academic scholarship at the University of South Alabama and they will guarantee in-state tuition," said Dr. David Johnson, USA Provost and Sr V.P. for Academic Affairs.
The Pathway USA agreement also gives applicants to the USA who are not admitted, the option of enrolling at Jones College. If a Jones College student transfers without an associate degree, they will be eligible for the Reverse Transfer program allowing Jones students to receive an associate degree in the future. Additionally, Jones College graduates of the Associate Degree of Nursing program are eligible for additional perks as a result of the University of South Alabama's College of Nursing's first collaborative agreement with a community college, under the new Pathway USA partnership.
"When you get into your 4th and 5th semester of the (A.D.N.) program, you are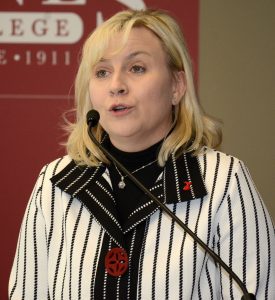 eligible to take one course online at South Alabama while you're completing your coursework in that 4th semester. In the 5th semester, you are eligible to take two courses (online). You will then have completed 12 credit hours of the baccalaureate degree prior to completing your associate degree. When you complete your associate degree, including the 59 credit hours of prerequisite coursework and you have completed and passed the NCLEX and are board-certified, you can complete the bachelors of nursing program at USA in one semester," said Dean of the College of Nursing at the University of South Alabama, Dr. Heather Hall.
For second semester JC Associate Degree Nursing student, William Russell from Columbia, the early acceptance program for Jones graduates in the A.D.N. program, is very appealing. With aspirations of becoming a nurse practitioner, Russell will have to earn a bachelor's and master's degree in nursing. He said being able to complete most of his bachelor's degree in nursing online while at Jones is the most rewarding benefit because USA's new agreement will enable him to realize his dream much sooner.
"This partnership not only decreases my time in school, but it also offers a more affordable route. This opportunity is much cheaper than any other institution in Mississippi. This is a once in a lifetime opportunity and I hope to participate in it in the future!" said Russell.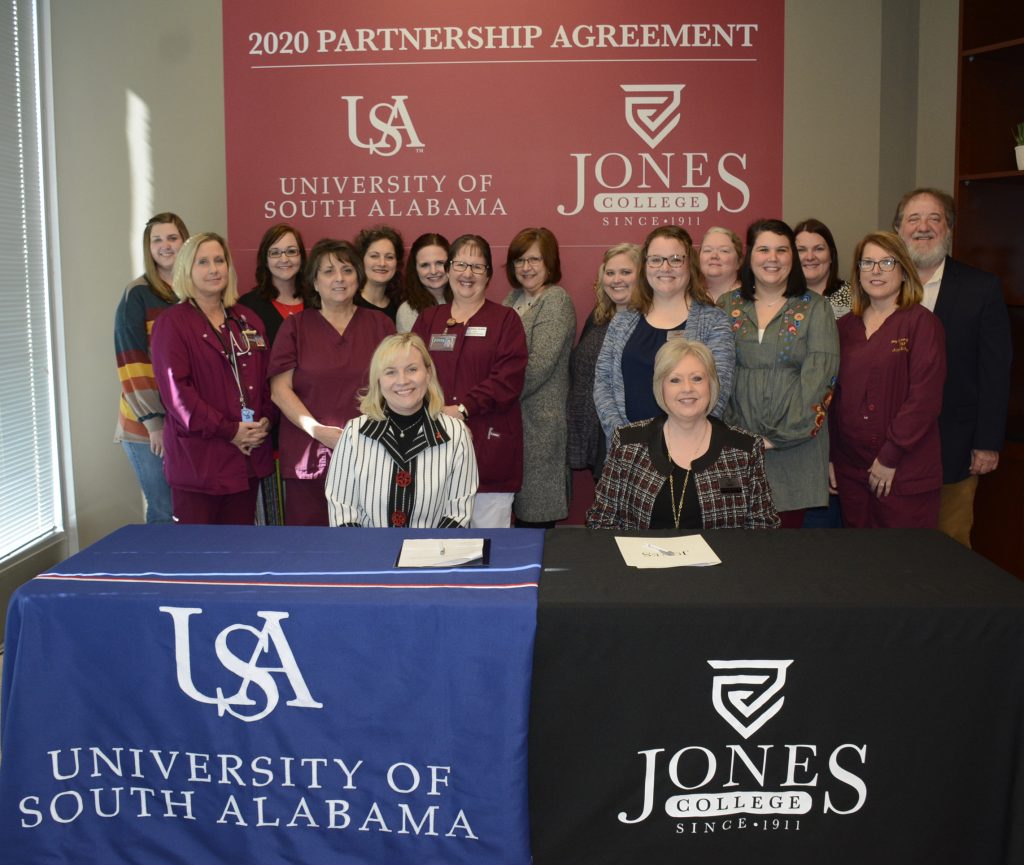 Jones College Director of Nursing, Erin Knight is encouraged these opportunities offered at the USA will encourage more nursing graduates to earn bachelor's degrees and more.  Dr. Jesse Smith, Jones College President encouraged Jones College's nursing students to take action towards their destiny.
"The opportunity given to you today, in addition to the opportunities Jones offers you are really going to make a profound difference not only in your lives, but it will also make our communities better. We're going to be able to provide better health care. Take advantage of this tremendous opportunity, students," said Dr. Smith.
For more information about the Pathway USA program, Jones College students can contact Rachel Jefcoat in the Enrollment Management office by calling 601-477-5446 or email, rachel.jefcoat@jcjc.edu. Also, persons wanting additional information on Pathway USA or the College of Nursing Early Admission Program are urged to contact USA's Office of Admissions at 251-460-7834 or email, Recruitment@SouthAlabama.edu.
About the University of South Alabama: The University of South Alabama is a global teaching and research university that provides more than 14,000 students with an exceptional education in business, the liberal arts, education, engineering, computing, the sciences and healthcare. USA's commitment to student success includes small class sizes and hands-on research opportunities in more than 100 undergraduate, graduate and doctoral degree programs offered through nine academic colleges and schools. South also provides advanced and innovative healthcare through USA Health. For more information, visit the University of South Alabama website, www.SouthAlabama.edu.