ELLISVILLE–Civil rights activist, James Meredith will be speaking to Jones College students in the Charles Pickering Honors Institute on Monday, April 12, at 6 p.m. in the Fine Arts Auditorium on the Ellisville campus. His speech will focus on the topic, "To Our Future: Toward a New Day for Mississippi." This event is open to the public, but there will be limited seating. The 88-year-old, Meredith will be joined by retired, U.S. Federal Judge, Charles Pickering for this discussion. COVID-19 protocols, including wearing masks and social distancing will be enforced.
"I believe this is a momentous event, one that we've been working on for three years. Our students and all in attendance will certainly hear from a courageous man," said Dr. Ronald Bishop, JC Honors College Dean and Social Science instructor.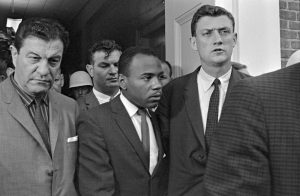 Kosciusko native, James Meredith is nationally renowned for being the first African American student to attend the University of Mississippi in 1962. Enrolling at the all-white university happened at a pivotal time in the civil rights movement. Initially, state officials refused to follow the U.S. Supreme Court order to integrate the school and blocked Meredith's entrance. Campus riots ensued killing two people before Meredith was admitted to the university under the protection of federal marshals.
Meredith served in the U.S. Air Force for nine years, 1951 until 1960, before attending the all-black school, Jackson State College in 1960 until 1962. His repeated applications to the University of Mississippi were denied solely on the basis of his race, according to the verdict of his 1961–62 court battle. He won the case on appeal with the legal assistance of the National Association for the Advancement of Colored People (NAACP).
In the fall of 1962, as mob violence seemed imminent, U.S. Attorney General Robert F. Kennedy called in federal protection so that Meredith could register for classes. Meredith's tenure at the University of Mississippi was brief; he graduated in 1963.