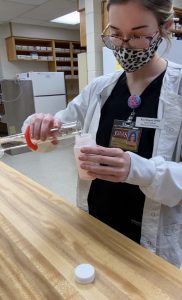 ELLISVILLE– Jones College's Pharmacy Technology Program is now accepting applications for the fall 2021 semester, with a priority deadline of May 1, 2021.  Applications can be downloaded from the website at https://www.jcjc.edu/programs/pharmacy/ or by calling the department at 601-477-4230.
The JC Pharmacy Technology curriculum is a two-year program which combines classroom instruction, laboratory work, and clinical experience to prepare students for employment and advancement in the pharmacy field. Admission requirements for the program include a high school diploma or GED, a minimum score of 17 on the ACT, and a background check. The student will obtain an Associate of Applied Science degree after successfully completing the program and will be eligible to take the National Pharmacy Technician Certification Exam.
The Mississippi Board of Pharmacy requires technicians to register with the board.  The focus of the JC program is for students to earn an associate degree in Pharmacy Technology and to prepare for the National Pharmacy Technician Certification Exam. JC has maintained a successful passing rate for the exam.
The Pharmacy Technology program at Jones is designed to train a technician to work in each type of pharmacy setting and to proficiently perform each task. According to the Bureau of Labor Statistics, employment of pharmacy technicians is projected to grow 4-percent from 2019 to 2029, about as fast as the average for all occupations. Employment projections data for pharmacy technicians, 2019-2029 is 437,600.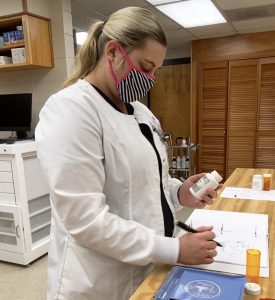 The population is aging, and older people typically use more prescription medicines than younger people. Higher rates of chronic diseases, such as diabetes, among all age groups also will lead to increased demand for prescription medications. Advances in pharmaceutical research will allow for more prescription medications to be used to fight diseases. In addition, pharmacy technicians will be needed to take on a greater role in pharmacy operations because pharmacists are increasingly performing more patient care activities, such as giving flu and vaccine shots. Technicians will need to perform tasks—such as collecting patient information, preparing more types of medications, and verifying the work of other technicians—that were previously done by pharmacists.
Students will learn pharmacology, pharmaceutical compounding, dosage calculations, pharmacy management, pharmacy law, therapeutic classification of drugs, drug use and abuse, trade and generic nomenclature, medical transcription abbreviations, and healthcare devices utilization. Through classroom and laboratory instruction, students will learn methods of drug preparation, packaging and distribution, and the function and services provided by retail and hospital pharmacies.  The technician will be prepared to transcribe physician orders, prepare, dispense, and deliver orders, prepare admixtures of intravenous solutions, maintain inventory control, replenish pharmaceutical supplies, maintain patient records, and communicate effectively with patients, other healthcare providers, and third-party insurance agencies.  Practical experience in community clinical and retail settings will enhance the learning experience.
Graduates of this program will have the skills necessary for employment as technicians under the direct supervision of a registered pharmacist.  They will be qualified to assist and support pharmacists in providing health care and medications to patients in retail settings, hospitals, home health care, nursing homes clinics, nuclear medicine settings, and compounding pharmacies. Non-traditional employers will also include medical insurance companies, drug wholesale companies, medical computer software vendors, and drug manufacturers.
For more information call 601-477-4230, or email Tracey Parker at: tracey.parker@jcjc.edu or Stephanie Jones at: stephanie.jones@jcjc.edu or visit the website at: http://www.jcjc.edu/programs/pharmacy/index.php. Program applications can be found at: http://www.jcjc.edu/programs/pharmacy/docs/application.pdf.