ELLISVILLE – Five Jones College students and members of a percussion ensemble will be representing Mississippi at the Percussive Arts Society International Convention (PASIC) and competition in Indianapolis on Friday, November 12.  JC's five-person percussion ensemble includes freshman, Michael Arevalo-Pearl; freshman, Tyler Nunn-Petal; sophomore, Andrew Suttle-Petal; sophomore, Zach Gregore-Petal and sophomore, Stevonta Mayfield-Waynesboro will be the first, Mississippi junior/community college percussion group to compete at PASIC, according to Jones College Percussion instructor and Assistant Director of Bands, Dr. Josh Frans.
"We entered the competition as a chance to take the students to the PASIC convention, to experience the convention which means mingling with some of the top percussion artists, participating in clinics and masterclasses, and concerts. To be around the caliber of musicians, and people in the industry is an experience that was absolutely life-changing for me when I was in college. I hope to be able to share that with my students," said Frans.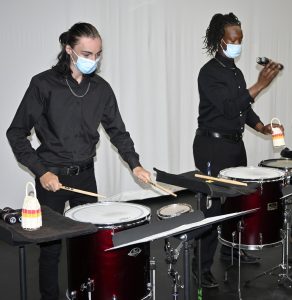 One of his freshman percussionists, Tyler Nunn doesn't seem to be intimidated by being the first to compete on this level, before an international crowd of percussionists.
"It's really cool," said freshman, Tyler Nunn. "I haven't been a part of a lot of 'firsts' but to be the first junior college from Mississippi to go to something as grand as PASIC and being at the only percussion geared convention, is really cool."
The quintet has been practicing on Sunday afternoons preparing for the competition since September, in addition to at least one hour during the week, depending on schedule demands. The five-minute piece they will perform, "Blue Burn" not only has students playing multiple percussion instruments, but the music is also in a difficult time signature and the performance includes a visual aspect with students playing in sync.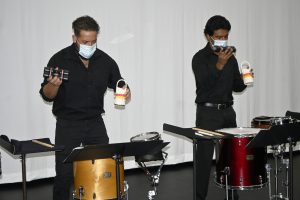 "I'm looking forward to showing the universities how we play, and no one should underestimate a junior college because we definitely have skill here and I'm ready to prove it," said Zach Gregore, a music industry major who has been playing the drums since he was three years old. Each of his teammates has also been competitively performing at a young age and all of them were involved in prestigious high school indoor percussion/band competitions and were Mississippi Lions Band members.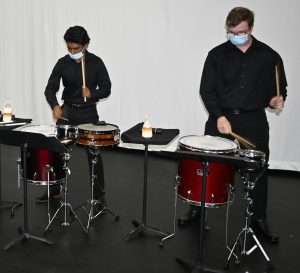 "I'm just excited to be able to perform on a big stage and compete again," said Andrew Suttle, an engineering major. "Because of Covid, everything was shut down my senior year and I'm a sophomore at Jones now. I miss that aspect of playing drums and that's what I'm most excited for; the feeling of competing and getting feedback. I'm excited about being back in Indianapolis too. I've been there for Indoor Percussion competitions twice."
After nearly two years of enduring Covid restrictions, Michael Arevalo is looking forward to competing again and loves the challenge of performing on the world stage at PASIC.
"I really just want to go and enjoy it. I'm passionate about drumming so this is going to be fun. I don't really get nervous, I am more excited than nervous, and I can't wait to be inspired again about performing like I used to be," said the kinesiology major.
Frans is confident in his students' abilities as rudimental percussionists performing on non-rudimental things, like the caxixi, a Brazilian shaker. Because the quintet will be facing university groups, Frans has imparted some personal wisdom as a previous PASIC winner. After his first PASIC appearance in 2005, Frans returned in 2007 and placed first in the PASIC marimba competition. He also placed fourth in 2010, and in 2015, he took an ensemble as a featured evening concert.
"With an audience full of percussionists from all over the world, including international artists and students, I'll be more nervous than my students during the competition because of the gravity of who they are performing before, which is also pretty neat," said Frans.
Competition and convention attendees are required to be fully vaccinated and masked. Also, each performing group will compete without their instructor conducting. They are on their own, performing as one.
"For me, this is a once-in-a-lifetime thing to do," said Gregore. "I'll do whatever it takes to perform here. I'm super excited to be at PASIC and I consider it a privilege to be playing with some of the best drummers from Mississippi, here at Jones."
The group from Jones College will be amongst approximately 5,000 people attending the annual PASIC competition and convention. Also, more than 120 exhibitors will be showcasing percussion equipment, publications and services, in addition to the 120 concerts, clinics, workshops, presentations, and master classes given by the finest artists from around the world, in all areas of percussion marching, symphonic, education, music technology and new music. Waynesboro's Stevonta Mayfield is also looking forward to attending performances and enjoying everything with his friends.
"I am looking forward to having a good time with my friends and working hard during the competition. This is a group effort, and it feels great hearing us perform."
Three equipment managers, Ema Hudson-Laurel, Taikya Ducksworth-Taylorsville and Jordan Stianche-Petal, and Dr. Josh Frans will also be traveling with the ensemble.