ELLISVILLE – There was an overwhelming response from the public attending Jones College's Christmas events. Several hundred new, unwrapped toys were collected for the Salvation Army's Angel Tree program as admission to Jones College's Christmas program. The partnership between Jones College's College of the Arts, Music and Performance, and the Salvation Army has brought smiles to thousands of children over the decades. Major Raymond Pruitt of the Laurel Salvation Army was impressed by the student's performance and overjoyed by the generosity of those donating to the Angel Tree program.
"For 83 years, the Salvation Army has been serving the Laurel area and that can only happen with the support of the community. It is wonderful to see the young people join the 'army' of volunteers helping others," said Pruitt.
Performing in the Jones College Christmas event included the JC Concert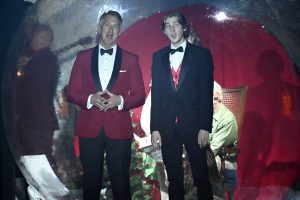 Choir, Jazz Band, JC Voices, Jones OnStage, Percussion Ensemble, Touch of Gold Dance Team, Music Industry students, along with a special appearance from Jones College President, Dr. Jesse Smith who sang a duet with his son, Conner. Additionally, Santa Claus greeted guests and student volunteers from Phi Theta Kappa Honor Society, Wyatt Reid, Logan Carr, Will Hendry, Abigail Davis, Cali Le, Aeronney Berry, Ariel Loper, Madison Hosey, Mary Parker, Lejaylyn Nutall, Angela Boyd and Kayla White, served as Santa and the Salvation Army's helpers by gathering gifts for the Toy Drive.
JC Assistant Dean of the College of the Arts, Music and Performance, Bruce Smith said he was glad to be able to celebrate Christmas in a big way this year. Last year, the semester ended before Thanksgiving.
"I would like to thank the community for giving so generously to The Salvation Army Angel Tree Campaign and supporting Jones College. The students and faculty involved in the performance were pleased to have such a wonderful audience full of friends, young and old enjoying an entertaining show," said Smith.