ELLISVILLE – Jones College sophomore, Natalee Ainsworth of Laurel was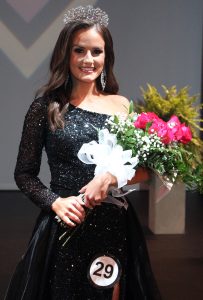 crowned "Most Beautiful 2022" at the annual Jones College Most Beautiful Pageant, held April 12, in the M.P. Bush Fine Arts Auditorium. JC's "Most
Beautiful 2021," Caidyn Crowder returned to bestow the crown upon this year's winner. Ainsworth competed with 29 JC students vying for the title.
Earning the First Alternate honors was Summer Boyd of Laurel, with Keely Skellion of Ellisville receiving the Second Alternate title. Third Alternate went to Abney Pittman of Waynesboro and Fourth Alternate was Analee Dumas of Petal. Top Ten winners included Isabella Graham of Stringer, Karlee Green of Laurel, Mackenzie Goleman of Moselle, Madalyn Stringer of Laurel, Abigail Stauffer of Laurel, Ainsworth, Boyd, Skellion, Pittman and Dumas.
Other winners included Mary Kebodeaux of Richton who earned the title of "Miss Congeniality," and Keely Skellion won the title of "Most Photogenic." The audience chose Bralynn Newell of Newton to win the title of "Audience Choice."
"I appreciate the JC 'family' for coming out to support their friends in the pageant, this year, which seemed more 'normal' since the pandemic kept a lot of people home last year," said Journalism advisor, Kelly Atwood. "I'd also like to thank the Pageant Directors, Dr. Tessa Flowers and Bruce Smith because this event would be impossible without them. Also, I'd like to thank our emcee for the night, Renee Adcock, Jones OnStage for providing entertainment for the evening, Horticulture instructor Wendy Wilkerson and her students decorated the auditorium beautifully, and Patrick Trest provided technical support which helped make the night perfect. There were many more people behind the scenes who also played an important part in creating a beautiful event."
The Most Beautiful Pageant is hosted by the Jones College Yearbook, The Lair.