ELLISVILLE – After three semesters of classes over the last year, 30 Jones College students are ready to become Licensed Practical Nurses. After successfully completing the program these graduates are ready to pass the licensing test, NCLEX-PN and go to work as LPN's. Most of these students are already working in a medical setting and look forward to being able to serve patients in their expanded roles.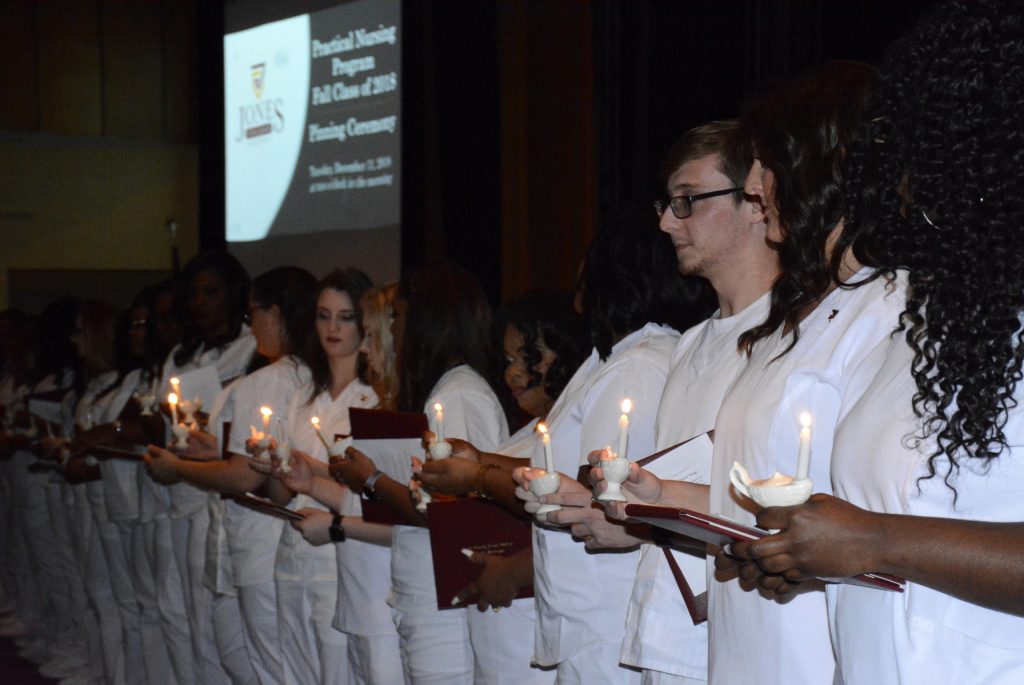 "When I think about practical nursing, I think of service. Every student here today has put themselves aside to serve others. Regardless of the situation, you have made a commitment to touch countless lives that will span over your career. There is no doubt that each of these students here today has a heart of service which will be a treasure to others," said Rod Tolbert, Jones College Career and Technical Dean.
During the pinning ceremony and celebration of the classes' journey to become nurses, three Jones College students were recognized for exceptional work.  Kandace Russell of Waynesboro earned the Perfect Attendance Award for not missing or being tardy for a clinical. Students compiled 635 classroom hours and 345 clinical hours over the year.  Kimberly Squires of Sumrall earned the Highest Average Score Award and JaMiracle Rayborn of Petal was presented with the Florence Nightingale Award for exhibiting integrity and the selfless qualities of Nightingale. During the Crimean War (1853-56), Nightingale fundamentally changed the role of nursing in hospitals which is to provide a safe and caring environment that promotes patient health and well-being and introduced new, professional training standards.
PRACTICAL NURSING GRADUATES 2018
Morgan Ainsworth, Ellisville
Courtney Arrington, Laurel
Jennifer Barnett, Ellisville
Cody Boyles, Waynesboro
Shaterica Brown, Biloxi
Talonda Genae Brown, Laurel
Makayla Burks, Ellisville
Megan Coston, Laurel
Briana Elizabeth Dixon, Stringer
Elizabeth Ellzey, Purvis
Daisy Danielle Fisher, Woodville
Jacqueline Griffith, Magee
Korriana Janae Hardy, Leakesville
Ashley V. Harris, Monticello
Korina Hayes, Mendenhall
Kayla King, Ellisville/Collins
Sierra Symone King, Shaw
Courtney Abril Lee, Poplarville
Rebecca Lynn Malone, Lucedale
Keri Alexandra McDonald, Waynesboro
Jerrica Mims, Lucedale
Ariel Rawls, Seminary
JaMiracle Rayborn, Petal
Kandace Russell, Waynesboro
Kimberly Ann Squires, Sumrall
Kaylyn Rose Walters, Moselle
Kristin Watts, Magee
Briante' Darnette White, Natchez
Alicia Williams, Meridian
Melissa Yelverton, Laurel.