ELLISVILLE –Jones College students working towards an Associate of Applied Science degree in the more than 20 career and technical programs will now have the option to continue their education with Mississippi State University.  A memorandum of understanding signed by the presidents of MSU and Jones gives community college students more opportunities in technical education to meet current and future workforce demands. MSU President Dr. Mark E. Keenum emphasized to the Jones College students in the robotics lab, MSU now has opportunities for them on the university level and offered this advice to all students.
"Get as much education beyond your associate's degree. All the great technical knowledge and education you will receive here attaining your A.A.S. degree will give you more opportunities in this 21st century," said Keenum. "We need more two-year and four-year graduates to move Mississippi forward and this agreement will increase the education attainment for all our citizens. High school students need to know they can pursue an associate degree in robotics or any of these technical programs, and if they choose, they can now continue their education and get a bachelor's degree."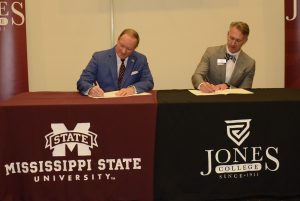 The Institutes of Higher Learning passed a measure in August allowing universities to create this new pathway towards a bachelor's degree for career and technical education students through the applied baccalaureate degree completion program. MSU was the first in the state to develop this program for community college students.
Expanding the pathways partnership between Jones College and MSU not only benefits Jones students, but it also benefits the broader economic development needs of this area according to Mississippi State University Associate Vice President and Head of the Meridian campus, Dr. Terry Dale Cruse. Additional opportunities to advance at work with increased earnings is appealing to Jones College freshmen, Luis Jimenez of New Augusta. He currently enjoys the various aspects of technology in the electro-mechanical technology program at Jones and he looks forward to the chance to excel after graduation.
"I really like working with robots and virtual reality technology. Knowing this agreement with Mississippi State will allow me to continue my education to position me for a better future is also very appealing," said Jimenez.
To help students understand the economic impact of their Associate in Applied Science degree, Jones College President, Dr. Jesse Smith shared the new research from a study published by MSU's NSPARC on the impact of community colleges in the state.
"We know every college credit hour a person takes, they earn $224 annually, in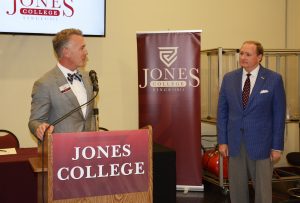 their pocket for their life.  By earning the A.A.S. degree you've added about $1.5 million dollars of lifetime earnings to your salary. We know the impact, so it's only logical that we take this next step," said Smith.
Additionally, career and technical program graduates seeking the new Bachelor of Applied Science degree are more likely to be considered for management positions in addition to advancing their skills to improve their financial futures.
JC students will be assisted through the new Bachelor of Applied Science program pathways by the current MSU advisor at Jones College, Kevin Entrekin.  Additionally, Jones College and MSU-Meridian will work together to provide classroom space for the delivery of synchronous online courses. Credits in the degree program can be earned through online or traditional on-campus classes, providing flexibility for students. For more information on the Bachelor of Applied Science program, visit https://www.msstate.edu/students/bachelor-of-applied-science.
Jones College is an open-door, two-year institution, granting Associate in Arts degrees, Associate in Applied Science degrees, Career and Technical certificates, Adult Education credentials and Workforce credentials. For more, visit www.jcjc.edu. Information about MSU is available online at www.msstate.edu.