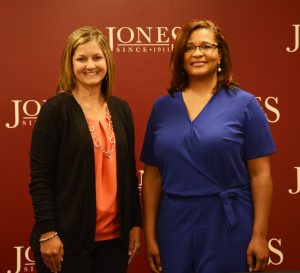 ELLISVILLE –Four Jones College administration and faculty members were part of the 10th class of the Mississippi Community College Leadership Academy.  JC's Assistant Vice President of Instructional Affairs, Julie Atwood; Director of Practical Nursing, Teresa McDonald, MSN, R.N.; Radiography Program Director, Mandy Pearson M.S. R. T. (R) and former Adult Education Director, Michael Yarbrough graduated with 34 additional members of the MCCLA in May. These graduates are the state's answer to preparing for the leadership needs of the community colleges according to the program's coordinator, Dr. Howell Garner. Pearson said she's grateful to the state and Dr. Garner for this type of training.
"I appreciate the dedication of Dr. Howell Garner to the development of leaders in the college system. This has been a wonderful experience collaborating and building relationships with community college professionals from across the state of Mississippi. Through this experience, I have gained valuable knowledge and skills from experienced leaders to apply as I grow and develop in my profession," said Pearson.
The MCCLA program provides an internal look at how the Community College system in Mississippi has developed into a world-class educational system. College president's offer their insight, experiences and advice in an open forum to prepare these future educational leaders. The professional development training for leadership roles ensures the continuity of competent leaders for Mississippi's higher education needs.  All 15 of the state's community colleges and several universities send at least two candidates to the year-long program where leaders meet for three, two day-long sessions. Participants are also required to read seven books and work with a group on a research project.
"There were many important things I learned from this experience; however, I consider one of the most important to be, 'Seek first to understand, then to be understood' from the book, 'The 7 Habits of Highly Effective People,' written by Dr. Stephen Covey. This method aids in producing healthy communication between parties," said Pearson.
Besides the knowledge gained during the last year from the state's educational leaders, McDonald said she also appreciates the new network of friendships.
"This was a great experience with phenomenal leadership and knowledge from Dr. Garner, Dr. Smith and other college presidents across the state. We had the opportunity to cultivate professional relationships and friendships with other educational leaders in the state. I feel this was an invaluable experience and it has enhanced my role as a leader for our institution," said McDonald.
Additionally, Atwood said the MCCLA is an invaluable opportunity for everyone working in the community college system.
"Not only did I develop a deeper understanding of the rich history of Mississippi's system of community and junior colleges, but also the readings and discussions allowed me to view leadership from a much broader perspective. The program taught me more about leadership and it gave me great insight on how I can apply that personally at Jones College," said Atwood.
Graduates of MCCLA's professional and leadership training can earn up to nine-college graduate credits in the Education Leadership program at Mississippi State University, which is also a sponsor of the MCCLA.  Other colleges and universities also accept these credits in their doctoral programs. The Academy was designed and implemented by the Mississippi Community College Foundation with support from the Stennis Institute of Government at MSU as a method of addressing the need for a leadership succession plan. Jones' newest students, Claire Ishee, admissions counselor and Bobcat Brigade sponsor and EMT and director of the paramedic program and healthcare simulation, Benji Sessums MS NREMT-P, CC-EMTP, began the program in June.