ELLISVILLE –Three Jones College students returned to Mississippi as gold medalists after winning first place in the Engineering Design and Technology category in the National SkillsUSA competition in Louisville, Kentucky.  C.J. Hoodless of Ellisville, Preston Hammonds of Leakesville and Lakelin Smith of Lucedale secured a "poor man's" patent for production on their "Standi-Strap" after winning the state competition in April. Now, it's even more likely the gold medalists will see their creation on the shelves after beating the five competitor teams from Texas, Louisiana, North Carolina, Tennessee and Georgia.
"This was unreal for us personally and to represent Jones on the national stage at SkillsUSA," said Hammonds. "This competition gave us an opportunity to apply our skills and talent to produce a product we're really proud of and we know the Standi-Strap serves a practical purpose. We will make a few improvements before we mass market it."
As avid musicians, this year's team was inspired to create the guitar strap and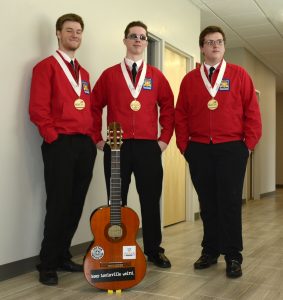 stand, and they proved once again, Jones students are the team to beat in this newly introduced competition category.  The freshmen spent a lot of time preparing and researching for this competition to come up with something anyone could relate to and appreciate.
"We knew when we first met in class that we could work together on this project and be successful.  We all had a part in the process, from creating, tweaking to each presentation before judges. I'm glad our efforts have allowed us to be successful on a national level," said C.J. Hoodless.
The students said their instructors guided them throughout the process to prepare for any competition. Civil engineering technology instructor, Ryan Hearn said he sent the team back to the "drawing board" when their efforts could be improved. Leading by example and pushing them further than they thought they could go, Hearn witnessed their determination as the team continually sought ways to make their product better. Both Hearn and CAD-engineering technology instructor, Karen Kirk stressed, while the Jones instructors were very involved in the process, the Standi-Strap is the students' invention, including the original design idea.
"Mr. Hearn and I had unique and different roles with this team event. I taught this team 3D modeling and printing and assisted them with printing and drawing/model refinement. However, Mr. Hearn helped them understand how to gather, interpret and report data, how to make a presentation which had to include a detailed record of their design process in the form of a notebook, create a bulletin board display and a PowerPoint presentation. Each of these forms of communication had specific requirements which are listed in the technical standards for this contest," explained Kirk.
All three students are majoring in CAD-engineering technology. However, Hammonds will continue in this field and plans to major in mechanical engineering at Mississippi State University after graduation from Jones College next May. Hearn coached the students through the product development and competition using engineering processes while applying the technical skills Kirk taught the students.
"Our instructors at Jones and even some of our high school teachers trained us for this project," said Lakelin Smith. "We are successful today because our teachers helped sharpen our skills to pursue projects like this."
Jones won the first year in the new engineering design and technology category at the 2018 state competition. The invention of a manual trash-compactor for the garbage can by a different team earned seventh-place honors at the national SkillsUSA competition. The 2019 team kept the winning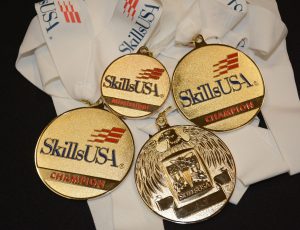 streak alive by capturing first place in the engineering design and technology category at the SkillsUSA state competition in April. They ensured their spot at nationals by not only winning but by also earning the judge's score of 80 percent with a required 70 percent or above. Their invention also had to pass inspection with industry leaders. At the SkillsUSA National competition, this year's team impressed everyone by scoring 90.5!
"I've met some motivated students in the past with inventions but this group was sp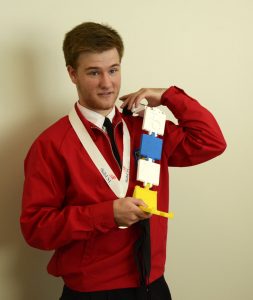 ecial partly because of their outstanding belief in their product and desire to win. They were confident in every aspect of the process and I pushed them to pursue the best design and they exceeded my expectations. Their passion for their product sold every one they talked with," said Hearn.
The guitar strap/stand is made of three-inch wide by four-inch squares, printed on a 3D printer and linked together to a piece of nylon and leather strap bindings to attach to the guitar. To switch from a strap to a stand, an aluminum rod is inserted through the squares and is attached to the base stand, which was also made from the 3D printer. The squares can be customized with logos and colors. The links on the strap can be removed or more can be added. The base also has an additional use.
"There's a safety feature we wanted to include in our invention after talking to electric guitarists who perform in bands. Any extra cord can be wrapped around the base stand which is part of the guitar strap on the guitarist's back and out of the way," Hammonds explained. "They won't trip over their cord with our Standi-Strap."
The national, award-winning team members received gold medals, a voucher for free, 3D software and an Amazon gift card. The freshmen team hopes to return to SkillsUSA competition next spring with another product to defend their national title. However, receiving national recognition for this years' winning invention, the students said, is priceless.
Also competing nationally was JC freshman, Savannah Holifield of Soso who earned 10th place in the Architectural Drafting competition. Joseph Blake Pryor, a freshman from Laurel, landed in 11th place in Extemporaneous Speaking and freshman, Daniel Patterson of Sumrall earned sixth place honors in Automotive. The SkillsUSA National Competition was held June 24 through 28, giving hundreds of student competitors real-world experience and recognition for their skills.