**In recognition of World Forestry Day, March 21, we're spotlighting a successful family of foresters consisting of three generations of Jones students/graduates.
ELLISVILLE – The Ricky Blackwell family tree is full of foresters and Jones College graduates. In 1993, when Ricky Blackwell Jr. came to Jones to major in forestry, a family tradition began that now spans over three generations. Technically, his father, Ricky Blackwell Sr. planted the "forestry bug" in his son and grandsons while hauling pulpwood. He also had previous experience working for the Mississippi Forestry Commission as a crew leader and then a surveyor on a seismograph crew before coming home to haul pulpwood. However, at 45 years of age, Ricky Sr. was forced to make a career change.
"A tree fell on my leg and I had to have surgery," said Ricky Sr. "That's what made me decide to come back to school to learn how to buy timber instead of cut and haul timber."
Jones College forestry instructor at the time, Jim Walley signed up Ricky Sr. for the forestry program as his son Ricky Jr. was about to graduate in May 1995. Walley taught both of the Blackwells and is proud to welcome Ricky Jr.'s oldest son Brady, who is currently taking forestry classes under one of Walley's forestry graduates, Jeff Keeton.
"I'm proud that three generations of the Blackwell family have confidence in Jones and have come through our forestry program over the years," said Walley, current V.P. of External Affairs and former forestry instructor. "The Blackwell Timber Company started about 23 years ago and when they expanded their business they looked to our graduates and hired them. I'm glad we were able to offer a solid foundation for their family and their business."
Having taught the elder Blackwells, and now Brady, Keeton said he believes the family's success is due partly because of their work ethic.
"Ricky Sr. had a family and was working while going to college. If you want an education, you'll get it.  He worked nights, weekends, and whatever he had to do and made 'As' and he graduated at the top of his class. He never complained and he was 45 years old," said Keeton. "Education is 50 % and work ethic is the other 50% of the equation for success. That's the secret to the Blackwells' success; they have both."
Blackwell Timber Company was established in Jones County, just down the road from Jones College, after the father and son team both graduated with their forestry degrees from JCJC. Initially, the two worked out of Ricky Sr.'s home before moving the operation to the former Ellisville Woodyard near the JCJC campus in 1997.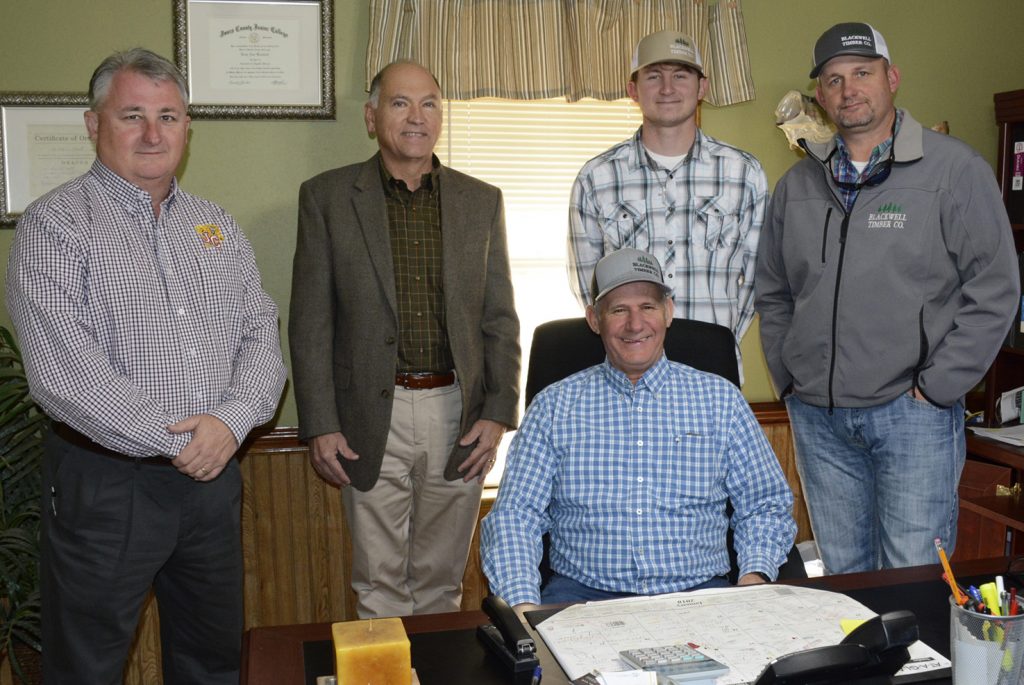 "When a lot of people said I couldn't do it, I wanted to prove to myself that I was capable of being successful and running a timber business without a four-year degree," said Ricky Blackwell Jr. "I learned the ropes and met a lot of people in my first job at Georgia-Pacific in Columbia, which helped me feel more confident."
Forestry related jobs were plentiful, but for Ricky Blackwell Sr., moving away was not an option. Starting a timber business with his son seemed like the best solution.
"We're established here in Jones County but starting a business isn't easy. We didn't have a financial backer and we went out on our own," said Ricky Sr. "My son left a successful job with a great salary and benefits so we could go into business on our own."
Eventually, Blackwell Timber Company grew with hard work, self-discipline and wise money management.  Ricky Jr. added, his desire to work with his dad and his determination to succeed may have also helped to keep each other from making mistakes.
"I'm appreciative of everything Jones College has done for my family. I feel like the ties we've made and the people we've met here have made a difference in our success rate. Jim Walley and Jeff Keeton have always been there if I needed them, and I trust them with my son, Brady," said Ricky Jr.
Brady Blackwell knows his future is in forestry. Growing up and hearing his dad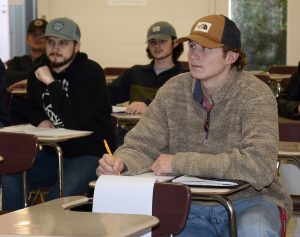 and granddad talk about forestry and watching the crews work in the woods is a way of life he's anxious to begin.
"Years ago, my younger brother and I would go out and play on the four-wheelers and act like we were logging, pulling trees around," said Brady. "Since I was little, I also knew I would come to Jones for forestry. We would pass by the campus every day and I knew one day I'd be here. It's a family tradition now."
The Blackwell's love for the outdoors and forestry has grown to include helping other Jones students understand the work-world they love. The family of foresters is often seen in the JC classroom and on the job site sharing their wisdom with other Jones College students. Staying connected with the college and the friendships they made because of Jones, is important to the Blackwells.
"A lot of the people I graduated with, I still do business with," said Ricky Jr.  "They may work in another facet of forestry or the same, but we're still connected and that's important."
For Walley and Keeton, working with three generations of the same family has been a unique experience.
"The Blackwells have a great reputation in our industry, and it's been a pleasure to be involved in their education and watching them as they've grown their business over the years," said Keeton.