ELLISVILLE – Jones College's Student Publications and Student Affairs Office held the annual Most Beautiful Pageant on Wednesday, November 8, 2023, in the newly renovated M.P. Bush Fine Arts Building. This year, 32 contestants competed for the title, "Most Beautiful."
Rylee Howse of Laurel was selected as the winner by a panel of judges as the 2023-2024 Jones College, "Most Beautiful." Howse said she is honored to represent Jones College in this role.
"I am still in complete shock that I was crowned Most Beautiful," Howse said. "There were 32 beautiful contestants, and I am filled with so much joy and gratitude to have been selected to represent this college."
Other winners include First Alternate-Emma Grace Buckley of Stringer, Second Alternate-Molly Griffin of Ellisville, Third Alternate-Anna Bolivar of Laurel, and Fourth Alternate-Breanna Harrison of Laurel. Other contestants chosen in the Top 10 were Isabelle Halley of Laurel, Bailie Bishop of Laurel, Halle Myrick of Petal, Madeline Smith of Sumrall and Mary Taylor Jones of Collins.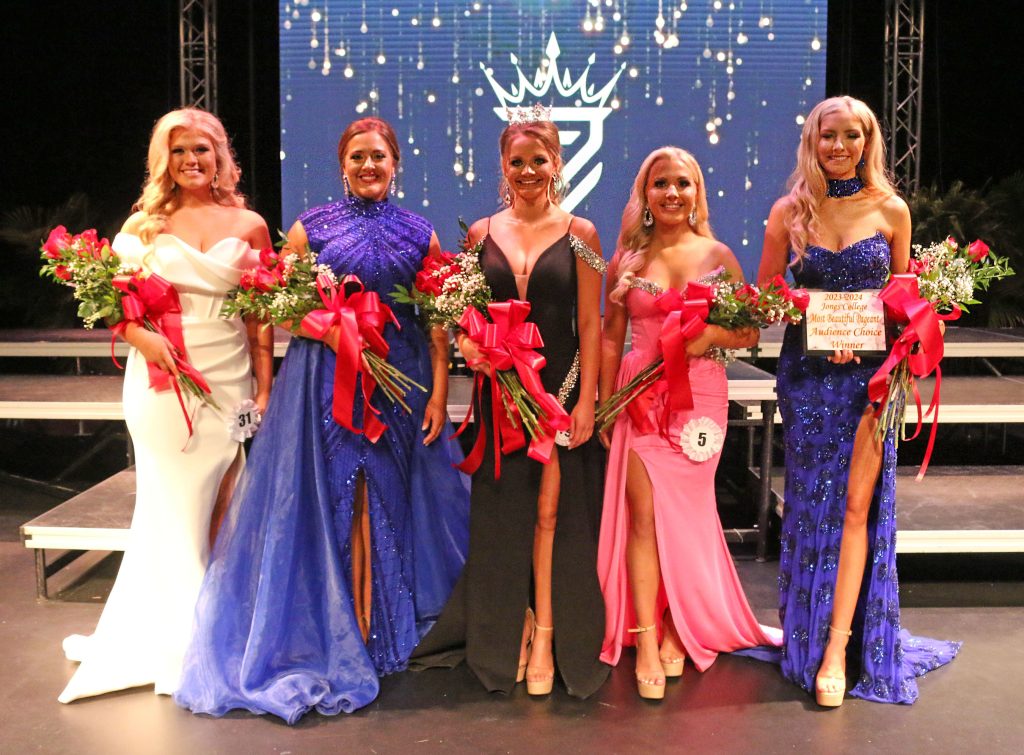 Breanna Harrison was also voted as "The Audience's Choice" winner and Bailie Bishop won both "Most Photogenic" and the Essay Contest.
Entertainment was provided by Jones OnStage with former Jones College Most Beautiful winner, Caidyn Crowder performing. The Spring 2023 Most Beautiful, Summer Boyd, returned to crown this fall's Most Beautiful pageant winner.
This was the first year two Most Beautiful pageants were held within one year at JC. That decision was made by pageant director and Student Activities Director Emily Sullivan, along with the Student Affairs Office. Traditionally, the pageant has been held in the fall, but the COVID-19 pandemic forced the contest to be held outdoors in the spring. The pageant continued to be held in the spring semester until last year. To differentiate between the two Most Beautiful winners, the fall winner is titled, 2023-2024 Most Beautiful.
The pageant serves as a fundraiser for the student publications department's Madge Mailey JCJC Foundation Scholarship, and Student Affairs.
Photos and Story written by Jones College Student Publications