ELLISVILLE – Students at Jones College recently chose two people, BreAnna Chambers and Jared Woullard as the best representatives of the college, as Mr. and Miss JC.  This honor is bestowed upon a sophomore who is not only involved in college activities but who also exemplifies Jones and is considered a role model by their peers.  Students campaigned using various methods of marketing including posters, social media campaigns and some appealed to the taste buds of students with candy and baked goods.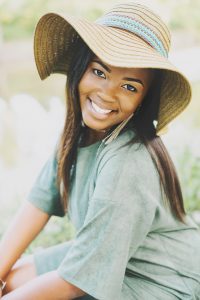 "Miss JC," BreAnna Chambers lives in the Buckatunna community of Wayne County and is majoring in speech pathology and audiology. At Jones, she is a member of the Student Government Association, Baptist Student Union and JC Diamond Girls. While a freshman at Jones, Chambers was a member of the yearbook staff and a Resident Assistant for women's housing.  The Wayne Academy graduate was unsure if she'd fit in at Jones last year but quickly discovered her "family."
"I was unsure of what I wanted out of college or if I'd find a place in any organizations. I was shown after my first month, Jones is like a family and it's okay to step out of your comfort zone in faith and try something different. I have met people from all walks of life while serving in various organizations. My hope is that I am able to instill in as many people as I can while serving as Miss Jones College this year that the Bible quote from Philippians 4:13, 'I can do all things through Christ that strengthens me,' is true. I plan to take the things that I have learned with me to the University of Southern Mississippi as I study speech pathology and audiology," said Chambers.
Her plans following graduation from JC and USM include owning a private practice for children with speech disabilities in Wayne County.  Her parents are JoAn and James Chambers.
Greene County's Jared Woullard can add another accomplishment to his growing list. JC students selected him to be "Mr. JC." The engineering major is a member of the academic honor society, Phi Theta Kappa and Sigma Kappa Delta English Honor Society. For the last two years, Woullard has been a member of the Concert Choir, Engineering Club, Bobcat Brigade, the student ambassador and recruiting organization, the Presidential Student Advisory Task Force and the Charles Pickering Honors Institute.  Woullard proudly served students as the Freshman Class president, was voted as one of the Freshman Class Favorites, and he is currently serving as the Student Government Association president. The Letter "J" Award recipient also finds time to play intramural volleyball, football, soccer, basketball, and softball. The busy college student said he appreciates his peers being receptive to his message.
"Being chosen to be Mr. Jones College is so very special to me because it shows that my interactions with the student body and my efforts to inspire and encourage those to be leaders have been noticed. This achievement is more than a title to me. It is a representation of my commitment to improving student life and leadership here at Jones and I'm happy it has caught the attention of my peers. I am so thankful and will always strive to inspire greatness. My goal for Jones is and will always be to unify our students, improve our campus, and solidify our leadership integrity," said Woullard.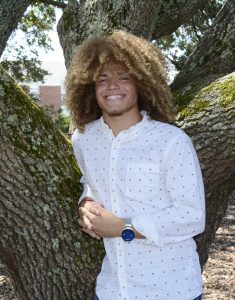 The Greene County "Wildcat" graduate said he has enjoyed speaking at events, being involved with students during events, spending time with his friends and his girlfriend while at Jones.  Woullard shared, he feels it's important to return home to Greene County and encourage everyone to reach higher and work harder.
"My advice to all is to always chase your dreams and focus on being the best you! Always work hard and pray harder, and never forget where you came from because there is no place like home."
His future plans include becoming a chemical engineer after earning his bachelor's degree from Mississippi State University. Woullard has three siblings, Dalon, LaDon and Sade' Woullard and his mother is Monica Wessel.