ELLISVILLE – While discussing his road to success as an artist, Thomas Jackson shared he was a musician first.  Becoming an artist was a nice surprise for the Hattiesburg resident whose original career plans didn't go as planned. The Tupelo native said he couldn't see how art would fit into his career after leaving the graphic design program at USM.
"I didn't pay attention to teachers because I thought I was the best artist partly because I have been drawing all my life. When I got to USM in 1998, I quit the art career because I didn't think the teachers knew what they were doing, and focused on my music," said Jackson. "Oh, how I wished I would've listened to them! Classical drawing has helped me with other types of art."
The guest artist's work has been on display at Jones College's Eula Bass Lewis art gallery on the Ellisville campus during the month of October. He shared with students during his "Art Talk" his art was literally discovered by accident. The musician's artwork became popular because of a friend and Facebook.
"I did an oil pastel drawing of a comic book character for a friend and posted it on Facebook. People started asking me if I could do other characters and it went from there. So I've been a part-time professional artist for about five years, doing mostly comic book related stuff, after a twenty-year break," said Jackson.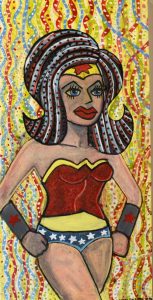 He encouraged Jones students to develop a style that will stand out among artists. Working with oil pastels, Jackson discovered he can work in layers, cutting out patterns in the paint and making the portrait more interesting. However, he was intimidated initially, trying to make "art" for a living because he felt everyone was "light-years" ahead of him technically.
"I may not be as good technically, but stylistically I can make it. I stand out. I experiment with my subject, like one day I over exaggerated the hair on Wonder Woman. I try things all the time," said Jackson.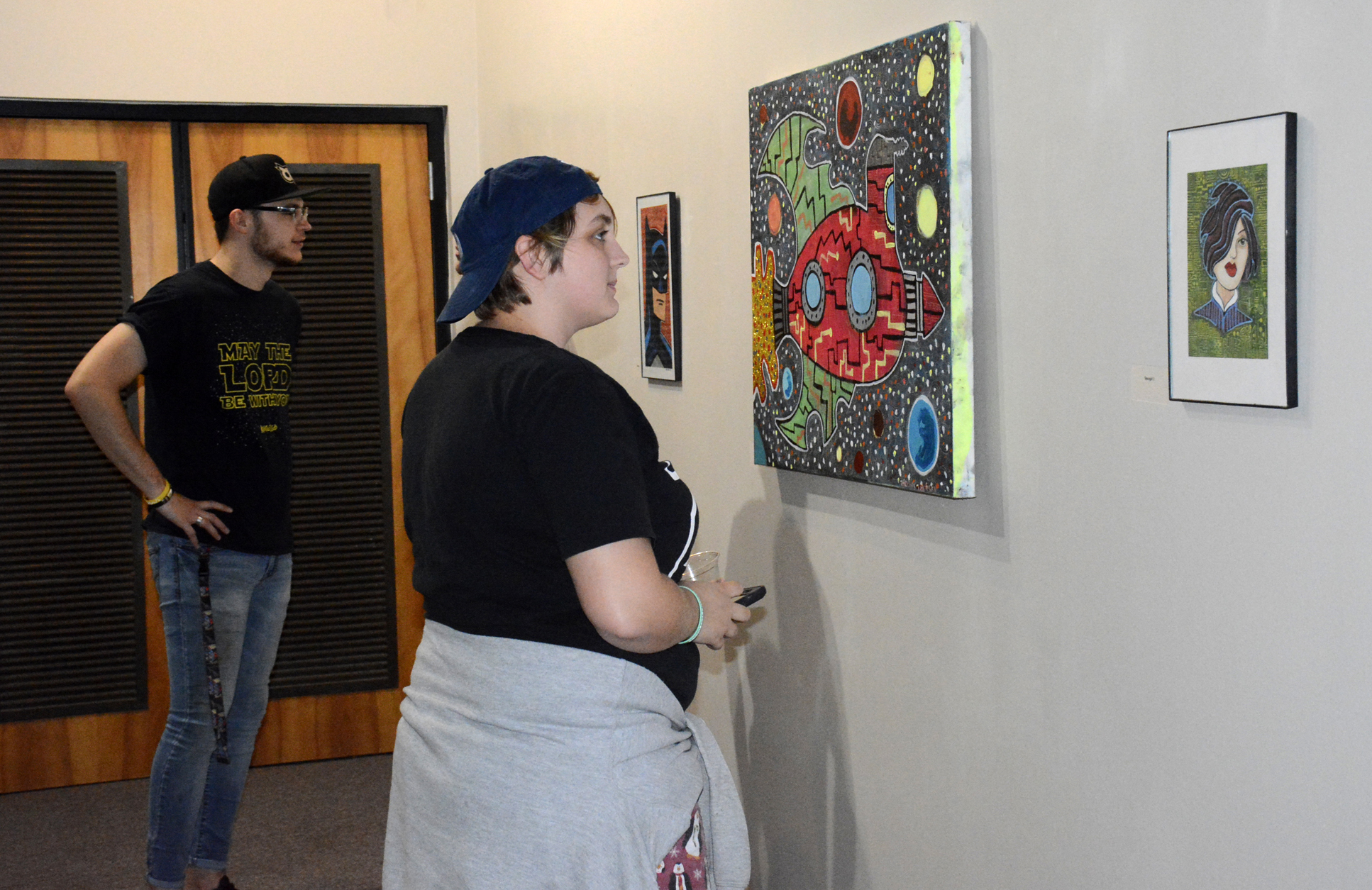 His unique style is especially appealing to Jones student, Ali Wittneber.  The Gulfport sophomore is especially interested in Jackson's comic book style art.
"It's refreshing to see an actual artist that is doing comic book and fantasy paintings and not the classical art."
Caleb Broadhead, a sophomore from Sandersville also likes the comic book art and noted he could see signs of classical drawing in Jackson's characters.
"It's his own style and he's making a living at it. I'm inspired by that.  His work is not so far out, or over the top. It's inspiring," said Broadhead. "Comic book art involves a lot of fine lines and it takes patience and talent. It's interesting."
Besides sharing stylistic tips as an artist, Jackson also offered business advice. While social media helped Jackson's art career take off, he cautioned students to always be professional on social media and in public.
"People need to perceive you as an artist. Don't complain on social media or act anything but professional. Use social media as a vehicle to show your art. You don't have to wait either. You can show your work now," encouraged Jackson.
For more information about the JC art show contact the gallery at 601-477-4148 or visit the gallery which is open Monday through Thursday, 8:00 a.m. until 3:00 p.m., and Friday from 8:00 a.m. until 2:30 p.m.  The gallery is closed for lunch daily from 11:30 until noon.  If you want to know more about the JCJC Fine Arts Department check out the JCJC Fine Arts Facebook page at JCJCFineArts.