ELLISVILLE – Jones College's Mark Brown, who is the Chair for the Visual Art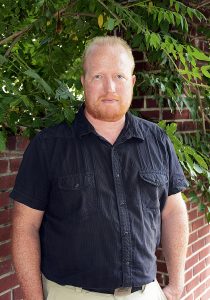 Department and art instructor, earned top honors at two prestigious competitions.  Most recently, the accomplished artist received first-place in the sculpture category at the Cotton District Juried Art Competition and Exhibit with his artwork called, "Figurehead."  He used found materials, primarily metal, to assemble pieces to create the face of a person.
"Technically, my sculpture draws upon gestural and figurative approaches. Furthermore, I utilize discarded items, taking advantage of their aesthetic attributes to achieve desired effects. Because I choose to assemble such a wide range of materials, the process of art-making has become as important as the finished object itself. It is my intention that the viewer becomes aware of this process through the investigation of the layers," said Brown.
The award-winning piece, "Figurehead" is approximately 30 inches in height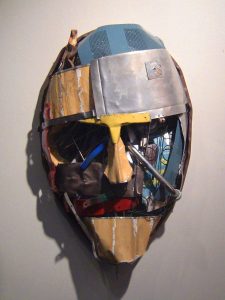 and mounts to the wall, although it is three-dimensional. It is composed entirely of found material and is held together by its own tension; no screws or fasteners are employed.
Brown explained, "I use found objects based on characteristics such as texture and color and how they will contribute to the overall composition of the finished work. Additionally, employment of found objects creates a variety of forms on which to work.  Although some works have armatures for support, I rarely use anything but the objects themselves to hold the work together. Once the works are complete, I often cover them with clear epoxy for stability."
Each piece submitted in the Cotton District Competition and Exhibit is hand selected by a notable juror. This year, Kate Cherry, the Director of the Meridian Museum of Art judged the notable competition.  Cherry has served as Executive Director for the Meridian Museum of Art for ten years, where she has installed more than one-hundred exhibitions, curated more than fifty rotating exhibitions and she has handled all aspects for the annual Bi-State and People's Choice Competitions. In addition, she has extensive experience touring the arts festival circuit as well as teaching in local, after-school art programs.
"To be selected by Ms. Cherry as an exhibiting artist for the Juried Art show

was an honor in itself," said Brown. "To earn the first place award by such a reputable artist is humbling."
Last fall, Brown's work, "Self-Made Figure", a life-size being was awarded the first-place award for multimedia in the 7th Annual Cedars Juried Art Exhibit and Competition in Jackson. The "Self-Made Figure" was also created from found materials and was assembled in the exact same manner as the "Figurehead" piece of art. The juror for the fall show was renowned Mississippi watercolor artist, Wyatt Waters.