ELLISVILLE –A feast of music from across the ages and around the world is being offered on Friday's in March and April at Jones County Junior College.  The annual Spring Recital Series features a variety of musicians and vocalists entertaining the audience during a portion of the lunch hour.  This musical event begins on Friday, March 22, at 12:25 p.m. until 12:55 p.m. in the M.P. Bush Fine Arts Auditorium and will continue on each Friday through April 12 in the Foote Chapel at JC.  All concerts are free and open to the public.  For more information call the JC Fine Arts Department at 601-477-4203 or look online at: http://www.jcjc.edu/programs/finearts.
On Friday, March 22, at 12:25 p.m. in the M.P. Bush Fine Arts Auditorium, the series opens with a passionate trio by nationalistic Czech composer, Bedřich Smetana. The Impromptu Piano Trio, featuring Stephen Redfield on violin, Alexander Russakovsky on cello and Theresa Sanchez on piano, are playing Smetana's only piano trio composed in 1855, which reflects his personal tragedies of family loss in a powerfully elegiac and rhapsodic manner.
This Friday, March 29, performance at 12:25 p.m. in the Foote Chapel, features University of Alabama faculty members Paul Houghtaling singing bass-baritone, and pianist Kevin Chance as they present a selection of American songs. Dr. Houghtaling will also conduct a masterclass for JC vocal students at 1:30 in the chapel.
An unusual grouping of a wind-string combination consisting of oboist, Galit Kaunitz, clarinetist Jackie McIlwain, and violist Hsiaopei Lee will perform trios by 20th-century American composers Alvin Etler and Randall Thompson, on Friday, April 5, at 12:25 p.m., in the Foote Chapel on the campus of JCJC in Ellisville.
The final recital on Friday, April 12, at 12:25 p.m., in the Foote Chapel, features trumpeter, T.J. Tesh and pianist, Michael Bunchman who will present, "Musical Interactions." This performance features works for trumpet and piano by Joseph Turrin and Georges Enesco. The pieces on this program display a wide variety of musical styles from virtuosic fantasy to subdued darkness and everything in between. A highlight of this program is Enesco's character piece, "Legende," which allows for tremendous expression on the part of both players.
MORE ABOUT MUSICIANS:
Impromtu Piano Tour: Violinist Dr. Stephen Redfield has taught violin and chamber music at the University of Southern Mississippi School of Music since 1996. He spent 2011-12 on leave as Chair of the Music Department at the New Mexico School for the Arts, where he is also concertmaster of the Santa Fe Pro Musica. Each summer since 1992, Redfield has performed with the Victoria Bach Festival. He is a long-standing participant in the Oregon Bach Festival, often featured as concertmaster, and in numerous recordings, including the Grammy Award-winning disc, "Credo."  Dr. Redfield performs regularly as a Baroque violinist with the Albuquerque Baroque Players and with the Atlanta Baroque Orchestra.  He has also performed concerts with the Smithsonian Chamber Players and the Newberry Consort.  His Sebastian Ensemble with harpsichordist Kathleen McIntosh has performed throughout the US, and in Spain, Cuba and Peru.
A graduate of the Yale University and the University of Santa Barbara, Dr. Alexander Russakovsky has appeared in numerous solo and chamber music performances in Russia, Israel, Europe and the United States. A founding member of the Jerusalem Academy String Quartet, he also performed in the Chamber Music Series of the Spoleto Festival in Italy, the Barge Music in New York City, and the Western Slope Music Festival in Colorado. In the fall of 2001, Dr. Russakovsky joined the music faculty of the University of Southern Mississippi in Hattiesburg. He also has served on the faculties of the Adriatic Chamber Music Festival in Bonefro, the IV Violoncello Biennal in Peru, and the CICA Chamber Music Festival. Most recently, Dr. Russakovsky has given master classes and recitals in Taiwan, Israel, and Latin America. His disc featuring Russian works for cello and piano was released by Brilliant Classics in April 2014.
Pianist Dr. Theresa Sanchez pursues a varied performing career as a soloist and collaborative musician.  She has performed as a soloist with the Mississippi Symphony Orchestra, the University of Southern Mississippi Symphony Orchestra (including the Southern Nights CD) and The Wind Ensemble.  With the Meridian Symphony Orchestra, she premiered and recorded Carey Smith's Piano Concerto No. 1.  Additionally, Dr. Sanchez is the founding Artistic Administrator for the Vicksburg Chamber Music Festival and she has performed in each series with various outstanding artists.  She has been a faculty member at Jones College since 1995, and is a past president of the Mississippi Music Teachers Association.  She currently serves as Chamber Music Coordinator for the Hattiesburg Concert Association and FestivalSouth, and is listed on the Mississippi Arts Commission's Touring Artist Roster.
Paul Houghtaling singing bass-baritone, and pianist Kevin Chance: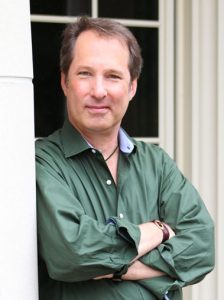 Bass-baritone Paul Houghtaling has sung a diverse repertoire throughout the U.S. and abroad. Career highlights include a highly lauded debut with the Central City Opera as the comic lead in Friml's Rose Marie; the Philip Glass soundtrack to Reggio's film Naqoyqatsi for SONY, on which he is a featured vocalist; several Carnegie Hall solo appearances with Cecelia Chorus of New York and American Composers Orchestra, and others; U.S. tours with the Waverly Consort, including Kennedy Center appearances; European tours as Papageno with Teatro Lirico d'Europa; "Opera  Buffa: Comedy On Stage" on Lincoln Center's "Meet the Artists" series and all of the major works of Bach with ensembles across the country. Recent performances included Ko-Ko in The Mikado with Anchorage Opera, Natchez Opera, and Opera Saratoga. In 2008, he debuted with Nashville Opera as Sir Joseph in H.M.S. Pinafore and Cedar Rapids Opera Theatre as stage director for The Gondoliers. The current season has included a return to Mobile Opera as stage director for The Devil and Daniel Webster, Ko-Ko with Mississippi Opera, and his debut with Opera Birmingham as Dulcamara in L'elisir d'amore. He has also appeared with the Baltimore, Boston Lyric, Knoxville, Long Beach, Opera on the James, and Santa Fe Operas, and the Metropolitan Opera Guild among others, and has created roles in Glass's, "The Witches of Venice" (recorded for Euphorbia) and Lee Hoiby's, "The Tempest" with Des Moines Metro Opera. Dr. Houghtaling holds the D.M.A. degree from the City University of New York and is currently Associate Professor of Music and Director of Opera at the University of Alabama where he was the 2015 winner of both the prestigious Morris Lehman Mayer Award for leadership and teaching, and the Outstanding Commitment to Teaching Award given by the university's National Alumni Association.  www.paulhoughtaling.com
Pianist Kevin T. Chance has been hailed as "a superlative musician" playing "with musical conviction and muscularity."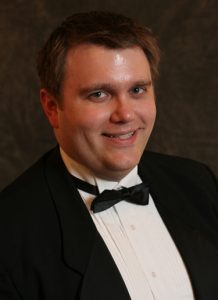 He has performed widely as soloist and collaborator, including concerto appearances with the Magic City Orchestra of Alabama and the Brevard Music Center, and appearances in several states with bass-baritone Paul Houghtaling. In 2010, Dr. Chance made his Carnegie Hall debut with the University of Alabama Singers. In 2003, he was invited to the Lake District Summer Music Festival in England where he was featured on both of the festival's gala performances. Recent engagements include Beethoven's Choral Fantasy with the Athens Chorale in Georgia as well as the Baton Rouge Symphony, a recital at the Des Moines Symphony Academy in Iowa, and concerts for the Cedar Rapids Opera Theatre, the University of Texas at Brownsville, Birmingham-Southern College, Auburn University, Mobile Music Teachers Association, and the University of Alabama. He joined the University of Alabama faculty in January of 2010, and is currently Chair of the Piano Area.  Dr. Chance has been a prizewinner of several regional and national competitions including the National Society of Arts and Letters Career Awards Competition, Music Teachers National Association Competitions (MTNA), and the Brevard Music Center Concerto Competition.  Dr. Chance is a member of the Semplice Duo with flutist Cristina Ballatori. The duo made their Paris debut in 2013. An alumnus of the Aspen Music Festival, he holds the Doctor of Musical Arts degree from the Eastman School of Music, the Master of Music degree from Louisiana State University and graduated magna cum laude from Birmingham-Southern College.  His teachers have included Barry Snyder, Constance Knox Carroll, Ann Schein, Herbert Stessin, William DeVan and Betty Sue Shepherd.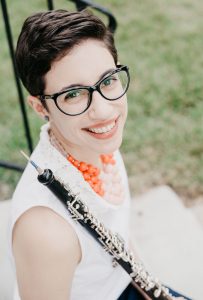 The April 5th performance with a wind-string combo includes Galit Kaunitz who is the Assistant Professor of Oboe at The University of Southern Mississippi. She joined the faculty in 2015 and is an engaged and inventive performer, presenting chamber music and solo programs that feature both new commissions and traditional works. As a member of Driftless Winds reed trio, she was invited to perform at the International Double Reed Society (Columbus, GA) and College Music Society Conferences (Santa Fe, NM). Galit also performs throughout the United States with Category 5 wind quintet, Magnolia reed trio, and a newly-formed duo with tenor Jonathan Yarrington. As a soloist, Galit gives recitals that explore culture and identity and has appeared with the USM Symphony Orchestra in 2016. Along with bassoonist, Jacqueline Wilson, Galit is co-creator and host of Double Reed Dish, a podcast created specifically for oboists and bassoonists of all ages and abilities. She can be found online at galitkaunitz.com.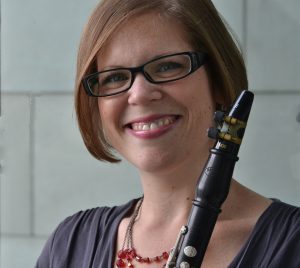 Dr. Jackie McIlwain, Assistant Professor of Clarinet, began teaching at The University of Southern Mississippi in 2013. She was a recipient of The Aubrey Keith Lucas and Ella Ginn Lucas Endowment for Faculty Excellence, which allowed her to complete a Body Mapping Licensure to aid in the development for a Body Mapping and Injury Prevention course. Dr. McIlwain keeps an active performance and teaching schedule while traveling throughout the country and internationally.  Her major teachers include Dr. Todd Waldecker, Professor Howard Klug and Dr. Frank Kowalsky, and she has earned degrees from Middle Tennessee State University (B.M.), Indiana University (M.M.) and The Florida State University (D.M.).  She has previously taught at Southeastern Louisiana University and The Florida State University.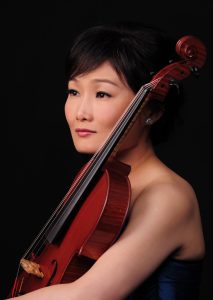 A graduate of Columbia University and the University of Cincinnati, College-Conservatory of Music, violist, Hsiaopei Lee has performed in numerous solo and chamber music concerts throughout the United States, Europe, and Asia. Dr. Lee is an Associate Professor of Viola at the University of Southern Mississippi, where her excellence in teaching has been recognized by several university awards. Her debut album, "Odyssey: New Music for Viola by American Women Composers," is available on the Centaur label. In order to promote viola and its music in the region, Hsiaopei has hosted annual Viola Festival at Southern Miss campus since 2009.
The April 12th concert features Dr. T.J. Tesh who is is a Grammy-nominated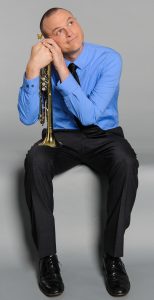 trumpeter, Yamaha and Pickett Brass Performing Artist, and serves as Assistant Professor of Trumpet at The University of Southern Mississippi. Dr. Tesh relocated to Mississippi after an exciting career as a freelance trumpeter and music educator in the Los Angeles area. He has enjoyed an eclectic performance career, having performed with music legends like Stevie Wonder, Natalie Cole, Quincy Jones, Gordon Goodwin's Big Phat Band and many others. Prior to leaving Los Angeles, Dr. Tesh recorded, toured and performed around the globe for three years as a member of the internationally celebrated brass quintet, Presidio Brass. Dr. Tesh is a current member of the Alias Brass Company, second trumpet with the Meridian Symphony and acting principal trumpet in the Gulf Coast and Mobile Symphonies. His debut solo recording, Adaptations for Trumpet, was released in November of 2017.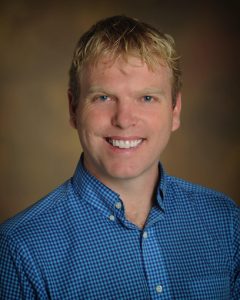 Pianist, Dr. Michael Bunchman joins Dr. Tesh for the JC performance. He maintains a fulfilling schedule as a collaborative pianist throughout the United States.  He is currently on faculty at the University of Southern Mississippi as the director of the Collaborative Piano Program and is the Director of Music and Collaborative Piano at the International Performing Arts institute in Bavaria, Germany. Dr. Bunchman has performed with such distinguished soloist as Megumi Kanda- trombone, Milwaukee symphony, Dimitri Pittas-Tenor, Metropolitan Opera, Denson Paul Pollard – trombone, Metropolitan Opera Orchestra, to name a few.  Companies he has worked with include the Utah Festival Opera, Natchez Festival of Music, Las Cruces Symphony Orchestra, Santa Barbara Opera, Opera Saratoga, the Princeton Festival and El Paso Opera.  Active as a concerto soloist, Dr. Bunchman has performed with the University of Southern Mississippi Orchestra, the Ridgefield Symphony, the Breckenridge Music Festival, the Antara Ensemble in New York City, the Utah Festival Opera Orchestra and the National Repertory Orchestra.