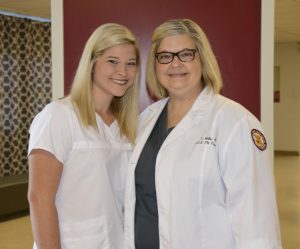 ELLISVILLE –Graduates of Jones College's practical nursing program often feel like family after spending a year in classes and clinicals together and sharing life events. However, recent practical nursing graduate, Anna Grace Mills of Ellisville not only took classes with her mother, but her sister is also a graduate of the same program.
"I remember watching my sister Lakyn Perry graduate from the practical nursing program last summer. That's when I knew I wanted to follow in her footsteps and I knew Jones was one of the best nursing programs in the state," said Mills.
Perry's graduation not only inspired Mills to apply for the practical nursing program but it also challenged their 47-year-old mother, Sarita Mills.
"I remember sitting in the audience beaming about my daughters and then realized a challenge was in front of me," said Sarita who always wanted to be a nurse. For six years, the former Jones College employee watched nursing students pass by her desk daily and was now ready to accept her wisdom.
"I always told my daughters to never give up on their dreams and that it's never too late. When I saw them going for their dreams, I was encouraged to take my own advice," said Sarita.
Anna Grace began classes last August as her mother applied for the next class beginning in January. As a result, mom and daughter ended up in a couple of classes together.
"It was really special," said Sarita. "Our relationship has grown tremendously through our time together with late-night studying, riding to classes and clinicals together and supporting each other through the tough times. I never thought I would be going to class with my daughter!"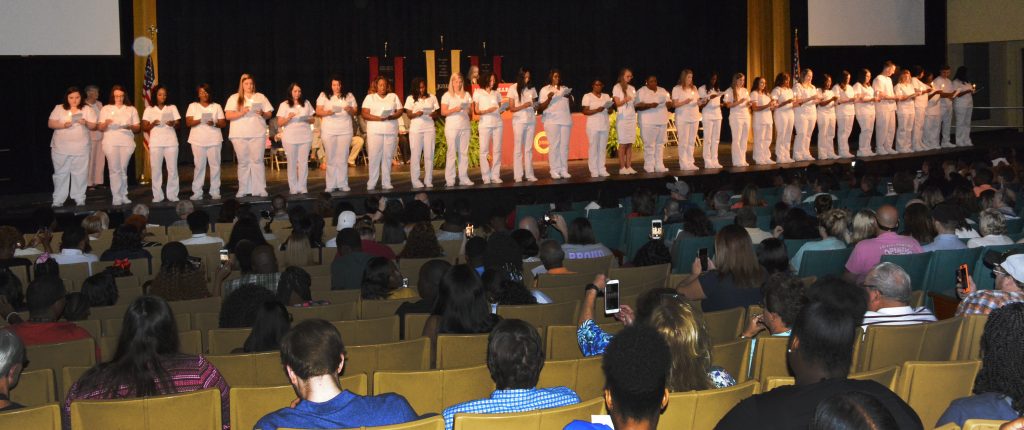 Together, along with the class of 31 graduates, mom and daughter studied, cried, and pushed each other towards their goals. Watching her mother step out and pursue her dreams was inspiring to Anna Grace.
"To see my mom at her age reaching for her dreams and striving to be the best version of herself is truly humbling. My time with my mom at Jones has come to an end but I can't wait to see her walk across the stage and light the lamp," said the new practical nurse graduate.
At the commencement ceremony, Practical Nursing Director, Teresa McDonald's graduation challenge encouraged students to continue their education. Jones College President, Dr. Jesse Smith noted the nursing profession is not easy and students are successful with a good support system of family and friends.
"If it was easy, we'd all be nurses," said Smith. "Life is hard. Learning to be a nurse, a caregiver is very difficult because there is so much you must learn for your profession. Friends and family, thank you for supporting them because you played a big part in their success."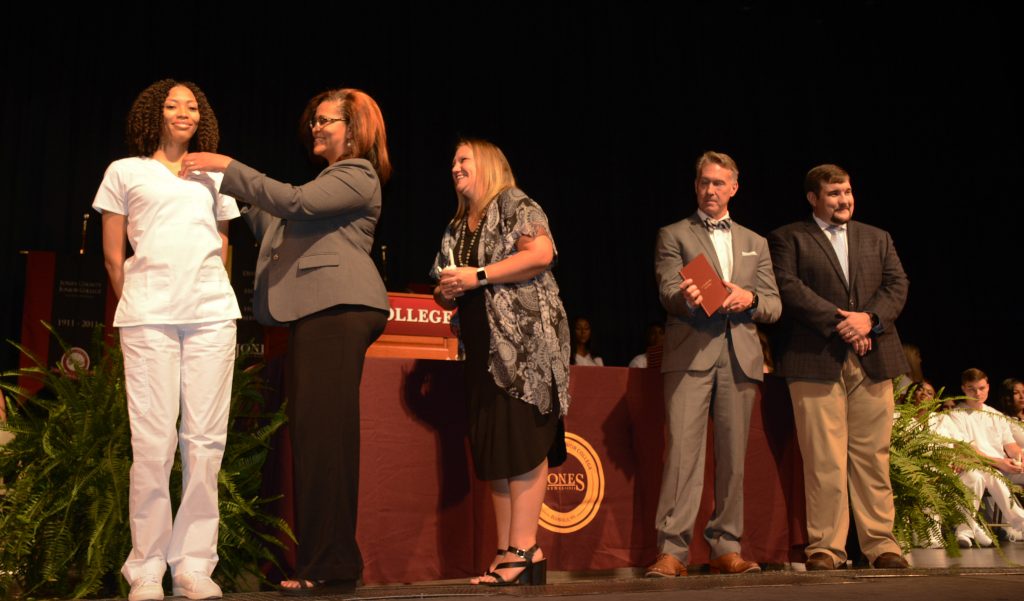 Andreaona McLaurin of Petal received her practical nursing pin from program director, Teresa McDonald with instructor Jill Burge, Jones College President, Dr. Jesse Smith and Career & Technical Dean, Rod Tolbert.
Anna Grace will be counting on that support system again as she continues in the associate degree nursing program at Jones. She hopes to join the nursing ranks of the family including her sister Lakeyn Perry, her cousin Harleigh Mills, who is currently in the nursing program and her cousin, Abby Williams who is also attending classes at Jones.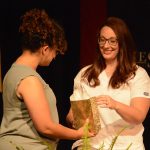 Acknowledging their success and the support of many, three graduates were honored for the special gifts that were revealed during the program's year of classes and clinical experiences. Kelsey Watts of New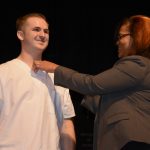 Braunfels, Texas earned the Academic Excellence Award for her continuous dedication and exceptional growth. The Rising Star Award was given to Laurel's Dalton Byrd for his positive attitude and perseverance which has enriched his professionalism and nursing knowledge. Jill Smith of Laurel earned the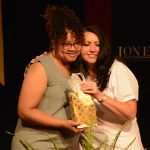 Florence Nightingale Award for professionalism, integrity and selflessness for humanity, all qualities the founder of nursing possessed and were implemented into the nursing profession.
For more information about Jones College's County Center in Waynesboro's part-time, day program and the Ellisville campus' part-time night program, contact Teresa McDonald on the JC campus in Ellisville at 601-477-4102 or email at teresa.mcdonald@jcjc.edu. The application deadline for January's full-time program is October 1st.
 Jones College Practical Nursing Graduates July 31, 2019
Kristen Agee, Bay Springs
Skylar Ainsworth, Ellisville
Koeisha Arrington, Laurel
Sarah Beasley, Laurel
Emily Busby, Soso
Dalton Byrd, Laurel
Hollie Clark, Ellisville
Leah Cooper, Petal
Jerrika Davis, Waynesboro
Anna Draughn, Runnelstown
Alexus Floyd  Hattiesburg
Brittany Fowler, Vossburg
Jana Graham, Stringer
Tajma Hall, Braxton
Lillian Hosey, Laurel
Lakeisha Johnson, Hattiesburg
Kristin Jones, Taylorsville
Colby Mason, Lucedale
Raven McCormick, Ellisville
Eartha McGowan, Petal
Tyriona McGrew, Waynesboro
Andreona McLaurin, Petal
Anna Mills, Ellisville
Shannon Nicholson, Taylorsville
Alexis Richardson, Cleveland
Ashley Smith, Monticello
Beverly Smith, Laurel
Allie Stogner, Petal
Courtney Tatum, Mount Olive
Rosella Taylor, Ludlow Scott County
Kelsey Watts, New Braunfels, TX
Cathrynn Williams, Laurel